We know BBQ isn't a big Boston thing. We're really a place for lobster rolls, a little bit of history, and maybe even having one too many assholes. But if you look around you'll find there are a few places serving up a variety of real Southern-style BBQ. And the best part: you don't have to travel outside of the city to get it. Because seriously, why would you want to leave Boston?
Fenway
Top Chef Season 1 finalist Tiffani Faison goes back to her roots with a roadhouse-style barbecue joint alongside her Rocca pal Daniel Raia as Chef de Cuisine. Drinks come in mason jars, sides sit happily in tin cups, and everything is piled generously high on metal trays. Go for a "Tray" with a variety of responsibly sourced moo/oink/cluck options, one hot side (collard greens, mac and cheese), one cold side (coleslaw, potato salad), plus pickles and onions (white bread available on request). And you definitely need a bucket of buttery biscuits, thus increasing the size of your sweet cheeks.
Southampton St
We've got a lot of food trucks in Boston, and one of the best we've found so far is the M&M Ribs Truck. This place offers a tray, a half, or a whole slab of ribs, if you're looking to really get messy for lunch. Plus, it even has a great pulled pork or brisket sandwich for people who (for some reason) don't care for ribs. Be sure to load up on their sides, such as the mac & cheese and BBQ baked beans. But honestly, it's a rib truck. Get the ribs.

Davis Square
Redbones has been keeping it down-home real on red checkered tablecloths since 1987, and they have you completely covered (in sauce) with morsels from every American BBQ stronghold. For sheer excess, strap on the Barbecue Belt with Texas ribs, St. Louis ribs, baby back ribs, AND sliced, smoked beef brisket… with beans and slaw. Their apps (fried pickles and jalapeños, BBQ hash, Catfingers, fried oysters, fried okra) are all comfort-food crazy, so it helps to bring friends to aid you in your attack. Bonus: they have 28 draft brews to back up all that meat.
Arlington
This classic go-to spot in Arlington invokes the proper Southern roadside vibe with their casual, family-style atmosphere and pit-smoked meats. They go "slow and low" over oak and hickory hardwoods for fall-off-the-bone goodness that has earned them many, many regulars. The menu spans assorted styles (North Carolina, Texas, Memphis, Jamaica, Kansas City) and has essential "grandma's kitchen" sides (baked beans, mashed potatoes, black-eyed corn) and desserts (homemade pies, cobbler). North Carolina pulled pork and KC burnt ends are serious standouts.
West Roxbury
This sister restaurant to The Blue-Eyed Crab (Plymouth) takes you straight to the Carolinas with mustard- and vinegar-based rubs and sauces. The culinary team of Jim Casey and Edson Souza amp up their menu with some new twists like green chili and pork belly donuts, crispy pimento cheese-stuffed jalapeños, Uncle Jim's Smoky Fried Chicken, and smoked fennel & hot pepper pork sausages. Put all your dreams on a bulkie with The Piggy: a 3oz burger crowned with crispy pork belly, beef brisket, pulled pork, melted cheddar, tomato jam, and BBQ sauce. If you still have room, dig through a mason jar filled with dessert (apple crisp, Mississippi Mud Pie, peanut butter pie, or banana pudding).
Seaport
Larry Jimerson (manager and pitmaster) elevates his "Art of the Q" with apple and hickory woods, a proprietary blend of herbs and spices, and a 12-hour smoking process. Just for you. And maybe the other guests. Start off with Fire Balls (a medley of pepper-flavored meatballs) or Hawg Wings (tender pork shanks), then roll up your shirtsleeves on a full rack of cut ribs, pulled pork (North Carolina or Texas sauce), or a smoked turkey leg (all served with two fixin's). Unique selections include Texas Caviar (a black-eyed pea salad), cowboy beans, and candied yams.
Brookline and Lowell
An open Texas BBQ pit dominates the dining room and fills the air with aromas that induce hunger and intense impatience. Front and center are Nana Kelly's original Galveston recipes for ribs (baby back and beef), brisket, chicken (BBQ and Southwestern), and smoked sausage. They're also grilling aged USDA Choice steaks and tenderloin tips to round out the carnivore carnival. Finish strong with fresh-baked pie (apple, pecan) or a Mississippi Mud Square (rich chocolate cake, chocolate ice cream, white chocolate topping).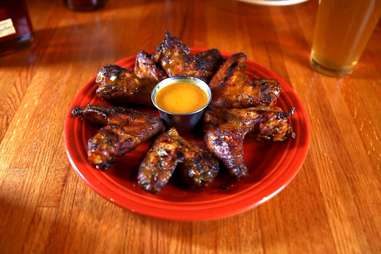 Waltham
Saddle up your trusty steed (or like, a Zipcar) and ride out to Waltham's Bison County for Southwestern and Cajun specialties and (of course) more wood-smoked meats. Their 'cue is dry-rubbed, then smoked with apple and cherry wood for the right hint of sweetness, and there's a plethora of craft beers (14 drafts, 50+ bottles) to ride shotgun with your feast. Stock your wagon with baby back and Southern ribs, BBQ smoked brisket, pulled pork (Texas or SC), baked beans with pork AND brisket, and garlic jalapeño rice.
Allston and Mission Hill
Owner Wyeth Lynch turned his hobby/obsession into a Memphis-away-from-Memphis smokehouse and soul music shrine, combining two essential elements of Americana. Their all-day smoking process begins with brined chickens, followed by dry-rubbed baby backs and spare ribs, and finally pork shoulders and brisket (that sleep until next morning). Pick the animal and cut of your choice (and two sides) and pour on any of five different sauces (Pitboss, SoulFire, Sweet, Fiery, N.C. Sauce) while you rock out to their nine-day-long playlist of Sun and Stax classics. Other notable items: the BBQ Reuben (sliced brisket, toasted pumpernickel, melted Swiss, cole slaw, Russian dressing), fried dough (with cinnamon, powdered sugar, homemade honey butter), and fried mac and cheese (no explanation necessary).
Sign up here for our daily Boston email and be the first to get all the food/drink/fun the Hub has to offer.
Kim Prosise is a Boston-based travel and lifestyle writer who prefers ribs to wings. Follow her at @kimprosise.