Meet Thrillist Boston's Best Chefs of 2016
Editor's Note: This article is part two of Thrillist Boston's year-end look at the best of our city's local food and drink scene in 2016. In addition to our annual Best New Restaurants award, this year, we're spotlighting the men and women behind the dishes we love to tell you to eat. Whether they bucked the national trends, revived classic local flavors, or otherwise drove the city's culinary scene, these are the chefs that stood out this year. Check out our picks for the rest of America's 2016 Best Chefs, and then catch up on Best New Restaurants.
Boston's evolution into a culinary destination has been explosively fast. Ten years ago, we were just emerging as a serious fine-dining city; today, there are so many forward-thinking, creative, world-class chefs running kitchens here that we seriously would bore you going through the whole list. So we picked four of the Boston chefs who absolutely owned 2016 and talked to them about how they've changed the scene, earning themselves the title of Thrillist Boston's Chefs of the Year.
Peter McKenzie
1 Shepard St, Cambridge
Harvard Square is experiencing its own sort of culinary renaissance within the greater Boston boom, and Shepard is arguably the brightest light to emerge so far. Chef de cuisine Peter McKenzie has been exploring and exploiting all the myriad ways a hyperlocal menu in Boston can tantalize year-round using only a wood fire. Seriously. They don't have ovens.
With a team like this -- executive chef Susan Regis (Biba, Rialto) co-owns with René Becker of Hi-Rise fame -- Shepard could hardly have failed to impress, but McKenzie has turned the food here into a dramatic, hyper-seasonal exploration of the best New England has to offer.
When you were opening Shepard, how did you and Susan Regis settle on a vision that resonated with each of you?
Peter McKenzie: She gave me an outline of what she wanted to do: I knew the plan was to have simple, elemental foods, using wood fire as a focal point. I had been working [at Ribelle] on a philosophy of being hyper-seasonal and working almost exclusively with local farms and purveyors and trying to be as self-sufficient as possible. We've very much continued that here. We don't have a lot of bells and whistles -- the wood fire is really the extent of our technology. A lot is up to our imagination and creativity.
Running a hyperlocal restaurant in New England seems like it could sketchy in the winter. Were there any lessons you learned from your first seasonal cycle?
McKenzie: Quantities. We found ourselves in March of last year scraping our larder for things to pull out. What we took away from the first year was that rather than doing a lot of small projects, we would focus on ones that produced something unique -- assigning value to things we've made and we covet -- and try to make enough to carry us through the year.
What's one of your project successes from last year?
McKenzie: We were getting fresh ginger from Allandale Farms in Brookline. When you're paying $15 per pound for a plant that's mostly leaf, you have to figure out something else to do with it. So we took off the myoga -- the shoot at the top, it's a delicacy in Japan -- and we infused honey vinegar with them. Not only did we then have this very delicate, mild vinegar but we also had the pickled shoots, which in the middle of the winter we can pull out and use.
Has the Shepard concept evolved since opening?
McKenzie: We're going further down the rabbit hole. As we get more experienced in our systems, we can push them. I'm trying to make the step of not buying sugar and just using maple sugar we make, but we're not quite there yet. The fact that we've gotten such good press and the food has been so well received is a testament to the quality of the food itself. At the end of the day, we try to do very little to it.
Rialto drew you here from DC, but what about Boston's food scene has kept you here?
McKenzie: There are a lot of good people in the scene here. Beyond the few flashy restaurant openings there's a really sincere and earnest group of people that are trying to not only produce tasty food that's innovative but to support local food systems. That doesn't always draw the attention that it deserves.
What's your favorite thing on the menu right now?
McKenzie: We're doing a steamed custard in a crab head. We take everything in the head--the fat, the meat, the tomalley -- and mix it with a dashi (made of smoked black bass bones and kombu) and eggs. We steam that inside the shell and serve it with bolete mushrooms that a forager friend of mine brought us. It's my favorite for a lot of reasons. It's delicious, but conceptually, it's interesting because it was the result of finding a use for a byproduct that we didn't want to throw away. Now, we've come to this place where because we sell so much of it, we're purchasing crabs for the byproduct instead of for the meat.
What was the biggest surprise of Shepard's first two years?
McKenzie: What has surprised me most is that we've managed to hold on to most of our staff since opening. I think this is a result of keeping a small crew and keeping them happy and engaged. Seasonality creates an opportunity for creativity and education. It's very much a learning experience for everyone involved.
Brian Samuels Photography
Josh Lewin
257 Washington St, Somerville
Juliet's tiny, sun-filled dining room used to house the casual Sherman Cafe, faithfully serving Union Square commuters (and telecommuters). When Chef Josh Lewin and his partner Katrina Jazayeri took over the space, they transformed it -- from clutter to minimalism, breakfast sandwiches to refined European cafe fare -- while keeping one important factor the same: integration into the fabric of Somerville's daily life.
Lewin and Jazayeri built a concept to suit the environment, and that community-first sensibility has paid off: This bootstrapped enterprise was one of only two in Boston included on Bon Appétit's list of the 50 best new restaurants in 2016. Of course, Lewin's sophisticated, elegant plays on European classics have something to do with that too.
The community initially heard about you was a Kickstarter campaign, an unusual first step for a restaurant. Tell us how that played into the Juliet concept.
Josh Lewin: Katrina and I would often talk about developing our own concept while sitting in the Sherman Cafe. One day the operators called us -- they'd heard we were hunting around for a space. That's when we decided on this approach: all three meals, breakfast and lunch in a casual space, keeping the price point lower. The Kickstarter campaign was about reaching out to the community and testing the neighborhood response; it only funded a very small percentage of what it took to build the restaurant. About 70% of our supporters were in Boston, and 90% of those were in Somerville. That overwhelmingly positive response gave us the confidence to give the project everything we have.
A "casual" breakfast at the open-all-day Juliet

| Brian Samuels Photography
You've cooked in a number of great Boston neighborhoods (with Beacon Hill Bistro, No. 9 Park, Bondir). What makes Union Square special?
Lewin: There's a very diverse group here across age groups and nationalities, people who've been here for generations co-existing with the newcomers. There's a very vocal, active contingent of people who want to help steer the change that's happening. There's a lot of anchor and foundation here. We're expectant, hopeful, and ambitious, and we'd like to ride this development as part of the community.
Juliet is a service-included restaurant. What prompted you to make that choice?
Lewin: This was foundational to any concept we would have opened. This business has given me a lot: I'm a college dropout multiple times over. There's very few industries where the playing field is so level. There's also luck, though. One of our goals with this business is to eliminate the luck for people who work with us. We're trying to build a pipeline as part of the training here: It's career oriented training from day 1.
If you're going to build respectful, strong careers, and be a sustainable part of the community, compensation is a big part of that. We pay a fair wage and we further incentivize with a profit sharing program. Every week we do training on understanding the actual numbers, the costs, the loans, what we take in, what real solutions look like. The business owners, the staff, the guests: they all want the same thing: they want a great experience.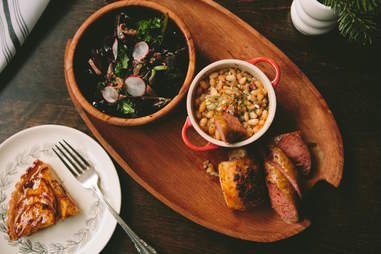 Brian Samuels Photography
You also do professional development work with fellow veterans in the Marine Corps League and Ground Operations -- tell us a bit about that.
Lewin: I'm very interested in community involvement but I don't have a lot of time for it, so I look for places to have a positive conversation about the world around us. I think restaurants are great places for veterans to find employment. They have a lot of immediately transferable skills, doing work that other people might find too hard or too tedious; restaurants are really tough.
What was the biggest surprise of Juliet's first year? What didn't you see coming?
Lewin: Being named one of the best 50 new restaurants in the country by a national glossy magazine! That wasn't even dream category, it was so beyond what we expected. This was not an expensive restaurant to launch -- it was for us, but compared to the types of places that normally get on lists like that, it doesn't even come close. Based simply on our excellence in our craft and our warm approach to the community, people really want to help us succeed.
What's your favorite thing on the menu right now?
Lewin: I love the Juliet cafe breakfast and lunch, it's a great conversation with our neighbors, it's fun. But for dinner, we don't really have a menu. It's a performance. When you make a reservation you can choose a short or a long version, but that's it. We just write the best menu we possibly can, we rehearse it, then we invite you in. I can't pick any one thing out, they're not meant to stand alone. It's this one complete show that we're lucky enough to be able to put on every night for you.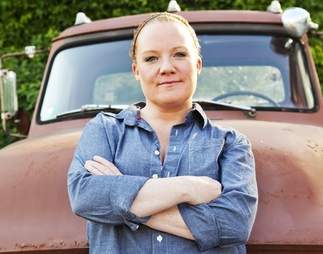 Mike Diskin
Tiffani Faison
1363 Boylston St, Boston
When Tiffani Faison came *this close* to winning the inaugural season of Top Chef, the young chef was a relatively obscure name in Boston dining. Now the whole city adores her -- due largely to her groaningly good Sweet Cheeks Q. She took a risk when she opened a very different second concept a year ago, and the risk paid off. Tiger Mama's complex yet elementally satisfying riffs on dishes from across Southeast Asia have smitten Bostonians all over again. Plus: She found a way to make dim sum even more awesome (it may have something to do with tiny cocktails).
Mike Diskin
Boston fell in love with Sweet Cheeks. When you decided to create a second concept so different from the first, were you worried about how your fans would receive it?
Tiffani Faison: People liking Sweet Cheeks so much might have bought us some trust, building a sort of bridge to what we're doing at Tiger Mama. Tiger is really different for this city. You just hope that your work and your reputation lends to people wanting to come to something else that you're building.
Has your vision for Tiger Mama evolved since opening?
Faison: There's been some minor tweaking and adjusting, but it's what we intended since the jump. We did just start offering a dim sum style brunch: We do cocktails as well as food, everything comes around on carts and trays. We do that from noon until 9pm on Sundays. Service goes so, so fast, it's crazy. It's been great.
Tiger Mama's bun cha hanoi, aka crispy pork rolls we wish we were shoving in our face right now

| Mike Diskin
Southeast Asian food is generally overlooked as a cuisine in its own right in our neck of the woods. Do you see that changing?
Faison: My wife and I have been traveling to Southeast Asia for the last 10 years. We love it. The food wasn't being represented here in a way that I thought could be celebratory, and respectful, and fun. I saw an opportunity to do that but the city still has a lot of room for growth. I would love to see young chefs of color coming up that can really represent food that's not here in a way that feels authentic and meaningful to them.
How does the Fenway feel to you these days? It's changed a lot in the last five years.
Faison: It's had a very strong community for many years, but this new incarnation is getting its legs under it. My wife and I talk about it all the time. It was gas stations, liquor stores, and gay bars along the Boylston strip, and some studios set back when we came in five years ago... Honestly, I hadn't considered how emergent the neighborhood was at the time. But that worked well for Sweet Cheeks and the transition has allowed for restaurants like Tiger. The change feels like it's been slowly curated and I hope that we can continue doing that moving forward. I do think we'll see more dining destinations. I think we'll see more retail, too, which is always great in rounding out a neighborhood. It's both exciting and scary.
If you had to choose between eating only BBQ or only Thai food for the rest of your life, what would it be?
Faison: For longevity's sake alone, probably Thai food! I'd probably keel over after about two weeks of only eating barbecue. Obviously, it's like trying to pick a favorite child; I love eating both. But for health reasons alone, I'll go with Thai. Eat rice, live forever.
What was the biggest surprise of Tiger Mama's first year?
Faison: The biggest change might have been the labor market. It had been four years [since Sweet Cheeks opened], and it had changed so much. Not just in availability, but the expectation of what people have coming into the kitchen. I didn't understand what the phrase "quality of life" meant when I was starting out -- I had no boundaries. Maybe that's not the best thing, but it's really different now. Part of it is the extraordinary economy: if there were fewer jobs, the attitude might be different.
What's your favorite thing on the menu right now?
Faison: Hardest question. But I have to go with pad kra pow (stir fried holy basil): We do it with ground chicken and it has a fried egg on top, it's really rich and spicy. It was the first thing I ever had when I got off the plane in Bangkok. It was in a stall across the street from my hotel. I think I had like four plates of it. I have loved it forever and we do a really good version of it--to the point that a guy came in and said, "This is the best I've ever had -- well, second best. The best was this stall across from my hotel in Bangkok." We figured out it was the same stall! I will happily take second to that.
Galdones Photography
Michael Scelfo
1030 Mass Ave, Cambridge
So, let's say you open a restaurant and people right away fall in love with it and make it super popular. And then about a year later you decide to open a second restaurant, and people right away fall in love with it and make it super popular. Do you rest on your laurels? Not if you're Michael Scelfo, who is always looking ahead to his 10-year plan and has more things on the horizon.
But we're happy to focus on Waypoint for the time being, the second point on Scelfo's culinary journey. A complementary sibling to his renowned Alden + Harlow, Waypoint celebrates New England seafood with some unusual touches. From the meticulous caviar service to milling grains for their doughs in-house, Waypoint's genius is in the details. That carries through to the killer bar program, which includes on-tap absinthe and an intelligent exploration of old and new.
Your first restaurant became an instant local favorite when it opened -- just two years ago. What did you want to say with Waypoint that you weren't saying with Alden & Harlow?
Michael Scelfo: In a lot of ways it's complementary to Alden: It allows me to stay in my comfort zone while exploring new options. Our large-format roasts have been an even bigger success than I would have thought. Caviar as well, too. It's a completely different animal in terms of running it. It's part of the fun, getting the new machine working.
What do you think of the food scene in Harvard Square these days?
Scelfo: I've been cooking on this side of the river since 2008. Having cooked in Boston, in the city, for my first few years here, I can say I feel much more at home in Cambridge. There's a great, eclectic feel to the people here, it's creative... it's our little Brooklyn. Obviously I'm biased, but I just saw that Boston was listed as a top food city, and you'd have to point to Cambridge for a lot of that.
You've said that your vision for the food here was what you would want to enjoy at home with family and friends. With two restaurants, how much home cooking do you do these days?
Scelfo: [Laughs. A lot.] Very little! But when I do, I make it count. The source for all my creativity comes from home. What I put down in front of my family and my friends is my test for what makes it to my restaurants. It's the most honest expression of who you are. The core values of the food we do, it comes from home.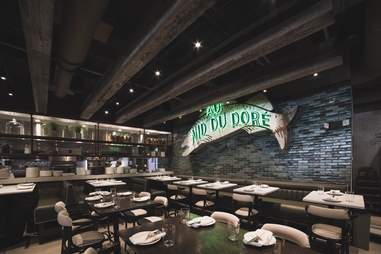 Scelfo's seafood-focused second concept, Cambridge's Waypoint

| Galdones Photography
You show a serious commitment to local ingredients and vendors. How integral is that to your concepts?
Scelfo: It's just the way we do things. I'm constantly telling our staff to not browbeat our customers with all the information. Aren't we past the point where we need to use it as a pitch point? Shouldn't it just be the way we operate? Of course we buy eggs and chickens from right down the road. Of course we buy the seafood out of our local waters. We're not all the way there, to the point where you can take it for granted, but we're a progressive community in a progressive state. There's a lot of people who care about the right things.
How do you think dining in Boston has evolved over your career?
Scelfo: I think it's changed incredibly, especially in the last five to six years. Customers are gravitating towards what individual chefs are doing. You've got a lot of creative people out there who are working really hard to provide for themselves, for their staff, and their families, and make great food while doing it. I think we're going to look back in 10 years and see this as a seminal time for the Boston food community.
What was the biggest surprise of Waypoint's first (half of a) year?
Scelfo: The amount of people that were so excited about it. I feel like l live in a bit of a bubble when it comes to what I do... to see the line out the door on the first day, to see people so responsive... that was great. Also, our late-night program continues to grow, it's been a big hit. And we just rolled brunch out and I was completely blown away by the success of it. It's exciting. It fuels the fire.
Galdones Photography
What's your favorite thing on the menu right now?
Scelfo: I'm a big fan of our uni bucatini. Uni and pasta is a traditional combination in Italian culture, but with our smoked egg yolk, it's just so unctuous. It's a great fresh spin on a classic.
Can you give us any details on the third concept we keep hearing rumors about? What's the next waypoint on your journey?
Scelfo: I'm always thinking of what the next step is. I set out with a 10-year plan -- my father was a big believer in that. You have to know where you're going. We started with 30 people and now I have 175. That's a lot of growth for three years. I didn't want growth to happen faster than I can handle. Still, without saying anything specific, I'm always excited for another opportunity to showcase what we do.
Sign up here for our daily Boston email and be the first to get all the food/drink/fun the Hub has to offer.
Margaret Collins eats and drinks her way around Boston primarily to avoid working on her novel. Check out her musings on food, life, and writing at Salt Sweet Bitter.