Best Burgers in Boston You Can Order For Takeout and Delivery
Get your burger fix this Memorial Day.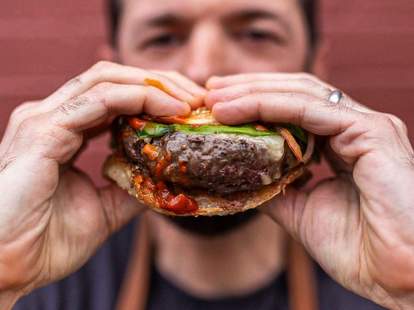 These days, it's all about creature comforts. And we can't think of many things more satisfying than a plump burger with all the fixings. Sadly, many of our regular faves aren't available for takeout or delivery at the moment -- we miss you, Drink burger! -- but other spots have taken up the mantle and added takeout patties to their repertoire. And right now, a Bostonian could do a helluva lot worse than committing to a remote culinary exploration of every last great burger available in the city, including some undersung gems. Consider us your spiritual guide through this new, all-beef regimen.
Central Square
This is the burger: a first ballot hall-of-famer that changed the city's patty game forever. Three cuts of beef, plus suet, bone marrow, and dehydrated miso make up the actual burger; topped with Shelburne Farm Cheddar and a homemade mace ketchup, this
Bon Appétit
cover model is as much deity as entree -- and it's part of Craigie's takeout menu.
How to order:
Order pickup
online
and delivery through
Caviar
Jamaica Plain
We get it. The fried chicken is hard to resist. But try, because Brassica's umami-packed burger is a revelation. For starters, it's Wagyu beef. And then there's the smoked daikon, adding unexpected texture and flavor. The melted Caveman Blue, from Cowgirl Creamery, brings it home, a flavor-packed topper that demands you slow down and savor your meal.
How to order:
Order
online
for pickup and order delivery through
Grubhub
Savin HIll/Polish Triangle
If you live outside the Dorchester area, you might not know about 224 Boston, a charming neighborhood restaurant with the sweetest front garden seating you'll ever see (and which we desperately miss right now). And its drippy, juicy burger is both massive and scrumptious, with bacon and caramelized onion aioli adding salt, crunch, and umami.
How to order:
Order
online
for takeout and order delivery through
Caviar
Inman Square
Another thing we're thankful for right now is Will Gilson's new takeout dinner menu, available seven days a week. His celebrated passion for top-notch ingredients translates to a damn fine bar burger, which is topped with bacon lardons, lots of melted gruyere, and truffle jus (plus a little shredded lettuce for added texture).
How to order:
Call 617.615.6195 for takeout
South Boston
Remember back in January -- you know, about eight trillion years ago -- when it was announced that Coppersmith was going to close? Well here's some rare good restaurant news. Coppersmith is alive, kicking, and serving takeout. Not only that, but it's slinging two divine burgers. There's the spicy BBQ bacon varietal with jalapeños, cheddar cheese, and crispy onion strings, and the house classic of two four-ounce patties, cornichon mayo, shredded lettuce, and American cheese.
How to order:
Call 617.658.3452 for takeout
Lower Mills
If you are quarantining with a vegetarian but dying for a classic bar burger, Lower Mills has both of you covered. The black bean burger gets a kick from chipotle aioli, while the LMT burger is a straightforward classic: a thick patty complemented with tons of melted American cheese, bacon, house sauce, lettuce, tomato, and onion -- all sandwiched between seeded brioche.
How to order:
Call 857.267.4461 for takeout and order delivery through
Uber Eats
South End
We'll admit that the shoestring fries almost steal the show. Emphasis on "almost" because this is a truly divine burger, dry-aged beef topped with Applewood smoked bacon, caramelized onions, cheddar cheese, and the housemade secret sauce.
How to order:
Order delivery through
DoorDash
SONYA HIGHFIELD/THRILLIST
Downtown Boston
In normal times, you come for the cocktails and stay for the house burger: eight ounces of Angus beef burnished with cheddar, grilled onions, pickles, and a homemade Russian dressing (Pop's Russian). Luckily, it's available to go. We still suggest wolfing it down quickly to get the fullest experience.
How to order:
Order delivery through
Uber Eats
South End
Beef can cure what ails. The small but mighty ready-to-eat takeout menu at The Butcher Shop includes a triple decker patty melt topped with cheddar, lettuce, tomatoes, and pickles -- with fries on the side. Add a Pabst Blue Ribbon to the order for a mere $2.50? Why the hell not!
How to order:
Order
online
for takeout
Back Bay
Mistral's current takeout menu is actually an amalgam of menu favorites from all of the Columbus Hospital Group restaurants (which explains the pizza and pastas). But the burger is straight-up Mistral decadence, a prime beef patty topped with American cheese, tarragon aioli, mushroom duxelles, and pork belly. PS: The cheeseburger on the takeout kid's menu has been confidently deemed the "best burger EVER!" by my 7-year-old niece.
How to order:
Call 617.867.9300 for takeout and delivery
Beacon Hill, South Boston
God, remember the days when you could stand in a crowded line to order a meal at a lunch counter? Best to reminisce over a takeout Paramount Burger: a grilled patty topped with Applewood smoked bacon, cheddar cheese, crispy onion rings, and pickled veggies, served inside a buttered brioche bun.
How to order:
Call 617.720.1152 (Beacon Hill) or 617.269.9999 (South Boston) for takeout and order delivery through
Postmates
,
Uber Eats
, and
Caviar
(Beacon Hill) and
Uber Eats
,
Caviar
, and
DoorDash
(South Boston)
Harvard Square
A burger joint doesn't make it into its sixth decade without doing a few things right. While it might be tempting to order the Maura Healey (the lunch counter constantly changes its burger names and concepts based on the personalities of the moment), you can never go wrong with the Triple D -- a double cheeseburger worth its cholesterol and adorned with bacon, barbecue sauce, and grilled onions.
How to order:
Order delivery through
DoorDash
North End
You are correct that in normal times, Bricco does not do a hamburger. And even if they did, what are the chances you'd order it, what with all that divine pasta calling your name? But in these distinctly abnormal times, Bricco is expanding its horizons to bring you a surprisingly sophisticated patty: Painted Hills natural beef, Cabot Clothbound cheddar, bibb lettuce, Peppadew pepper relish, smoked bacon, and parmesan aioli.
How to order:
Call 617.248.6800 for takeout
South End
Don't you worry, the Aquitaine Burger hasn't gone anywhere. The $20 treat -- formerly an off-menu item called the Michelin burger, for good reason -- starts with a dry aged ground beef patty that's almost as tall as it is wide, topped with caramelized onions, sharp cheddar, and truffle, served on a toasted onion bun. Oh, and those hand-cut fries are pretty delicious, too.
How to order:
Call 617.424.8577 for takeout and order delivery through
DoorDash
and
Grubhub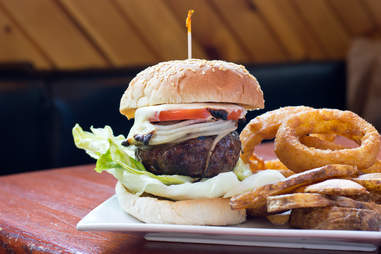 SONYA HIGHFIELD/THRILLIST
Somerville
You probably first discovered it when some local offered to take you out for burgers -- and then totally blew your mind. You've probably since done the same to countless Boston newcomers. This is strictly longtime relationship territory, so grab your pandemic buddy and tuck into the Creamy Blue Cheese Burger, dripping in spreadable blue cheese, bacon, and yet another cheese of your choice.
How to order:
Call 617.491.9638 for pickup and order delivery through
Uber Eats
Lynn
In a takeout miracle, The Blue Ox's limited-edition Sin burger is on the to-go menu! A sizable prime beef patty practically groaning underneath applewood smoked bacon, Swiss cheese, and truffle aioli, this one should be considered a special treat. But when a burger from Lynn wins
Boston Magazine
's "Battle of the Burger" three years running, you know it's worth investigating.
How to order:
Order
online
for pickup
Back Bay
So, you're absolutely forgiven if you order a roast beef sandwich to accompany your burger -- Cusser's version is just that good. But the takeout window's burger is a worthy sibling, a surprisingly sophisticated entry with lots of melted cheddar, pickles, and the "Thoreau sauce," a spicy mayo of sorts, all on a housemade roll.
How to order:
Order
online
for takeout and order delivery through
Caviar
Sign up here for our daily Boston email and be the first to get all the food/drink/fun the Hub has to offer.