Donuts may be a fad in some cities, but in Boston, home of the Dunkin', they're here to stay. Baked or fried, filled or frosted, it's the sugar rush we've come to expect with our morning joe. With the rise of the artisanal donut, the variety of new takes on old standbys is nearly endless. But we'll always be suckers for the traditional treats -- especially the one that's based off of our beloved city's name. When you're craving that sweet, sweet lump of dough, look no further than our picks for the best donut shops in Boston.
Somerville
The last time we spoke to the donut darling (one of the best shops in America), it had just moved into a new location with a bigger kitchen capable of knocking out enough sweet, pillowy doughnuts to meet our voracious demands. The exciting news is that as of February, the shop is open on Mondays -- now operating seven days a week -- to bring a little cheer to our Monday morning blues. Not only that, but it's rolling out new flavors like orange cardamom poppy and coffee cream by Counter Culture Coffee, too.
South End
Blackbird Doughnuts remains the only artisanal donut shop in Boston proper and are still cranking out fresh, oh-so Instagrammable donuts. Flavors change every two weeks, ranging from cookies and cream to the everything bagel -- a donut filled with whipped cream cheese. They've also added a full-fat, soft serve to their lineup, which means they now make donut ice cream sandwiches. A dozen, please.
Boston Public Market
One plus (of many) about having a year-round farmers' market is getting to eat the fresh, mini apple cider donuts at Red Apple Farms anytime we want. The production-belt doughnut machine is a must-see as it rolls out piping hot doughnuts made with the farm's own fresh-pressed apple cider.
Financial District
Since its expansion to the Financial District, Kane's has become an instant favorite among the white-collared, 9-to-5 crowd. Because who wouldn't want to have a Snickers donut after a long meeting or a Caramel Turtle donut after a rough day at work? Did we mention they do donut birthday cakes as well?
Southie
In the era of gourmet donut shops, Doughboy Donuts stays true to its traditional roots. In fact, its unpretentious interior reminds us of that other Boston-based, mega donut chain that rhymes with Bunkin Bonuts. However, loyal patrons swear by Doughboy's soft and tender donuts. If you're looking to try out the shop, go with the fan favorite -- Boston Cream.
Allston/Brighton
Twin Do-Nuts has been a landmark donut shop since the 1950s, and its iconic, retro signage stands out from the others in Boston. Donuts are made fresh daily and flavors range from seasonal favorites like pumpkin and chocolate butternut to classics like Boston Cream and vanilla frosted. Wash them down with an iced coffee.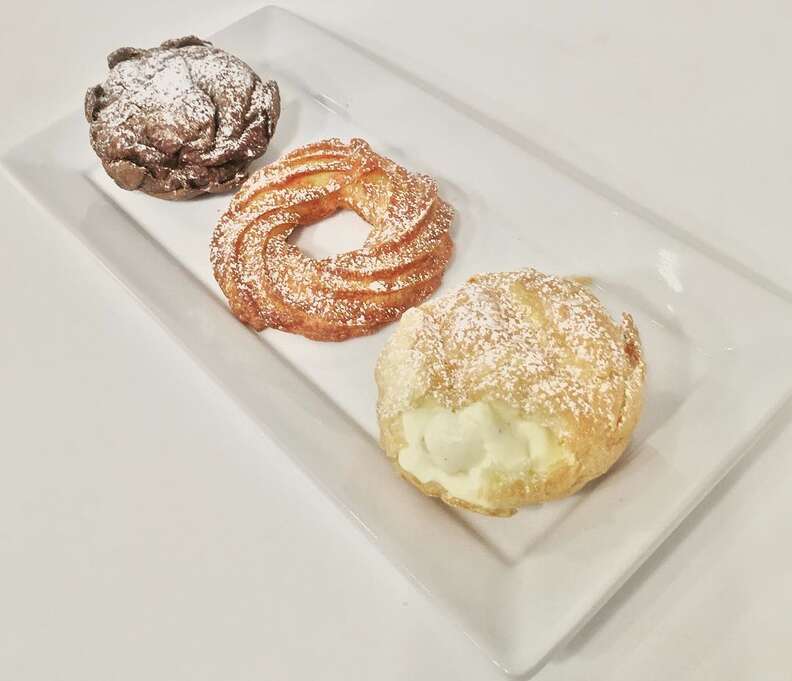 Chinatown
If you've never been to international éclair chain Beard Papa's, you must. Let your nose guide you to the most fragrant bakery shop since your teen days of scoping out the Cinnabon wafting through the entire mall. At first glance, it would seem to only serve massive pate à choux cream puffs, but upon second examination -- donuts! Beard Papa's puts out the Paris Brest, a cross between the Spanish churro and the donut you expect. Best of all, it can be dipped in chocolate, and they fill it with your choice of vanilla or green tea pastry cream.
Cambridge
Playska makes some of the most amazing sandwiches around, but they also make a killer donut, rather -- sweetened kolache. The Eastern European pastry is a denser, yet pillowy yeasted dough filled with flavors like almond custard, peanut butter, or raspberry cream cheese.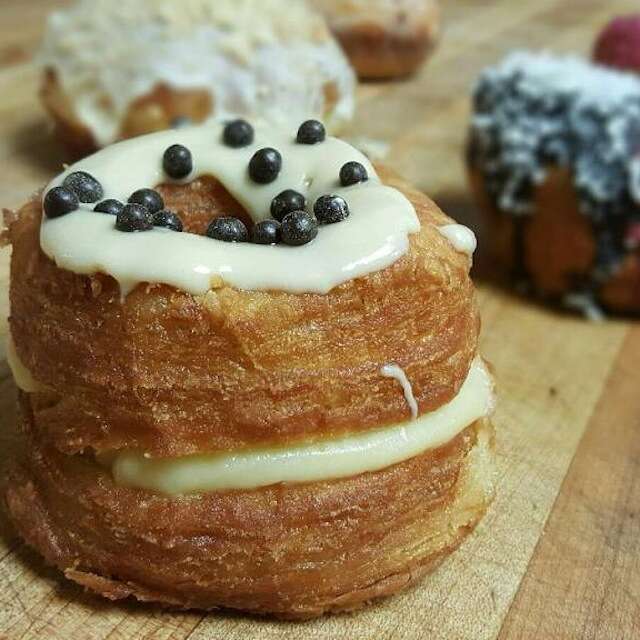 North End
#DoughnutThursdays. Remember that hashtag because Thursdays are when Boston Common Coffee fries up some of the most creative donuts the city has to offer. Flavors like maple bacon bread pudding or sweet corn and thyme donuts made with fresh corn kernels pop up just once a week. Unsurprisingly, they run out fast.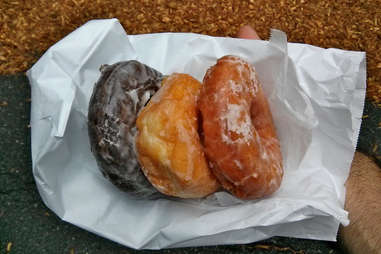 Cambridge
Verna's is an old-timey, no-frills shop baking up crumbly donuts with the perfect amount of substance for dunking in strong black coffee. At about $1 apiece, fill up the entire box with flavors like coconut, chocolate whoopie pie, and buttermilk.
Love free donuts? Find out where to stock up for this year's National Donut Day on Friday, June 2, 2017.
Sign up here for our daily Boston email and be the first to get all the food/drink/fun the Hub has to offer.

Christina is a Boston-based food and recipes editor. She's one of those annoying girls who has to take a picture of everything she eats. When she's not wreaking havoc in the kitchen or taking pictures of food, she's out visiting her favorite open-air markets. If you're interested in following her crazy adventures or want to see what she's cooking up, check out her website EastMeetsKitchen.com.