Bostonians are used to waking up to morning joe and donuts, typically of the Dunkin' variety. But a recent surge of gourmet, hand-crafted donuts has led to shops popping up throughout the city. At these spots across 10 Boston neighborhoods, you'll get your fix of crullers, Long Johns, and Boston creams (aka the taste of freedom).
Allston/Brighton
Clear Flour Bread Bakery (address and info)
This classic European-style bakery specializes in Italian and French breads and pastries. Its light, oven-baked currant donuts have been touted as some of America's best. You'll get donuts that are pillowy-soft, subtly sweet, and not the least bit greasy.
Chinatown
Union Square Donuts (address and info)
At two-years-old, Union Square Donuts is already one of the leaders in Boston's gourmet donut scene. Headquartered in Somerville's Union Square, the shop holds pop-ups weekly in markets such as SoWa near Chinatown and Dudley Square in Downtown Roxbury. The store's big and fluffy donuts change flavors regularly with year-round favorites being the brown butter hazelnut crunch and Boston cream.
Financial District
Kane's Handcrafted Donuts (address and info)
The long established Saugus bakery recently expanded to the heart of Boston's Financial District and donut lovers have been lining up outside the door for the shop's red velvet donuts and donut sandwiches ("dowiches") ever since.
Jamaica Plain
Fazenda Cafe (address and info)
Ever since Sabertooth Bakery joined the trendy café in 2012, this local spot has been known for its oh-so-delicious vegan donuts in addition to its roasted coffees. Flavors come in impressive off-beat varieties such as espresso, lavender, and cookies & cream.
Fenway/Kenmore
Japonaise Bakery (address and info)
This bakery blends classic French pastries with unique Japanese flavors. Although the status of its curry donuts is currently unclear due to the closing of the bakery's Commonwealth Ave location (where the traditional-style donuts are made) Japonaise's Fenway/Kenmore location still produces its heavy-hitting azuki cream donut. The azuki is definitely more Cronut than donut since it is made with a croissant-base, then topped with powdered sugar.
Fort Point
Flour Bakery (address and info)
Joanne Chang's award-winning bakery is usually known for its amazing pecan sticky buns, but many don't know that the bakery also makes killer donuts. Its rich, brioche-based jelly donuts are a must-try, but make sure you get there early since they sell out fast.
Mission Hill
Mike's Donuts (address and info)
Mike's has an unassuming appearance, not unlike the interior of a Dunkin'. But locals swear by Mike's jelly and apple cider donuts and claim that this family owned shop is anything but commercial.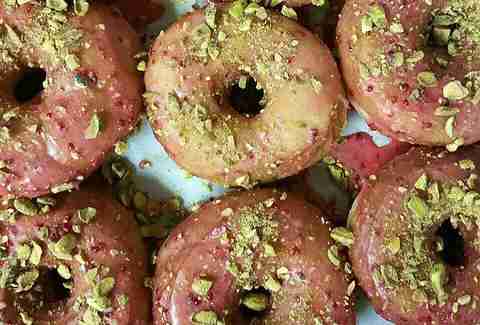 North End
Boston Common Coffee Co. (address and info)
The "Donut Thursday" menu at Boston Common Coffee Co. changes every week and usually when donuts are sold, they sell out before noon. Check out the shop's Instagram account to see what flavors are coming up for the week. Past combinations include fig & feta, vegan raspberry hibiscus pistachio, and Mexican hot chocolate.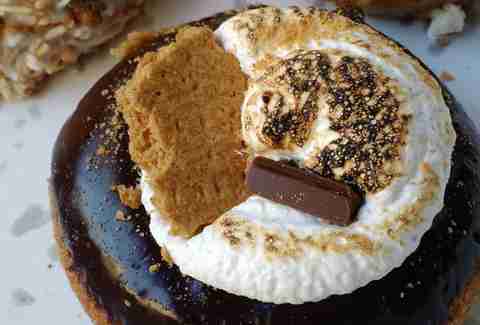 South End
Blackbird Doughnuts (address and info)
Ever since The Gallows announced it would be opening a separate donut shop to sell its already popular donuts from the weekend brunch menu, donut fanatics around Boston have been patiently awaiting its arrival. Having just opened in January, Blackbird Doughnuts is a mix of gourmet donut shop and chic upscale hotel. Fans are flocking over and raving about Blackbird's Apple Bismarck, which the owners have likened to an amazing McDonald's apple pie.
West Roxbury
Anna's Hand Cut Donuts (address and info)
This old-school donut shop has been a staple in West Roxbury for nearly 50 years and has a loyal following. The crowd's go-to favorites are the black raspberry twist along with the marble cruller and honey-dipped donuts.
Sign up here for our daily Boston email and be the first to get all the food/drink/fun the Hub has to offer.