Every year the Red Sox add new additions to the growing number of food options offered at their concession stands, and while they may not be as adventurous or outlandish as some ballparks, Fenway continues to offer great, creative local options. There are the standard hot dogs, peanuts, and Cracker Jacks, but there are plenty of choices for diners of any appetite. Below is a list of Fenway's finest and newest food and beer options for enjoying a Sox game (just don't throw any of them at the Yankees).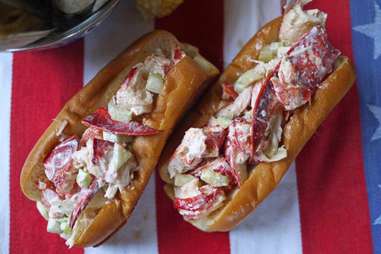 Yankee Lobster Rolls
Gate D and Pavilion
The Red Sox chose the Seaport's Yankee Lobster as their official local fishmonger. Finally giving Sox fans a way to use the word "Yankee" without an epithet in the same sentence, the company's products can be sampled all over the park. This year it's offering two different lobster rolls: the classic New England style served cold on a warm buttered roll with celery, herbed mayo, and lettuce, and the hot version served with melted butter, and parsley. Both are $19.
Lobster Poutine Stak
Big Concourse
Yankee Lobster is also collaborating with Aramark's Test Kitchen, which will use their products in some of their most adventurous dishes of the year. While some items will rotate throughout the season, they started by introducing a lobster melt served with Muenster cheese and tomatoes. This year's most interesting and decadent creation, however, is the "Lobster Poutine Stak" -- steak fries with cheese curd, lobster meat, and chives, topped off with lobster bisque instead of traditional gravy.
The Meatball Cone
Big Concourse, Home Plate Concourse, Gate E
The famous North End eatery now has an exclusive 5,600 square foot rooftop deck adjacent to the Fenway Farms Garden. The Meatball Cone, introduced this year, stuffs one of Strega's famous giant meatballs, Pomodoro sauce, parmesan, and ricotta cheese inside a chewy piece of dough, a delicious, if unwieldy, concoction.
Regina brick-oven pizza
Big Concourse, Gate E, Third Base Deck, First Base Concourse, Right Field Roof Deck
The "Official Pizza of the Boston Red Sox," this North End institution has been expanding its operation around town for quite some time. Now that it's made its way into Fenway, you can expect your slices -- or a whole pie -- to be a step up from previous years, even if you just order the plain.
Fenway Franks
Home Plate Deck, Fifth Floor, Big Concourse, Home Plate Concourse, Coca Cola Deck, 3rd Base Concourse, Third Base Deck, Pavilion, Right Field Roof Deck, First Base Concourse, Yawkey Way
Few game-day food options rival Fenway Franks. A ballpark tradition since the beginning of the franchise, Kayem, the local company based out of Chelsea, taste-tested several different recipes and cooking techniques to perfect this recipe before the 2009 season. Unlike most stadium franks, these dogs are boiled and grilled, then put on a traditional New England split-top roll.
The Cuban Sandwich
Yawkee Way
Before the game, Yawkey Way is the place to be. Entry is restricted to ticket holders, but the legendary outdoor meeting place offers some of the best Fenway food you can find in one place. El Tiante is a particular fan favorite, owned by Cuban Red Sox pitching great Luis Tiant, serving up excellent Cuban sandwiches. As a bonus, sometimes he's even there to watch you eat them and sign some autographs.
The Monster Mule
Right Field Grandstand
There are plenty of places offering flat, overpriced ballpark suds, but now you can take the edge of with some harder stuff. Thanks to a new partnership with Tullamore D.E.W. Irish Whiskey, the last few rows in the Right Field Grandstand were transformed into a go-to destination for those who want to get down with the brown liquid from the Emerald Isle. Featuring swivel stools, tables and standing room sections, the full-service bar also offers food and 64in televisions (for those who think watching in person isn't good enough). Nabbing a seat there will cost you anywhere between $35-$75, depending on the game, but the Monster Mule -- an Irish twist on the Moscow version -- is worth trying.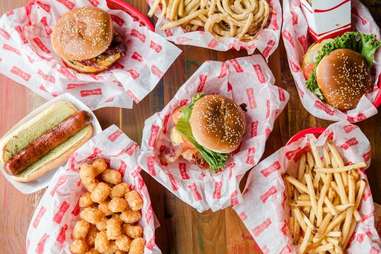 Jalapeño Burgers
Right Field Concourse, Gate C, Third Base Deck
There are burgers, and then there are Tasty Burgers. It now has three locations in the stadium, in addition to its stand on Yawkey Way and the flagship restaurant just a few blocks away on Boylston. While the menu is a stripped-down version of the brick and mortar spot, the burgers and shakes are the best in the stadium. Offering regular hamburgers and cheeseburgers, the Spicy Jalepeno Burger is the one to try. The juicy 1/3lb all-natural patties are paired with options like tater tots and shakes (or frappes, as locals call them) in chocolate, vanilla, and Green Monster flavors. Check out the location on the Third Base Deck to enjoy for full-service food and a decent cocktail bar.
The Homegrown Salads
Visitor's Clubhouse, Grandstand 25
Fenway Park has long been heralded as one of the most vegetarian-friendly stadiums in the country -- it actually has a roof garden where they grow organic peas, kale, arugula, radishes, strawberries, rhubarb, fresh herbs, and more, all used in dishes around the stadium. Last year alone, the garden yielded 7000 pounds of produce, and this year, you can sample its bounty by building your own salad or fruit bowl at the Big Concourse, or nosh on veggie dogs and burgers at the Visitor's Clubhouse area and Grandstand 25.
Sign up here for our daily Boston email and be the first to get all the food/drink/fun the Hub has to offer.
Nolan Gawron is a music, travel, and scene writer for Boston and beyond. The first time he went to Fenway Park he was six years old and all they only had hot dogs, peanuts, pretzels and Cracker Jacks. He ate all of them . Follow him on Twitter @NolanSellsOut and on Instagram @blurred_visionary