French fries may have been invented by the French (or the Belgians or whatever), but Americans perfected them. How else can you explain the mass quantities we consume, and the deep sadness we feel when they go to waste. From the deliciously simple to the deliciously smothered, here are 11 fries in Boston you need to be inhaling right now:
Recommended Video
These Tacos Are Made for Dunking
Multiple locations
Everyone knows that Roxy's oozy griddled sammies reign supreme, but their fried spuds are also a must. Fresh cut potatoes form the base, then they're seasoned with rosemary, sea salt, and truffle oil. So simple, so effective... and so cheap! Only $4. Pro tip: you can add bacon to ANYTHING at Roxy's for $1. 
Multiple locations
It didn't take long for Tasty Burger's sizzled patties to find a place in our hearts and arteries. Even the Sox named them their Official Burger. But you can't have the Lone Ranger without Tonto, and you can't have burgers without fries. And lots of them. For a mere $3, procure a large heap of their thin cut, lightly salted taters that exemplify the delicate balance between crunchy outside and soft inside. Up the ante with cheese sauce (regular or spicy, sausage gravy, chili, or all of the above).
Fort Point
Lucky's, that semi-hidden over-the-channel mainstay, ushered in the elevated comfort food movement, and their fries certainly helped the cause. They have golden brown skinny fries (with some skins, of course) that go great alongside their burger or flying solo. Wash them down with a maple Old Fashioned.
Faneuil Hall
At Saus, it's all about fries, so they had better be exceptional. Guess what? They are! They start with hand-cut aged Idaho Russets fried to perfection. The rest is up to you. Opt for basic frites and dip them in one (or all) of the 13 brilliantly named sauces, from the super garlicky Vampire Slayer to the beer-infused Colonel Mustard With The Wrench. Better yet, indulge in some poutine made from Pineland Farms (ME) cheese curds and beef/chicken gravy. If you really want to go big, you can doctor them up further with truffled mushrooms, bacon n' beer braised beef, or pork belly. But most importantly, they're damn fine on their own.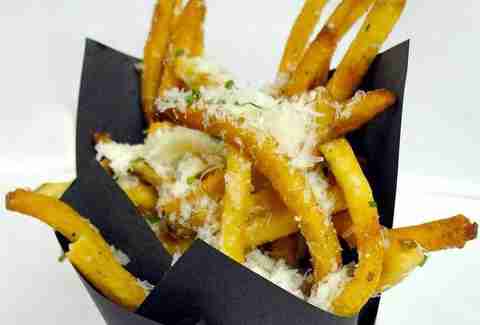 Theater District
What's a high-end Italian restaurant doing on this list? Making amazing French fries, that's what!. Sure, Teatro is best known for their house-made pastas and gelatos, but don't miss the fries. Parmesan truffle fries, to be exact. The aromatic nuttiness of Parmigiano-Reggiano makes these somehow even more addictive.
Downtown Crossing
Kingston Station defines "urban bistro" with their creative fusion cuisine. (Like ginger-edamame hummus). As such, they take their truffle fries to a whole other level. They coat their crispy potatoes with truffle oil and scallions, and then cover them with a happy blanket of melted Gruyère. Erase your memory with some Absinthe and get the fries again. Repeat as necessary.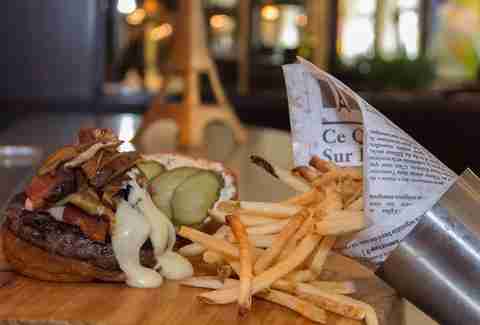 Back Bay
Every brasserie worth its weight in butter must have excellent pommes frites. It's a law or something. Brasserie Jo delivers with no-nonsense, simply-executed fries that complement every dish. Pro tip: pop in for lunch when fries are the standard-issue accoutrement. Like with the Grand Jo Burger with duck/foie sausage and duck egg. Or the Croque Monsieur. Or Steak Tartare. Any choice = you win.
Chinatown
Wait, there's an Asian fusion restaurant on this list? Correct again! Shojo serves up not one, but two unique offerings in the fry game. First up are duck fat hand-cut fries with Sriracha aioli. Duck fat, people.They also have "Shadowless Chili Cheese Fries", a so-crazy-it-works combo of kimchi, Velveeta, Chen San's Mapo tofu, and scallions. Who knew?
Allston / BU
The two Sunsets are beer-lover meccas, with more tap lines than you can handle and more bottles than you can fathom. And they know salty snacks = more beer orders. Their spiced curly-q fries are amazing plain or with cheese. Then you have the original sour cream & chive fries with homemade ranch -- basically a remixed baked potato. Spice fiends will want to grab the Cajun Fire Fries. And another beer.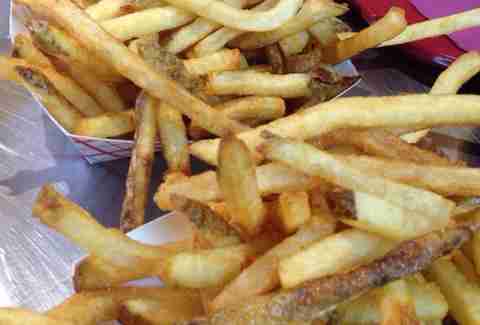 Multiple locations
UBurger, your other favorite local burger chain, earned their stripes with mouth-watering, made-to-order patty creations, like the Stunt Double Cheeseburger. And you definitely want fries with that. Here, they are homemade and hand-cut, then cooked in vegetable oil (no trans fats!). This will make you feel 3% better about the chocolate frappe you're ordering.
 
Back Bay
Before you even arrive at Grill 23, you know you're getting the tender 18oz 100 day-aged prime ribeye from Brandt Beef (CA). It's a la carte, so that steak will need some friends. French fry friends. At this Back Bay institution, they are lightly seasoned with sea salt and gremolata, a chopped herb condiment made with lemon zest, garlic, and parsley.
Sign up here for our daily Boston email and be the first to get all the food/drink/fun the Hub has to offer.