Contrary to lore, it wasn't technically the Puritans who killed Boston's happy hours. Our peculiar little ban came about back in 1984 as part of a larger state effort to curtail drunk driving. Other cities were supposed to follow suit … but didn't. So, yeah, here we are. At least we still have great after-work food deals and more one-buck shucks than you can shake a stick at! Which is not to say all happy hour specials are created equal -- gnarly wings or soggy nachos do not a great HH deal make. So here are our picks for the best deals in town no matter which Boston neighborhood you end up in.
Central Square
The Kinsale and The Asgard
When: Mondays after 5pm
The deal: These half-dollar wings are anything but half-sized. Big, meaty, and flavorful, the wings from these twin Irish restaurants let you eat your carnivorous heart out on Mondays no matter what side of the river you call home.
Pagu
When: Daily from 3-6pm daily in the bar only
The deal: One-buck wafflatos (a cross between a waffle and a mashed potato) are definitely divine, but we're actually here for the $3 patatas bravas, the true judge of any great small-plates restaurant (and trust us, these are great). 
Harvard Square
Grendel Den
When: Daily from 5-7:30pm ($4 minimum drink order)
The deal: Poor students and student-types have known about this sanguine little secret forever: The entire menu becomes half-priced during its happy hour, which means everything from half-priced Caesar salads to half-priced Impossible Burgers.
Kendall Square
Dante
When: Daily, 2:30 to 6pm; bar only
The deal: You in search of a solid pre-game nosh? Every night of the week, the hotel bar is ready to do you a solid: $2 Oysters, $2 bruschetta, $2 shrimp cocktail, and $2 arancini--all deals available for more than three hours every day.
Mission Hill
The Squealing Pig
When: Tuesdays, 5-8pm
The deal: Just to recap, the city is awash in one-buck happy hour deals (seriously, we've lost count at this point), but as far as we know there's only one spot that gives you oysters actually free of charge. Hang with Harvard Med students as you revel in the city's best, most clandestine deal. (We discovered this a little while ago and have been reluctant to share.)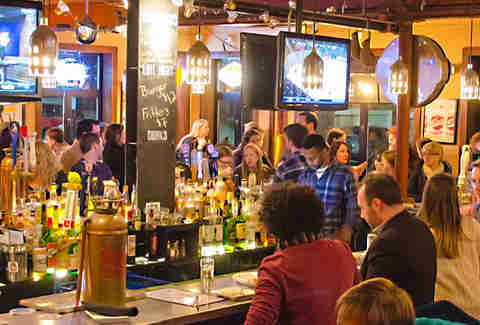 South Boston
Local 149
When: Monday-Thursday from 4-6pm
The deal: There's a little something for everyone throughout the week. On Monday it's the delish patty melt (cheeseburger between two slices of Texas toast) for a cool five bucks, Tuesdays it's $3 tacos; Wednesday is $1 oysters, and Thursdays is half-off the chef's whim pizza.
South End
Banyan Bar & Refuge
When: Daily from 4-6pm
The deal: Three words: One. Dollar. Dumplings. And it's actually even better, because it's $1 per dumpling order (two per order). You're at the mercy of the kitchen, but at this price, you'll accept any filling there is -- and one time a table inhaled 160 dumplings, so you have your work cut out for you.
Estragon 
When: Monday-Thursday from 5-7pm
The deal: One of Boston's best tapas bars has a beloved "tapas blitz" during the week. Get more than half-off on menu favorites like grilled baby octopus, crispy fried chickpeas, and roast Brussels sprouts with chorizo (plus, there are usually off-menu specials). You never know what might be on offer, so it's best to go several times to check it out. You know, for science.
Myers+Chang 
When: Monday-Tuesday from 5-10pm
The deal: Start your week off right with some of the best, most interesting Asian food in town -- for cheap. Chef/owner Joanne Chang and Executive Chef Ashley Lujares put their own spin on happy hour by offering a few different prix-fixe menus perfect for date nights. With items like smoked mushroom lo mein, sweet and sour Brussels sprouts, and tea-smoked pork spare ribs, you might never resort to Monday night takeout again.
Southern Proper
When: Monday-Friday from 5-7pm
The deal: Why wrestle with hideous traffic when there are hush puppies to be had? Southern Proper's "crush hour" menu encourages you to wait out the commuting log jam with heavily discounted deviled eggs, pimento popovers, shishito peppers, and the restaurant's signature chicken sandwich, each coming in at a divine five bucks. 
Toro
When: Monday through Friday, 3-5pm
The deal: Here's an insider tip: Skip the inevitable wait time for a Toro dinner table and instead make it a late afternoon kind of tapas affair. The pinxtos and small plates range from $5-10 and include duck wings, pan con tomate, and yep, the renowned street corn, priced at a cool $5.
Sign up here for our daily Boston email and be the first to get all the food/drink/fun the Hub has to offer.