Courtesy of Sorellina
The North End seems to dominate local Italian dining, but believe it or not, tasty pastas aren't relegated to Paul Revere's old 'hood. You can get plenty of food from The Boot at outposts in other parts of town. If you don't want wait to in line at Giacomo's with your friends from out of town, take them to one of these 10 fine Italian restaurants around the Hub.
South End
What you're getting: Salumi and Formaggi platters, Burrata e Barbabietole, Italian Grinder, Spaghetti alla Carbonara
Chef/Owners Jamie Bissonnette and Ken Oringer, Boston's culinary dynamic duo, go next-level at Coppa with their ultra-refined rustic Italian cuisine. Must-gets include the succulent Salumi and Formaggi platters (duck prosciutto, Taleggio), the impressively loaded Italian Grinder, and the Spaghetti alla Carbonara with smoked pancetta and sea urchin. They get the most out of their wood-fired oven with creative pizzas (Bone Marrow) and roasted entrees (Branzino Arrosto).
Theatre District
What you're getting: Anything/everything from the raw bar, Ricotta Gnocchetti, and Lamb Osso Buco
Even though Ostra (Spanish for "oyster") is technically a Mediterranean seafood restaurant, its Italian offerings steal the show. Raw selections, such as Yellowfin Tuna Carpaccio dashed with aged balsamico, define melt-in-your-mouth decadence. Continue treating yourself with the Ricotta Gnocchetti, crowned with Maine lobster and shaved black truffle, and the robust Lamb Osso Buco with over-the-top sheep's milk cheese polenta.
Waterfront
What you're getting: Prosciutto di parma, burrata, cozze, vitello Milanese, and zucchini lasagna
The Pallotta sisters modernized their Mom and Grandma's family recipes for Nebo's traditional yet appropriately novel menu. The light/creamy burrata and the smoky cozze (skillet-roasted mussels) are ample starters, followed by the golden-brown vitello Milanese or the Bobby Flay Throwdown-winning zucchini lasagna for dinner. Be sure to stop by at lunch for a Spuckie, a substantial meat-arific sammy on ciabatta.
Bay Village
What you're getting: Whatever's on the menu that day
Chef Charles Draghi, the wizard who rejuvenated Marcuccio's, mixes his deep Piemontese roots with classical-French techniques for one-of-a-kind flavors. The menu changes nightly, but representative dishes include braised meat and marrow-stuffed Marubini, red cod with spiced lobster coral sauce, and squash tortellini immersed in herbed chicken and butternut broth. The all-Italian wine list features distinct regional wines for proper pairings.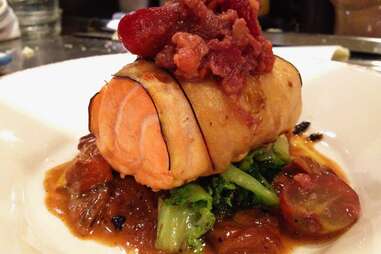 Ft. Point Channel
What you're getting: Salumi meatballs, stuffed fried olives, ricotta dumplings, and pumpkin risotto
Come for the wood-fired pizzas, stay for the many other savory Italian bites. Exhibits A and B: bone marrow tomato sauce graces the salumi meatballs, and the stuffed fried olives go extra well with Pastoral's house country pale ale. Then there's the creamy pumpkin risotto, contrasted nicely by braised flat iron "crackling" and chicory. It's also cooking outside the box with inventions like Italian ramen with house-made vermicelli, prosciutto, and a soft egg.
South End
What you're getting: Italian nachos, linguine with mƒussels, and The Anchovies Famous stuffed peppers
Don't let the suburban-strip-mall name fool you, this place is 100% legit. Anchovies is one of the best-kept secrets in Boston and it cooks up Italian home-style fare such as the garlicky perfect linguine with mussels. Savor the giant Italian nachos amped by braised short rib ragu, and then take down The Anchovies Famous stuffed peppers overflowing with ground beef and cheeses. The prices are all wicked cheap, including $7 wines-by-the-glass.
Davis Square
What you're getting: Arancini, meatballs, gnocchi, and salmon
Posto is also known for its coveted 'za, but there's plenty of simply executed, simply named, and simply delicious plates. The crunchy arancini take a dip in spicy sweet & sour tomato sauce, while the meatballs originate from Nonna's family recipe. The rich gnocchi lean smoky with braised beef short ribs and red wine sauce, and the earthy wood-roasted salmon comes with velvety red beet risotto and vincotto.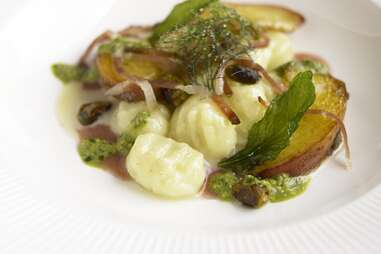 East Cambridge
What you're getting: Any of the Sfizi and Lobster "Amatriciana"
Restaurant dante, semi-hidden in the Royal Sonesta Hotel, does big-and-bold Italian. Begin your feast with some Sfizi ("little tastes") such as the polpette, three traditional pork and beef meatballs, or the crostini with salt cured anchovies. After that, look no further than the Lobster "Amatriciana," a revelation with guitar-string-cut spaghetti and hot peperpncino. Good news: pasta courses can be served half-size, so you can order until you're full size.
Back Bay
What you're getting: Polpo, Mafaldine, Maccheroncelli, and Milanese
Sophistication is the name of the game at Sorellina, from the chic dining room to the posh classic Italian cuisine. It's all in the details, like the Polpo's squid-ink cous cous and tender-grilled octopus. Even the Maccheroncelli get a make-over via American Wagyu beef meatballs glazed with Montepulciano sauce and finished with Parmigiano. But your evening wouldn't be complete without the Milanese, a breaded bone-in natural veal chop accompanied by oven-cured tomatoes.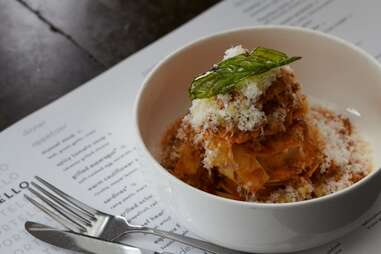 Ft. Point Channel
What you're getting: Spicy Tomato Soup, Tagliatelle, and Frutti di Mare
A major crowd favorite of Barbara Lynch devotees (and everybody else), Sportello shines with its trattoria-inspired fare and delicate fresh pastas. The ever-changing slate ranges from light to heavy. Start with the Spicy Tomato Soup, a tangy wonder with Taleggio crostini, and then head straight for the signature Tagliatelle smothered in a four-meat bolognese. Or go for a deep dive with Frutti di Mare, a seafood lover's dream with baby octopus and tons of shellfish.
Sign up here for our daily Boston email and be the first to get all the food/drink/fun the Hub has to offer.