Boston might not have a K-Town like LA or New York, but we do make up for it with Harvard Ave in Allston and a bunch of sprawling Korean neighborhoods throughout the city. To get your kimchi, BBQ, and bibimbap fix, here are Boston's eight best Korean restaurants that are going strong.
Recommended Video
Ghost Kitchen: How This NYC Restaurant Is Responding to Coronavirus
Somerville
What you're getting: Jajangmyun (soybean paste noodle)
Koreans say Buk Kyung is as close to authentic Korean food as you get in Boston. The restaurant specializes in Chinese-influenced Korean dishes, evident in its community-sized plates (a $12.99 order of japchae feeds three to four people). When deciding what to order, a popular dish among the young and old is Buk Kyung's signature jajangmyun, or soybean-paste noodle. The restaurant's no-fuss yellow décor and tag-team husband-and-wife duo further confirm that Buk Kyung serves the real-deal Korean.
 
Allston/Cambridge
What you're getting: Spicy tofu soup
Kaju Tofu House has been a Boston staple and Best of Boston Korean restaurant winner for multiple consecutive years. Its signature sundudbu jjigae (spicy soft tofu soup) arrives bubbling hot in a traditional stone bowl, adding spectacle to what was already a phenomenal dish. With Kaju's 2013 expansion to Harvard Square, the supply of Boston's best jjigae can be had on both sides of the river.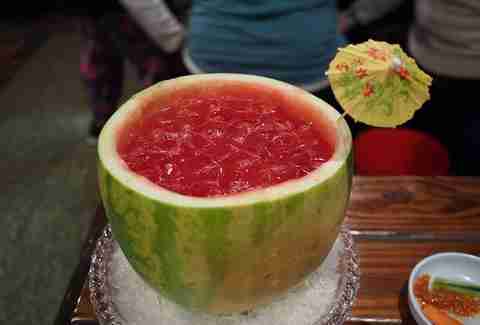 Cambridge
What you're getting: Barbecue short ribs
Another cornerstone of Boston's Korean scene is Cambridge-based Koreana, which has been serving the area since 1998. This semi-upscale establishment specializes in traditional Korean barbecue, and each of the restaurant's tabletop grills are fitted with custom smoke ventilators, designed to keep the fumes down and the eating atmosphere friendly. The kalbi -- barbecue short ribs -- as well as dolsot bibimbap and jjigae (Korean stew) are among the crowd favorites.
 
Allston
What you're getting: Cheesy ramen, watermelon soju
You know you've entered a Korean "K-bar" when the menu of bar snacks and alcohol is longer than the actual food menu. Myung Dong 1st Ave fits the bill with bright green and black walls, K-pop music, dim Christmas lighting, and nearly 20 varieties of soju. The restaurant is generally packed with college kids on the weekends as it's located in the center of Boston's college town. But it's definitely the go-to spot if you're looking for cheesy ramen, watermelon soju, and Korean drinking games.
Allston
What you're getting: Beef bulgogi, red-bean shaved ice
Bibim is a restaurant known aesthetically for its clean, French, country-bistro feel (exactly what you'd expect, right?). Though it serves classic Korean staples like bibimbop and bulgogi kimbap, it's actually the dessert that takes home the grand prize. The concoction of red beans, shaved ice, mochi, ice cream, and sweet syrup will make anyone, who has visited Korea nostalgic for the treasured street-food sweet.
 
Somerville
What you're getting: Gojujang meatballs
From the team behind Bibim, Meju has a similar modern, country-like feel.  But unlike its sibling in the center of bustling Harvard Ave, Meju sits in a much quieter spot in the heart of Davis Square. After a soft opening in late January, it now serves a full menu with exotic add-ons such as the signature gojujang meatballs. The restaurant has paired up with Somerville-based Aeronaut Brewery, which supplies Meju with its unique, locally produced suds.
Allston/Cambridge/Lowell
What you're getting: Double-fried chicken wings
Despite the fact that the restaurant chain is all over Korea and present in seven different states, BonChon still maintains great quality control. Its double-fried chicken is world-renowned for its light but crunchy skin, available in such addictive flavors as Savory Soy Garlic and Spicy Hot Garlic. Open until 11:30pm every night, BonChon offers world-class fried chicken to night owls (aka normal people) who find themselves near one of the three Boston-oriented locations.
Allston
What you're getting: Oxtail soup
Soulongtang, Korean oxtail soup, is the reason customers come into Seoul Soulongtang. The broth, which is a local specialty of Seoul, is made by extracting flavor from ox bones and brisket after they've been boiled for hours until everything turns milky and flavorful. The hot soup is served with thin cuts of beef, vermicelli noodles, and an abundance of chopped scallions.
Sign up here for our daily Boston email and be the first to get all the food/drink/fun the Hub has to offer.