The Boston restaurant scene went full throttle (not the Charlie's Angels kind) in 2014, which had hungry people racing from one new opening to the next. And it's really, really hard to run when your stomach is full. Here are the 11 best new restaurants in town from this year, all of which you ought to be frequenting -- and if you already have, you'll want seconds.
Recommended Video
Proof That Iceland's Ring Road Is the World's Most Beautiful Road Trip
Harvard Square
Since opening Alden & Harlow earlier this year, Chef Michael Scelfo has been racking up accolades for his unique flavors and inventive approaches. The menu changes often, so you should stop in frequently... because you really don't want to miss anything. For example: fried baby octopus with honey, soy & citrus glaze and squid ink aioli, or crispy Berkshire pork belly with roasted Harry's strawberries & Anson Mills grits. Also, make sure you experience the not-really-a-secret Secret Burger, 8oz of house-ground Creekstone Farms beef perfection on a bun.
Back Bay
World-renowned Chef Daniel Boulud finally brought his signature bistro-to-the-core cuisine to Boston with an extensive slate of French classics along with New England-inspired specialties. The charcuterie (from famed Parisian charcutier Gilles Verot) is over-the-top with more pates, terrines, and cured tastiness than you can imagine (fine, you can probably imagine it, but still, there's a lot). Don't stop until you've had the trio de veau with roast veal loin and braised cheek. Also don't stop until you're fork-deep in the gâteau Basque, a traditional Basque custard cake with brandied cherries.
Somerville
Chefs Daniel Bojorquez and Frank McClelland cook from the heart and the hearth in their wood-fired (and delightfully aromatic) kitchen at La Brasa. Obviously you're here for the protein, like slow-roasted, pork-tastic carnitas tacos and the pastrami-spiced pork loin sandwich. Or there's the sizzling hanger steak with celery root-espresso purée, charred eggplant, and bone marrow bread. If you're feeling seafood-y, expect selections like roasted cod with leeks, squid ink fritters, and cauliflower. They change up the menu fairly steadily, but whatever's coming out of that oven should make you happy.
Seaport District
Speaking of meat meccas, M.C. Spiedo takes Renaissance-era Italian recipes, an open 40in steel spit, and local ingredients for a singular dining experience. Inspired by their travels, Chefs Mark Gaier and Clark Frasier treat you to a full spectrum of regional and international tastes, from deep-fried Maine lemon sole, to porcini mushroom custard, to braised rabbit pappardelle. But again, you'd be remiss not to get in on some of the spit-roasted goodness like the heritage chicken. Of course, if you decide to go with Leonardo's veal burger crowned with Fontina and prosciutto instead, you can probably get a pass.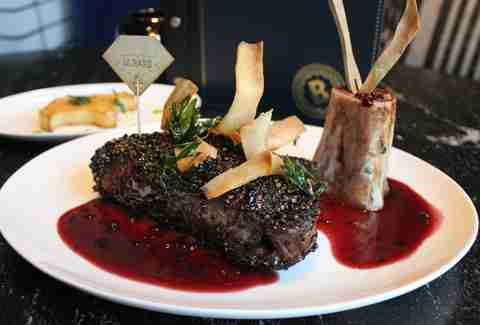 Burlington
Look, it was a big year for meat in Boston, okay? The Bancroft in Burlington knows exactly where the beef is... it's on their grill and then in your belly. Hungry carnivores (like you) will have a hard time choosing between Colorado lamb chops, 28-day prime aged ribeye, or some steak au poivre with red wine reduction and bone marrow. And like any self-respecting chophouse, the seafood towers are also nothing to trifle with; they're packed with lobster tails, Wellfleet clams, local oysters, and shrimp cocktail. Bonus: they have their own Bancroft Barrel Select Privateer Rum for one-of-a-kind cocktails.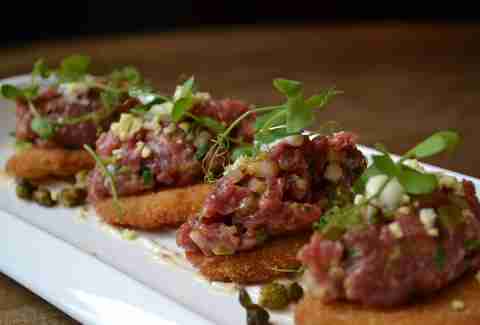 Fort Point Channel
Fort Point's new brasserie, led by Executive Chef Adam Kube, is thankfully far more hospitable than the actual Bastille. Your Parisian experience starts with dry aged steak tartare topped off with a quail egg, fried pickles, and mustard aioli. The signature bouillabaisse is meant for two (a challenge, you say?), packed with lobster, shrimp, claims, mussels, and cod -- all swimming together in a fragrant bath of saffron and cognac. Combos like beef tongue and Boursin or pork belly with bacon jam, apple compote, and Vermont cheddar take their flatbreads to another level. Choose a wine from their impressive cellar focused on producers that use old-world methods and settle in for a feast.
South End
This gallery-meets-restaurant is the brainchild of former Wall Street-er Ruta Laukien, bringing art to both its walls and your plate. Please only eat the latter art -- Chef Rachel Klein's ever-changing offerings like handmade sour cherry foie gras dumplings or Faroe Islands salmon with baby potatoes and quail eggs. Or you can relax in the lounge area (which packs a separate menu) and dive into the L.A.H. Burger, jazzed up with Comté, tomato confit, and crispy onions.
Fort Point Channel
Chef/owner Todd Winer, a VPN-certified official Pizzaiolo, goes refined rustic at his friendly neighborhood pizza palace, Pastoral. The massive Neapolitan oven bakes up positively addictive wood-fired knots, packed with fennel sausage and ricotta. And that's just a warm-up to the pizzas; from sweet potato with duck sausage to veal meatball. Their pasta is also worth of your attention, particularly the tagliatelle topped with tomato-braised wild boar, pancetta, and rosemary fried egg. With many fine beers and cocktails as well, it's no surprise they also have... beer cocktails! Try the Horseneck, made with Beefeater gin, pineapple, Angostura bitters, and Harpoon IPA.
Davis Square
The old Rosebud wasn't missed for long, as the new Rosebud American Kitchen & Bar rose triumphantly from its ashes, serving up roadhouse regional comfort food from John Delpha and Joe Cassinelli, known for nearby Davis Square faves Posto and The Painted Burro. Get in on satisfying platters of fried green tomatoes, fried chicken thighs, and dry fried green beans with smoked pork shoulder. You want something not-fried? Fine, but it's gonna be the BBQ Baconator Meatloaf Fatty (with poblano-onion gravy). And you can't walk out without a slice of grandma-approved pies like blueberry crumble. Actually, you may not be able to walk out, period.
North End
Chef Eric Buonagurio ditches the usual spaghetti script in lieu of modern melting pot mashups at his North End Italian-American speakeasy/restaurant. Sip a Bee Sting Julep (with habañero-honey infused whiskey) before you share (or don't share!) wild boar meatballs or braised oxtail arancini. Then move onto Wagyu carpaccio, ramen noodle "carbonara" with slow-roasted Kurobuta pork belly, or the mixed seafood brodetto, the ocean-in-a-bowl crowd-pleaser with 1/2 Maine lobster, Maine mussels, and the fish-of-the-day. Speaking of which, frequent visits are required as seasonal ingredients drive things here as well. You have many places to be visiting frequently.
Wellesley
Eastern Mediterranean flavors rule the day at Dave Becker's Juniper, a lively and colorful neighborhood restaurant rocking Central St in Wellesley. The equally colorful menu has three sections (dips + spreads, mezze, and entrees) with house-made spice blends tying the whole thing together. Your journey around the Med begins with silky smoked baba ghanoush, available by the 1/2 or whole pint (whole, please). For mezze, revel in the seared manchego with strawberry relish. Next stop, seafood couscous brimming with mussels, octopus, swordfish, and lamb merguez (hey how'd that get in there?!) in a saffron broth. Fun Fact: Chef Becker works a mean potter's wheel and hand-crafted some of the plates.
Sign up here for our daily Boston email and be the first to get all the food/drink/fun the Hub has to offer.