Boston's Best New Restaurants of 2017
Boston's culinary year wasn't about big, splashy openings, but instead filled with sneaky surprises. We got a delightful little Quebecois bistro, a new Mario Batali Italian grill, a sleek yet unpretentious Japanese fusion spot, and more from restaurateurs both new and established. In general, eating in 2017 felt less about being seen and more about eating well -- a refreshing change of pace that felt right for our tumultuous times. Field & Vine's fried chicken and Frenchie's steak frites might have had something to do with that. As you browse our picks for Boston's best new restaurants, just remember: none of these tables comes easy, so book your end-of-year dining plans now.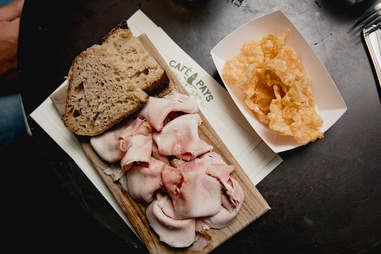 Nir Landau
Kendall Square
The ne plus ultra of Boston's French Canadian fare
Who would have thought a French Canadian restaurant would be one of the year's most exciting debuts? But the State Park/Mamaleh's team lured us in immediately with dishes both familiar -- oysters, charcuterie, a crispy, fatty half-duck -- and uniquely Quebecois, including poutine, mushroom oreilles de crisse (a vegetarian twist on fried pork jowls), and tarte du sucre, or maple sugar pie. Even the sourdough bread slathered in butter and topped with radish slices is a snack to be savored. The dark, atmospheric back room is for romance, the brighter front space for large-group conviviality; for the sake of eating your way through the whole menu, we suggest multiple visits to both.
Brian Samuels
South End
Cozy, accommodating French bistro and wine bar
There's a little Francophile in all of us, which is why it's so hard to resist even the most mediocre French bistro. But co-owners Sandrine Rossi and Loic Le Garrec (Petit Robert Bistro) know their way around an authentic French meal, and Frenchie is thus a small-scale revelation. The diminutive, subterranean space serves mostly small-plate versions of classic dishes: think escargot toast, a drumstick coq au vin, mussels with chorizo, and beef bourguignon. The 32 wines by the glass seal the deal, and a solo diner could do far worse than cozying up to the snug bar and ordering steak frites with a couple of glasses of French red.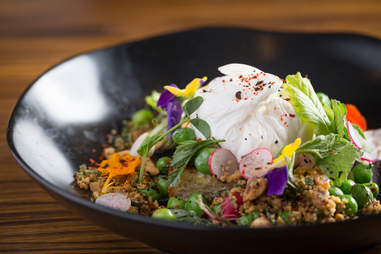 Huge Galdones
Downtown
Sustainable, beautifully arranged new American cuisine
If there was one unambiguous Instagram food-porn star of 2017, Cultivar was it. The moment Mary Dumont's hotel restaurant opened, stunningly plated entrees started populating our feeds. But none of this is about flashiness for its own sake; Dumont merely seeks to please as many of your senses as possible. Though sustainable seafood and dry-aged meats feature prominently on the menu, the on-site hydroponic garden is what elevates so many of the dishes, with bright, fresh vegetables adding texture and depth of flavor to both the pastas and entrees.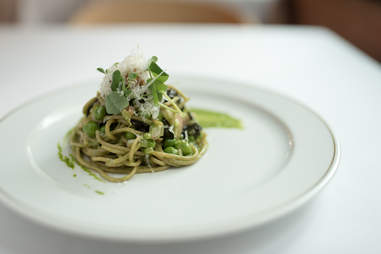 Emily Hagen
Cambridge
Europe by way of Harvard Square and excellent for cocktails or foie gras
From the supergroup behind Eastern Standard, Island Creek Oyster Bar, and Row 34 comes yet another unabashed winner, this one housed in Harvard Square's historic Conductor's Building. The first floor is bartender Jackson Cannon's masterpiece, a funky, expansive cocktail space with a long bar, cow-print bar stools, and some booth seating. After you've downed a French 75 or three, head upstairs to the austere, narrow dining room for a decidedly European repast. Beef tartare and foie gras torchon are two of the decadent starters that segue into equally rich entrees like braised rabbit and beef tournedos with bordelaise. If you seek a less hedonistic spread, the lunch or brunch menus are your gateway drugs.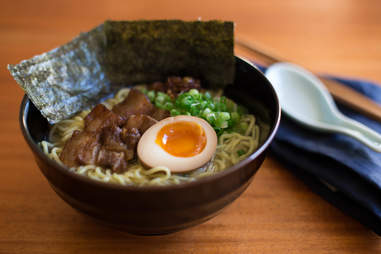 Tracy Chang
Central Square
Japanese fusion in sleek loft space
Chef-owner Tracy Chang may not yet be 30, but the wunderkind has already cut her teeth at O Ya, built buzz with a late-night ramen pop-up, and now hit the big leagues with her restaurant debut. Hers is a Japanese menu with many twists and surprises: mazeman and fried rice and sashimi and a sumptuous pork belly bao, yes, but also ikura avocado toast, curry crab croquetas, and a tortilla espanola (Chang draws inspiration from many of her overseas travels). Don't be fooled by the polished loft space: PAGU is a place of warmth and sociability, even in the early mornings when it serves a cafe menu that includes bottomless congee -- the ultimate comfort food before 9am.
Somerville
Neighborhood spot celebrating locally sourced comfort fare
Why can't every restaurant be like this? Field & Vine plates simple American dishes impeccably prepared with seasonal, sustainable ingredients -- so simple, so straightforward, so successful. There isn't a single miss on this small-plate menu, but highlights include the fried chicken, the gnocchi with foraged mushrooms and kale, and the bluefish pâté. The chocolate lavender pot de crème, meanwhile, arguably deserves its own Instagram account. The former Journeyman space, once chilly and inaccessible, now feels homey and pretension-free, with wood tables and an open kitchen where you can watch the magic happen. This is a neighborhood spot you'd visit for some oysters and glass of sauvignon blanc on Monday and a multi-hour, multi-course spread with friends the following Saturday.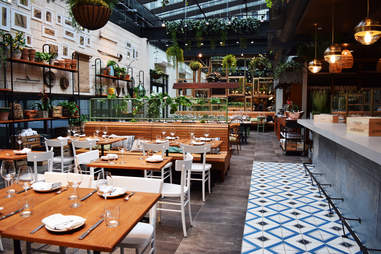 Courtesy of Eataly Boston
Back Bay
Eataly's homage to all things wood-grilled
This massive space feels a world removed from the controlled Eataly chaos downstairs, but you can feel Batali's imprint nonetheless. Terra delivers on rugged, rich, primal cooking driven by the behemoth wood-fire burning stove in the center of the restaurant. You could eat your way through the skewers menu and leave sated and raving, but every entree offering gives you the salt and fat fix you crave, from the crispy, brick-grilled chicken to the extra-rare grilled lamb chop, seasoned only with lemon and mint. But gluten lovers needn't fret: the bruschetta and pasta menus deserve equal love.
Sign up here for our daily Boston email and be the first to get all the food/drink/fun the Hub has to offer.
Meaghan Agnew fully eschews the "eat to live" crowd; follow her live-to-eat existence on Twitter and Instagram (@meaghandeth).