While you were in a Snowmageddon bunker enduring the most snowfall ever in the history of Boston, you might have forgotten what it was like to actually go out for dinner. Well, it's time to break out the shorts and sandals prematurely because we have the scoop on 12 new restaurants -- from brew meccas to seafood extravaganzas -- you should try right now.
Recommended Video
Roasted Red Pepper Deviled Eggs: Perfect for Parties, Grandma-Approved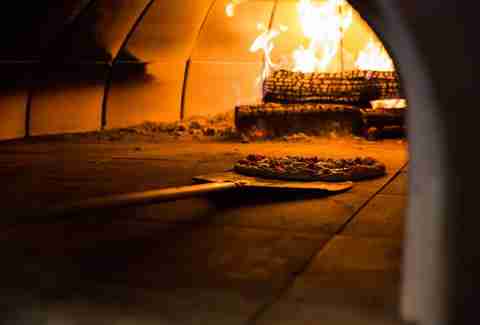 Charlestown
What you're getting: Cheddar & ale soup, smoked bluefish pate, Uncle Jesse's smoked pork pizza
Charlestown is slowly regaining its foodie foothold, and The Brewer's Fork is leading the charge with its powerful small plates, wood-fired pizzas, and beer catalog. Cheddar & ale soup, and the smoked bluefish pate (with seeded bagel chips for dipping) will whet your appetite for the Uncle Jesse's smoked pork pizza (pork shoulder and rhubarb marmalade). The curated suds are international with drafts from places like Germany (Mahrs Saphir Weiss) and Denmark (Evil Twin Molotov Cocktail).
Inman Square
What you're getting: Poe Tots, burgers, Hobo Special
The retooled Bukowski's is back in action, just in time for those sweet garage doors to be open. Chef Brian Poe brings his seared-meat sorcery to this iconic beer bar, and he's fixing exotic burgers with antelope, boar, elk, and bison. Go crazy and get the Duck burger, a savory/sweet mashup with truffle rosemary cream, and fried onions. For snacking, Poe Tots (pork belly, Brussels sprouts, and bacon) are must-haves, and they match nicely with the premier brew selection.
Back Bay
What you're getting: Gelato, focaccina, waffles
With only a handful of US locations, we're downright lucky that Paris' Amorino landed in Newbury. The gelato giant offers 20+ flavors of frozen goodness, such as Cioccolato Amorino, Lampone Heritage, and Speculoos. Amp up the sugar with an Italian-style focaccina, a soft brioche stuffed with your favorite icy filling. For the ultimate indulgence, its perfect waffles can be topped with gelato (of course), and drizzled with French chocolate.
Fort Point
What you're getting: Wine, Brussel Salad in Blue, charcuterie platter
Tucked behind Barlow's and inside a residential building, Internal Matter is poised to please the indigenous foodies along the Fort Point/Southie border. The neighborhood bistro morphs from morning coffeehouse to adult-time wine bar featuring small wine terroir options. While you sip that Gran Sasso Montepulciano, nosh on Brussel Salad in Blue (Maytag Blue Cheese), and a charcuterie platter made mighty by specialty meats (porcini salame) and cheeses (Piave vecchio).
Southie
What you're getting: Ceviche, guacamole, tequila, tacos
The crew at Southie fave Lincoln is heading way Southier with a tacos and tequilas fiesta. Loco has four bright ceviches each with unique ingredients such as charred blackberry leche de tigre. It also has four freshly made got-to-have guacs (like charred pineapple or smoked fish). Tacos range from revved-up classics (Baja style fried fish with pineapple aioli) to crazy combos (Root beer braised chicken with pickled fresno peppers). For the tequila and Mezcal-minded, moonshine's list overwhelms with 80+ choices.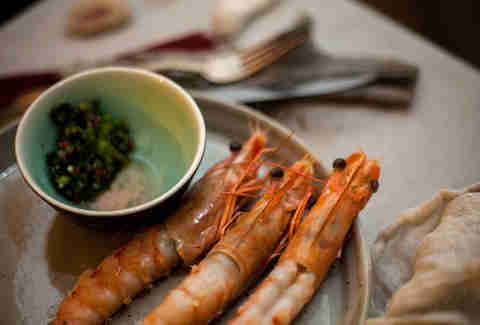 East Cambridge
What you're getting: Poached razor clams, any Trencher, braised Ossabaw pork
From an all-star squad with major pedigrees (Menton, Bondir, Hungry Mother), Loyal Nine tilts rustic with historic New England fare and ingredients. Reimagined age-old recipes include poached razor clams contrasted by sweet-pickled green raspberries, and soused mackerel on brown bread. Get colonial with a 1700s throwback Trencher, particularly the Aroostook Savory Supper: a casserole layered with potato, salt pork, and onion. For the bold, the properly garnished braised Ossabaw pork is the way to go.

Southie
What you're getting: Tamago, Hurricane popcorn, Char-Sui roasted half chicken, boar shoulder Stroganoff
In the former Franklin Southie spot (sniffle), Chef Asia Mei (Sam's at Louis) finally debuts her own joint, complete with Asian influences and creative crossovers. Standouts Tamago (smoky Shishito peppers) and Hurricane popcorn with pork fat are two excellent examples. For dinner, try the Char-Sui roasted half chicken jazzed by ginger jade sauce, and the boar shoulder Stroganoff with herbed spaetzle. It also does Sunday brunch with a weekly "Ron Swanson Special" so you can eat all the bacon and eggs it has.
Back Bay
What you're getting: Daily ceviche, flash seared hamachi, bouillabaisse
Neptune Oyster regulars are feeling bittersweet as their wunderkind Chef Michael Serpa leaves the North End to open his first solo venture. At Select, it's all about the ocean, a seafood lover's paradise that produces delicate bites (daily ceviche with lime marinade) and smile-inducing excess (bouillabaisse select brimming with mixed fish, shellfish, and prawns). If you've got your crew, indulge in The Select platter: ceviche, dressed lobster, and 12 each – Island Creeks oysters, littlenecks, and prawns.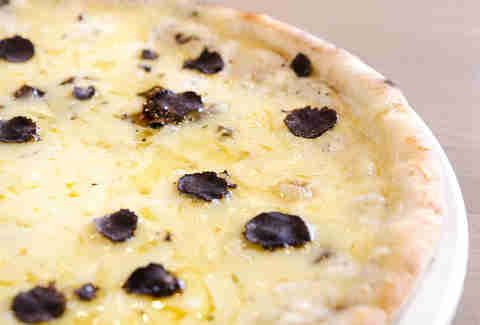 FiDi
What you're getting: The Green Monster, Tartufo Nero pizza, Paglia & Fieno
New York's famed Serafina hits the Hub in Radius' former home. The casual Northern Italian fare oscillates between simple, such as the creamy Paglia & Fieno, and self-indulgent, like the Tartufo Nero pizza crowned by a truffle trifecta: truffle cheese, truffle oil, and black truffle. Before or after dinner (or both), scale The Green Monster, a summertime refresher with Bombay plus muddled cucumber and basil.

Back Bay
What you're getting: Falafel lunch plate, lamb Roll-Up, and Greek fries
If you're searching for a stylish new breakfast/lunch hangout Downtown, Café Med, in the Park Square Building, fills a much-needed gap in Back Bay with fast-casual Mediterranean food. Lunch plates (falafel, chickeg, baba ghanouj) are loaded with salad and rice, or fries. Roll-Ups come packed with meats (e.g. chicken, beef, lamb), lettuce, tomatoes, green peppers, and onions. Be sure to fire up the Greek fries topped with feta for extra awesomeness.

Back Bay
What you're getting: Sashimi Trio, Miyazaki Wagyu platter, prime ribeye platter, Seafood Supreme platter.
The Westin Copley Place travels East as sushi impresario Jack Huang presents his latest farm-to-table, hot-pot hot spot. Locally sourced ingredients and high quality meats grace the Shabu platters, such as savory Miyazaki Wagyu and tender prime ribeye. Add some surf and dive into the Seafood Supreme complete with salmon, shrimp, scallops, king crab, and clams. Platters include seasonal veggies and rice, noodles, or risotto, and every meal is carefully tended by your table's shabu shabu guide.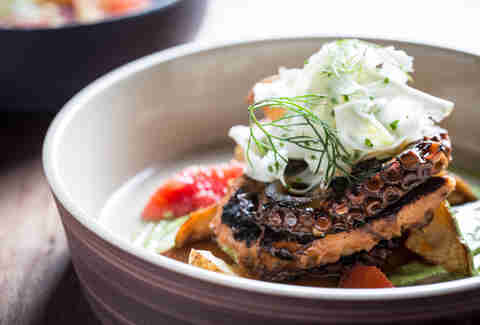 FiDi/Chinatown line
What you're getting: Chicken fried sweetbreads, Bang's Island mussels, 32 Ounce Rib Steak for 2
After much fan-ticipation, James Beard nominee (and JP native) Chef Matt Jennings finally has his own restaurant, and you'll want to eat there pronto. This New England brasserie dazzles with dishes like crunchy chicken fried sweetbreads and the Bang's Island mussels: a smoldering cauldron of garlicky chorizo verde broth and a colossal hunk of bread for dipping/mopping. Bring a friend and take on the 32 Ounce Rib Steak for 2 cranked up with chimichurri and served alongside hambone collards and spiced frites.
Sign up here for our daily Boston email and be the first to get all the food/drink/fun the Hub has to offer.