Anyone who thought Boston's ramen craze was just a passing trend was proven wrong years ago. The veteran noodle venues still pack the place while the newcomers provide an added flare and variety to traditional ramen menus. Below is a list of our favorite new and tried-and-true bowls of ramen in Boston. As a chilly slate of "bomb cyclones" bears down, you can expect to find us huddled up in one of these shops for the rest of the season.
Recommended Video
Can the NYC Steakhouse Survive?
Porter Square
A favorite serving just one style (with a gimmick)
One of the most renowned ramen locations around, Yume Wo Katare just celebrated its fifth anniversary and yet the line to get in is still one of the longest of any restaurant in town. Open for lunch and reopening for dinner, the tiny noodle nook is laid out like a classroom with communal tables facing the chefs who are hard at work churning out bowl after bowl of Jiro-style ramen -- and it's been said that this location was the first of its kind in the US. You'll only find one style served here, so you know it has to be good. Customers only choices are whether you want a mound of fresh garlic and if you want two or five slices of pork -- sorry vegetarians; you're out of luck. The broth is made from slowly simmering pork bones for over 24 hours, and the super thick noodles are made in-house. A warning to the shy, Yume Wo roughly translates to "talk about your dreams," and here are encouraged to do just that. After finishing (or trying to finish) your hearty bowl of ramen, customers are asked to stand and share their life goals in front of fellow patrons.
Chinatown
If the Wu-Tang Clan owned a noodle shop, it'd look like this
From the people that brought you Chinatown's newest and hippest haunts, Shojo, and BLR, now bring you... the Ruckus. Opening earlier this year, noodle heads from all over the city have proclaimed Ruckus the best thing to happen to Ramen in Boston in recent times. Think classic ramen dishes offered in a hip-hop vernacular with a tasty twist. The crowd-pleasing tori paitan ramen comes with chicken broth, a soy egg, leeks, purple cauliflower, and crispy-skinned fried chicken -- yes, fried chicken. Customers can also choose from the tsukamen dip (buckwheat noodles and squash curry), shoryuken ramen (pork neck, yuba and shoyu broth), black garlic mazemen (togarashi lamb, soy egg, nori, and chili), or the miso lit ramen (spicy miso broth, ground pork, soy, egg, nori, and Ruckus paste). Plus, any dish can be personalized with additional sides, known here as "Swag."
Porter Square, Central Square
Cash-only joint with a quarter-century of experience
This city still loves its ramen roots and Sapporo was one of the first in town. Opening back in 1990, their Porter Exchange location next to the Lesley University Bookstore is known for their hidden location and quick service. With 11 choices of the salty soup available, you'll find more choices here than anywhere in town. Beware, they're still cash only and the dining area is quaint, but they do offer takeout for those academics and others in a hurry -- and it holds up quite well. Plus, there is now a second location just two train stops away in Central Square at the food court inside the bustling H-Mart Asian Supermarket. Just FYI: the lines are just as long and the dining area just as small.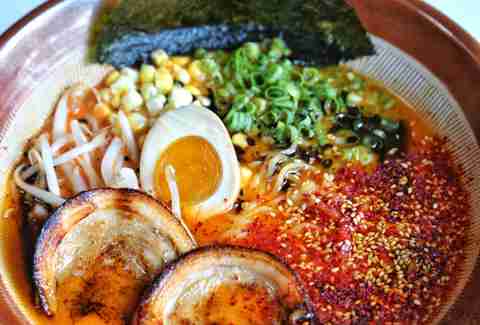 Newton
A small, walk-in-only shop with a Pan-Asian menu
Nearby in neighboring Newton, you'll find Little Big Diner. Little in size and big on taste, the suburban sensation's Pan-Asian menu offers five varieties of ramen and a seasonal selection at that. Choose from paitan chicken, chili chashu pork paitan, miso ramen (spicy or not), and even a vegetarian pumpkin ramen in the fall. But if you're really hungry and willing to put your fate in the chef's hands, upgrade to the Chef's Ultra Ramen, combining each option into one bowl. Add-ons are also available for each selection for a nominal fee.
Davis Square
One of the few places great for dipping ramen
Once home to Snappy Sushi, this restaurant was quickly transformed into a noodle shop, and the makeshift banner that remains outside still shows signs of its quick transformation. Snappy's offers a wide variety of broths that suit the carnivore and vegetarian alike. Plus, unlike most other noodle havens in the city, Snappy's has the hard-to-find tsukemen-style, where the noodles and vegetables are plated separately from the broth and meant to be enjoyed as a dipping style entree.
Fenway, Back Bay
The go-to spot for a late-night bowl
Ken Oringer and Tony Messina's famous izakaya in the Eliot Hotel has long been revered for inventive (and pricey) Japanese small plates, makimono, sashimi, and nigiri. A few years ago, however, the duo introduced an affordably priced late-night ramen menu with local nighthawks and service industry workers in mind. Now, on Friday and Saturday nights from 11pm-1am, three options of ramen are written on a cardboard menu, and that's that. These late night offerings quickly became a local sensation and their cult following continues as many cite this as the best ramen in town.
Allston, Assembly Square
The small chain with a killer, thick broth
With three locations in NYC, two in Taipei, and now two locations in the Boston area, Totto Ramen is quickly spreading influence over the world ramen community. Specializing in paitan-style ramen, this is one of the thickest and heartiest broths in the city. One of the few places without a pork broth, you can still choose from four broths (three chicken and one vegetarian) as a base and add on the extras until your hunger is satiated.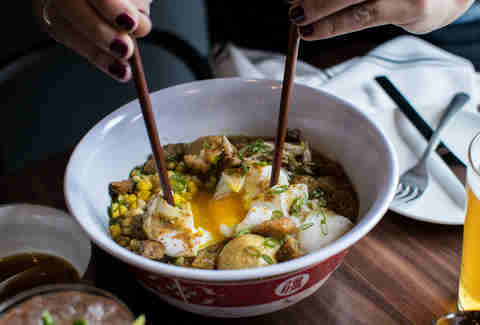 Central Square
Matzo ball ramen, anyone?
Ken Oringer and Jamie Bissonnette have done it again! Chefs and co-owners of Coppa and Toro (Boston, NYC, and Bangkok), the two opened Little Donkey last year with a worldly tapas menu that includes eccentric takes on some already esoteric global dishes. If you're looking for authentic ramen, keep looking, but if you want to try something different then you'll want to sip and slurp your way through the matzo ball ramen. Made with chicken broth, burnt onion, schmaltz tare, and corn and fleshed out with spicy chicken, the hearty bowl comes in two sizes and has been heralded as a successful fusion of Japanese and Jewish staples.
Back Bay, Harvard Square
Lower-sodium ramen that doesn't skimp on flavor
What began as a simple mission by founder Santouka in the 1980s to "make delicious ramen" has since spread around the globe and recently to two spots in the Boston area -- one in Harvard Square and one in Boston's Back Bay. Instead of the often elitist take on the traditional fatty, salty, meat-heavy noodle soup, Hokkaido offers a variety of ramen that is often lower in sodium and proclaims a mission to offer more appealing options to health-conscious customers, children, and vegetarians. This is ramen for the people, and that being said, you may have to enjoy it at large communal table with all of those other people. From traditional pork broth and soy-based vegan broth with mushrooms to a brothless ramen, your options here should satisfy everyone.
Sign up here for our daily Boston email and be the first to get all the food/drink/fun the Hub has to offer.