Comfort fare sounds pretty damn fine right about now, doesn't it? And there's nothing more comforting than a steaming bowl of slurp-worthy, belly-warming ramen. While instant-noodle packets like Maruchan and Top Ramen have their place—we certainly indulged in 2020—you can find far tastier takes on the popular Asian noodle bowl all over town. Every region of Japan has their own take on the dish, and most of them are available in noodle nooks around the Boston area. Below is a list of our favorite ramen restaurants. Some specialize solely in ramen, some offer ramen alongside other Japanese delicacies, and some aren't ramen restaurants at all—but just offer a unique take on an ancient recipe.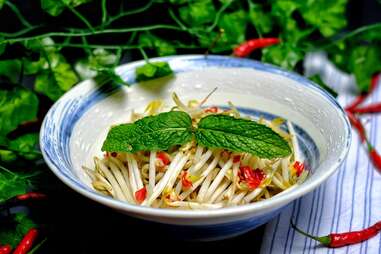 Porter Square
One of the most renowned ramen locations in New England, Yume Wo Katare is laid out like a classroom with communal tables facing the chefs, hard at work churning out bowl after bowl of Jiro-style ramen. You'll only find one style served here, so you know it has to be good. After all these years, customers still only have to make two choices when it comes to ordering— whether or not you want a mound of fresh garlic and whether you want two or five slices of pork. This decadent broth is made from slowly simmering pork bones for more than 24 hours, and the super thick noodles are made in-house. While the in-person experience is still inaccessible, order early and often to support one of our city's most important dining institutions.
How to order: Call 617-714-4008 for takeout only; follow the restaurant on Facebook for the latest updates on hours and availability
Chinatown
What would a ramen place be like if it were run by the Wu-Tang Clan? Probably something like this. With Shojo and BLR (Best Little Restaurant), the team behind the Ruckus helped change the attitude and quality of Boston's Chinatown cuisine. This restaurant focuses solely on noodles, and for the past few years has left udon heads from all around singing its praises. Think classic ramen dishes offered in a hip-hop vernacular. The ramen menu rotates, but the current crowd-pleasers include the classic Tokyo-style ramen—pork belly, bok choy, togarashi, nori, soy egg—and the miso lit ramen—spicy miso broth, soy egg, ground pork, grilled corn, shaved nori, bean sprouts, house paste.
How to order: Order takeout via DoorDash.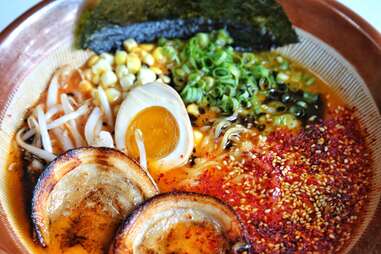 Newton
Little in size and huge on taste, the suburban sensation's pan-Asian menu offers six varieties of ramen and a seasonal selection to boot. Choose from Tokyo basic ramen, paitan chicken, chili chashu pork paitan, miso ramen (spicy or not), and shoyu ramen. But, if you're really hungry and willing to put your fate in the chef's hands, upgrade to the Chef's Ultra Ramen, which combines each of the options into one bowl. A cornucopia of add-ons are also available with each selection for a nominal fee.
How to order: Order takeout online; limited dining available indoors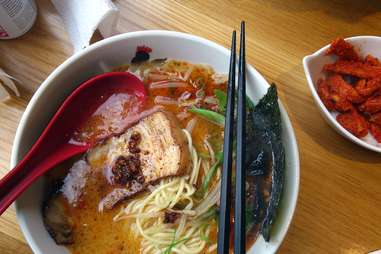 Allston, South Bay, Assembly Square
With three locations in NYC, two in Taipei, and now three locations in the Boston area, Totto Ramen is quickly spreading influence over the world ramen community. Specializing in paitan-style ramen, this is one of the thickest and heartiest broths in the city. Though it's one of the few places without a pork broth option, you can still choose from four broths (three chicken and one vegetarian) and top your base with as much sliced pork as your hunger desires.
How to order: Order takeout and delivery through Grubhub, Uber Eats, and Postmates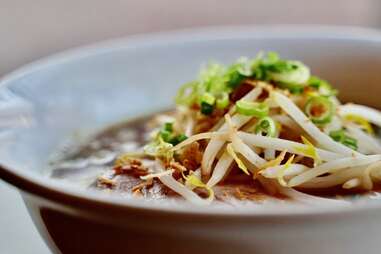 Davis Square
The best noodle shops in town tend to be backed up with some sort of local folklore that's as rich as their secret broth. Head chef Masuo Onishi opened for two springs and intriguingly said from the start that he would remain open for 1,000 business days before figuring out his next move. We're glad he's stuck around. Onishi hails from Osaka and has lived in Honolulu and North Carolina, but this is a traditional Osaka-style ramen bowl that still has everyone in town talking. Then again, since he only serves 50 bowls per day and keeps the strangest of hours (12-1 pm and 6-8 pm), it may just come down to being in the right place at the right time. Like everything good in life, this may take some effort, persistence, and patience. In these strange pandemic times, we also recommend the ramen kit, which makes for a fresher dish.
How to order: Order online for pickup
Coolidge Corner
Ganko Ittestu serves up traditional Sapporo-style ramen, and since Sapporo and Boston have similar climates, following these recipes are ideal for our fair city, no matter the season. With strong attention to detail, each bowl of Ganko's ramen allows the tare to caramelize with the vegetables while a base broth is added for a more aromatic flavor. Each meat is cooked at a different temperature and added at the appropriate time. And the noodles? Well, the noodles are none other than the much sought-after Nishiyama Seimen Noodles, which were selected to match Ganko Ittestu's unique flavor profile.
How to order: Order takeout online or via walk-in (no phone calls)
Jamaica Plain, Brookline
Finally, a restaurant mini-chain that focuses on the broths of the East. With six ramen bases to choose from, Soup Shack allows you to configure your bowl to your liking with its lengthy list of add-ons. Or, if you want to jump continents, you can opt for alternative broths in the form of Thai noodles or pho. While the JP and Brookline locations continue to thrive, a third location in Cambridge is already underway for 2021.
How to order: Order delivery or pickup through Grubhub, ChowNow, DoorDash, or Uber Eats
Fenway
One of the most exciting places in the city for exotic food and drink, Hojoko in the Verb Hotel has made quite a name for itself over the years thanks to its unique take on Asian classics and its thriving late night party atmosphere (looking forward to it again, 2021!). You'll only find two ramens on the menu, so you can assume they're and true recipes that have been labored over until it reached perfection. The "Funky Chicken Ramen" comes with a fragrant 48-hour chicken broth, soy egg, menma, and robata grilled koji chicken. If you like things a little spicy, we recommend you add the house-made fermented chili relish for just a buck. The spicy miso ramen, meantime, features the same chicken broth but swaps out grilled chicken for spicy pork and adds corn tempura.
How to order: Order online for takeout or delivery

Allston
Filling the void left by Pikaichi in the infamous Super 88 food court, Allston residents were lucky that they were able to trade one great ramen counter for another. Isshindo, which opened in early 2019, focuses on the traditional bone-rendered tonkotsu broth, but it also makes things easy for their vegetarian friends with miso and tomato alternatives.
How to order: Order online for pickup
Sign up here for our daily Boston email and be the first to get all the food/drink/fun the Hub has to offer.