If you're reading this, there's a decent chance that you don't need to be told how good the food and drink scene is in Portland, Maine. Regularly named one of the best food cities in the country and a mecca for craft breweries, Portland hits the funky, good, and locally sourced qualities of food and drink with consistent and deceptive ease. 
Old-timers might tell you that it's a shame that Grace or Silly's are no longer around (and it is), traditionalists might come to the city looking for blueberry pie and fresh catches straight from the sea (of which there are plenty). But to rely too heavily on tradition would run the risk of overlooking the creative and wide-ranging work that's been done in the city over the past decade or so, not to mention what's happening right now. So read on and discover the best restaurants in Portland, Maine right now. 
Recommended Video
Ghost Kitchen: How This NYC Restaurant is Responding to Coronavirus
Est. 2019 | Downtown
Portland hasn't had a new, dedicated queer space since Styxx closed in 2016. Enter Candy's, which opened late last year, with an in-house LGBTQ-influenced library, a rotating pop-up in support of queer businesses/artists, workshops, lectures, ballroom practice, and much more. Grab a coffee, a cocktail, a quick bite, and celebrate a new and necessary space.
Est. 2017 | Oakdale
Everyone needs some Jewish deli in their lives. Chef Chad Conley (of Palace Diner) opened his cafe just west of Downtown a few years back and Portland diners have been getting their comfort food fix ever since. Products like nova, whitefish, and sable are shipped up from New York and overflowing bagel sandwiches, heartwarming matzo-ball soup, and refreshing cabbage salad round out a menu of authentic deli favorites. You won't regret spending your breakfast or lunch hours in this airy, bright, and nostalgic atmosphere.
Est. 2017 | East End
Come to Cong Tu Bot if you want to have fantastic curry noodle soup with marinated mushrooms, peanuts, and chili oil that will carry you through a cold winter day like your own personal bodyguard clearing a path. Established in a physical location in 2017, James Beard-nominated Vien Dobui and Jessica Sheahan have created a casual, neon-infused atmosphere that consistently delivers.
Est. 2017 | Downtown
You go to Mr. Tuna in the Public Market House food hall if you want to grab a visually striking hand roll (with ingredients emerging like flowers in the garden), a sushi burrito, or a quality snack. With options like getting spicy salmon with sweet chili, avocado, and scallions or BBQ eel with butternut squash and pickled ginger, chef/owner Jordan Rubin has crafted something that is light but packs a punch.
Est. 2017 | East End
Izakaya Minato is pretty much across the street from Cong Tu Bot. Chef/owner Thomas Takashi Cooke and Elaine Alden mix casual, comforting, and surprising. Order a tuna poke or edamame, or swerve in the direction of a broiled cod marinated in the pickling of a sake lees or finish the meal with an okonomiyaki -- that is, a cabbage pancake with bonito and bacon. Come here on a cold winter night or a humid summer evening and enjoy.
Est. 2014 | Downtown
Just one look at the menu at Central Provisions and you're guaranteed to find something unique. Think suckling pigs, boquerones, endive saltimbocca, tuna crudo, eggplant hummus, and roasted bone marrow with fontina cheese, horseradish creme, and red onion jam. Don't let the restaurant's reputation of being crowded get in the way of having a meal here. Go early for happy hour (starting at 2pm) and let your drinks carry you right on through to dinner.
Est. 2013 | Old Port
Portland, Oregon may have Voodoo Doughnuts, but Portland, Maine has the potato-based delights of The Holy Donut. Since 2013, Leigh and Allan Kellis, along with their team, have offered rotating flavors (ginger-glazed sweet potato, bacon-cheddar, chai glazed, and on and on), solid gluten-free options before it was de rigueur, and irresistible peppermint hot chocolate. Just be sure to get to the shop before noon for the best selection.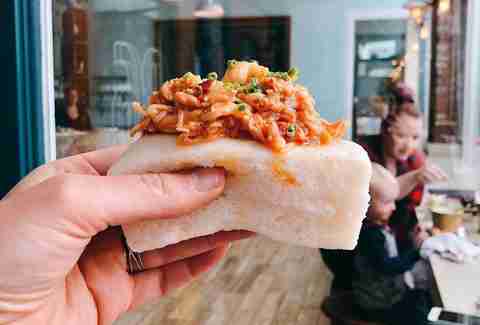 Est. 2005 | East Bayside
There is so much to love about Duckfat. Like its namesake, the restaurant is rich -- in space, decor, and menu items. Try the Belgian fries with curry mayo, poutine with duck gravy and locally sourced cheese curds, milkshakes that swirl gelato and sea salted duck fat caramel or any of its selection of panini sandwiches. Plus, the rotating daily specials are always worth a look.
Est. 1999 | East Bayside
It's hard to ignore a restaurant that offers up mackerel toast or monkfish with soubise. Given that truth, it might be worth going to Hugo's in order to tackle the thing that is so distractingly good. If you want to eat something that feels a little bit 'quicker,' you should head next door to Eventide. If you want to slow down, take your time, and luxuriate, you should go to Hugo's.
Est. 1999 | West End
The wonderful worlds of art and food combine here at "Local," known for its Spanish and Meditteranean cuisine that gets the best out of local ingredients. An open kitchen, counter seating, and local art on the walls set the tone for this Portland institution, known for its creative and light tapas, chourico and chicken paella, eye-catching charcuterie boards, and indulgent weekend brunch. Sip on in-house kombucha and local craft beer while you enjoy nightly live music and DJ sets. There's a reason this spot has been open for more than two decades.
Est. 1996 | Old Port
One of the doyens of the Portland dining scene, Fore Street ushered the terms "locally sourced" and "farm-to-table" into the lexicon when it opened 25 years ago. As a current James Beard semifinalist, Fore Street's game is still clearly going strong with its rotating menu that uses whatever ingredients are fresh and in season. While we can't guarantee you'll enjoy an East Coast halibut with chive blossom butter, we promise you'll find something equally as inciting no matter when you visit.
Est. 1892 | West End
Sometimes you just want a burger and a beer. Local neighborhood dive Ruski's is certainly no-frills but steps it up where it counts including killer lobster eggs benedict for breakfast, schnitzel and noodles for dinner, and a loaded burger and gravy fries pretty much any time of day. Head in, order a beer, and watch Bergeron tear up the ice, Tatum nail another three, or yell at John Henry when he threatens to trade another generational talent away from the Red Sox for reasons unknown.
Sign up here for our daily Boston email and be the first to get all the food/drink/fun the Hub has to offer.