Whether you're planning a social distancing-approved picnic or picking up a hearty lunch to help get you through the week, Boston has plenty of midday meal hotspots back in business. For a better idea of what your next spread could look like, we've rounded up some of the most delicious sandwiches in the city to satisfy those lunchtime cravings.
Davis Square, North End and Medford
Known for its delicious tortas AKA press sandwiches, Tenoch is currently open for takeout service only. You can order online for your favorite torta, like the Asada Torta with steak with melted cheese, cilantro, and jalapeños. For a vegetarian option, try the Vegetales Torta with fresh, roasted vegetables. All tortas are made with telera bread, black beans, chipotle mayo, avocado, tomatoes, Oaxaca cheese, onions, and chipotle.
South End
This tiny neighborhood sandwich shop serves up some of the best breakfast and lunch in the city. If you're looking for something hearty, The Fancy is packed with two fried eggs, bacon, cheddar cheese, avocado, red onions, and house mayo on toasted Iggy's multigrain bread. The restaurant is currently open for takeout and delivery.
Allston
With Roxy's Allston location open for takeout and delivery, you can indulge in a good old-fashioned grilled cheese during your lunch break or mid-day social distance gathering. If you can't make up your mind, we recommend the Green Muenster, made with a three-cheese blend, housemade guacamole, and stacked with North Country bacon on locally baked bread.
Financial District, South Station, and Kendall/MIT
Home of the "Famous Bag Lunch," this special from Al's Cafes will cost you around $10 for a small sandwich, chips, and a soda. Good luck choosing from the cafe's robust menu, with a number of hot and cold options from chicken pesto to classic roast beef. To help steer you in the right direction, if you're at the Financial District location on State Street, we recommend Al's Café Special, featuring extra lean prosciutto, fresh mozzarella, basil, and plum tomatoes topped with olive oil and balsamic vinegar.
Brookline Village
This gourmet sandwich shop nestled in Brookline Village continues to pile up the accolades, drawing rave reviews for its Beef 1000 featuring Thousand Island dressing and crispy shallots -- or its "lighter" version, the Turkey 1000. With Cutty's now only open for pickup Thursday through Saturday, its famous Super Cluckin' Sunday -- which offers two kinds of fried chicken sandwiches on the menu -- is about to return on August 9. We'll be counting down the days.
Inman Square
If you're looking to spice up your summer picnic, All Star Sandwich Bar's Atomic Meatloaf Meltdown has not one, but two fire icons on the menu and brings together grilled meatloaf, Jack cheese, and caramelized red onion jam on grilled sourdough bread. That's not all, the sandwich is also topped with a habanero-based Inner Beauty Hot Sauce for that extra mouthwatering (and eye-watering) touch. You can get your hands on one by ordering online for pickup.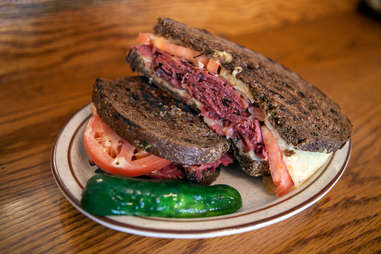 Downtown Crossing
Self-proclaimed purveyor of the "World's No. 1. Sandwiches," this popular spot hidden in Downtown Crossing has been in business since the '60s. While you can't go wrong with anything on the menu, the place earns its reputation with the Vermont cheddar-topped "World Famous Rumanian" Pastrami Travelers on grilled pumpernickel. Sam LaGrassa's has indoor and outdoor seating, takeout and pickup service, and even overnight shipping for those faraway fans.
Sign up here for our daily Boston email and be the first to get all the food/drink/fun the Hub has to offer.