There are a lot of fish in the sea... and no, unless your name is Nemo, we're not talking about your dating prospects. We're ACTUALLY talking about fish. Setting up shop next to the ocean has made Bostonians pretty serious about their seafood, and there are tons of spots to choose from. But which are the best? Whether you're looking for oysters, lobster rolls, or a giant bowl of chowda, these 10 restaurants should top your list.
North End
What you're getting: Johnnycake, the Neptune Burger, piggyback oysters, and a lobster roll
There's always a line out the door at this North End staple, and for a good reason; its take on fresh, local seafood is pretty unique. Neptune offers all the classics (an extensive raw bar, carefully curated wine list, and a quintessential brown-butter lobster roll), while peppering its menu with inventive creations like the Neptune johnnycake (topped with honey butter, smoked trout tartare, and sturgeon caviar) and piggyback oysters (which are covered in pulled Berkshire pork, pistachio aioli, and golden raisin confiture). Do yourself a favor and order an adventurous appetizer before digging into New England's best lobster roll.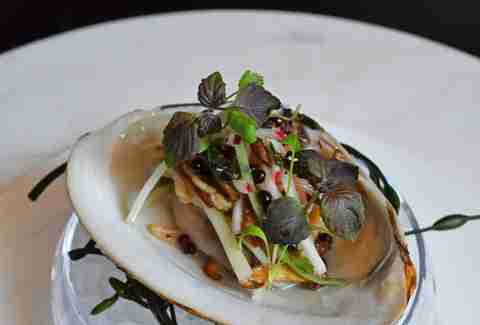 Back Bay
What you're getting: Yellowfin tuna tartare, French escargot, broiled lobster
Ostra ("oyster" in Spanish) is owned and operated by Chef Jamie Mammano, the culinary force behind Hub favorites Mistral, Teatro, and Sorellina. An in-house fishmonger guarantees that the seafood is always impeccable, whether it's locally caught or flown in from the Mediterranean. Everything is tasty, but be prepared to drop a pretty penny, especially if you're planning to spring for the exotic Israeli caviar ($155).
 
North End
What you're getting: The shellfish tower and the pan-roasted halibut
Consistently voted among Boston's best seafood joints, Mare offers quality seafood and a bright, sophisticated ambiance in the heart of the bustling North End. Roll with the shellfish tower for a dish piled high with oysters, clams, crab claws, lobster, and shrimp, and follow it up with an interesting twist on pan-roasted halibut that includes corn and clam chowder, saffron, littlenecks, and grilled andouille sausage.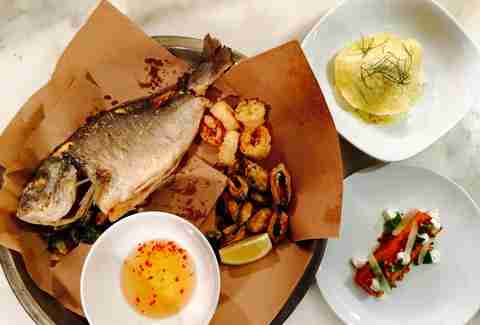 South End
What you're getting: Local raw or fried oysters, the lobster BLT, halibut en papillote, and the house-made crab tagliatelle
Barbara Lynch's tiny oyster bar stocks fresh seafood every morning, including six varieties of oysters from each coast, a selection of clams, and whole lobsters. Sit at the long marble bar to watch expert oyster-shuckers work their magic while you slurp down some shellfish and nurse a glass of wine with your date.
North End, Brookline & Seaport
What you're getting: Lobster fra diavolo and black pasta aglio olio
The Daily Catch is the place to go for seafood and pasta in Boston. The restaurant focuses on Italian specialties like lobster fra diavolo (lobster, littleneck clams, shrimp, mussels, and calamari in a spicy fish sauce, served over pasta) and house-made squid ink linguine tossed with fresh chopped garlic and ground squid. Its three locations throughout Boston mean you never have far to go to get your squid ink fix. (Yeah, that's right, squid ink fix. What.)
 
Back Bay
What you're getting: Oysters Rockefeller or bacon-wrapped scallops with maple mustard sauce, followed by the New England Lobster Feast
Atlantic serves the most classic New England seafood in Boston proper. All of it is locally sourced and simply prepared to order, and the appetizers are mostly recognizable standards like oysters Rockefeller and clams casino. You don't go here for the celebrity chef experience or molecular gastronomy wizardry... you go because you want to eat good fish in a classy dining room. Which is a pretty stand-up decision.
Seaport
What you're getting: Variety
Legal is a big local chain with reliable food -- definitely one of the most popular seafood destinations in the city. If you're a fan, it's worth checking out the test kitchen, where you can sample a new menu of Legal experiments every six weeks.
Back Bay
What you're getting: Sashimi and ramen
Chef Ken Oringer has gone all-out with this innovative sushi sanctuary hidden in the Clio lounge. The tiny fish bar features a new menu every evening based on the day's fresh catches (both local and flown in from Tokyo), as well as late-night ramen every Friday and Saturday at 11pm. Menu items include everything from artfully accompanied East Coast shellfish (like the Maine sea urchin with apple, pistachio, and radish) to Japanese delicacies like shima aji (striped jack with black sesame, goji, and citrus).
Kenmore Square
What you're getting: Raw oysters, the lobster omelet, crispy oyster slider
The menu at Island Creek Oyster Bar is printed daily and features New England staples like chowder and lobster rolls, as well as rotating dishes like golden tilefish with cherry tomatoes and Mrs. Bennett's Seafood Casserole for two. A solid choice for cocktails and bivalves, it also boasts an excellent brunch -- go for the lobster omelet. Oh yeah, and it's right around the corner from Fenway, so there's that.
 
Ball Square
What you're getting: Fried clams, zuppa di pesce, risotto pescatore, lobster ravioli
It may not look like much from the outside, but this off-the-beaten path Somerville spot is fantastic. Order the fried clams (voted the best in Boston) or any of the pasta and seafood combos, like the risotto pescatore or the spicy, garlicky zuppa di pesce.
Want more edible ocean creatures? Check out the Seafood Tour and the fourth annual Boston Seafood Festival (August 2nd at Boston Fish Pier) for all the seafood you can handle.
Sign up here for our daily Boston email and be the first to get all the food/drink/fun the Hub has to offer.