Home to some of the top seafood purveyors in the nation, you can always count on Boston's restaurant scene to satisfy all your briny, fishy cravings. Between a good old-fashioned lobster roll to more contemporary creations involving homemade pasta or globally inspired ingredients, the city is rife with different approaches to coastal cuisine harnessing ocean-fresh catches from nearby shores. Still need convincing? Just take a look at this roundup of the absolute best seafood spots in Boston for dining out and digging in.
Near Faneuil Hall
Known as America's oldest restaurant, the Union Oyster House first opened its doors in 1826. And the historical goldmine continues to please, with seafood at the heart of its famous menu. Specialties range from fried oysters to sweet clams, but for the full culinary experience, opt for the Ye Olde Seafood Platter featuring deep fried shrimp, clams, calamari, oysters, and fillet of fish topped with onion rings.
How to book: Reserve via OpenTable.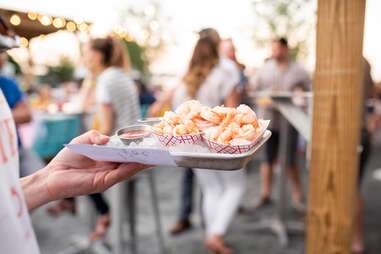 Seaport
A celebration of New England's rich seafood heritage and the farmers, fishermen, and lobstermen who behind it, Row 34 in Seaport is part of the reputable Island Creek Oyster family. And after taking one look at the menu, you'll understand why the restaurant is beloved by Bostonians the city over, starting with homemade rolls and moving onto crispy oyster sliders, griddled crab cake, and, for the main course, clam and shrimp pasta or lobster fettuccine.
How to book: Reserve via OpenTable.
Seaport
You've no doubt noticed the line snaking around beneath Yankee Lobster's can't-miss red awning on your way over to Harpoon Brewery. The family-owned business, which got its official start in 1950, offers everything from traditional and fried lobster rolls to fish and chips, shrimp cocktail, calamari, and a whole lot more. What's not to love?
How to book: Stop by for first come, first served seating, order take-out via ChowNow, or get delivery via Grubhub.
Back Bay
Known for their sustainably sourced and high quality offerings, Saltie Girl has plenty of options to sift through, including petite, grande, and royale seafood towers piled high with fresh oysters, littlenecks, and Jonah crab salad. There's also a new Italian-inspired seafood pizzeria, Seafood Pizza by Saltie Girl, stocked with lobster, clams, caviar, smoked salmon, and tinned fish atop fresh-baked pies with hand pulled mozzarella, burrata, taleggio, and reggiano.
How to book: Reserve via Resy or order take-out and delivery via Caviar.
North End
Equipped with an extensive raw bar, carefully curated wine list, and arguably one of New England's best lobster rolls, Neptune boasts all the classics. For those feeling adventurous, the piggyback oysters, packed with Berkshire pulled pork and smothered with Blueberry Mostarda and maple butter, are a must. And we can't skip over the Neptune Johnnycake, a rendition of a pancake with Boston smoked bluefish and sturgeon caviar topped with honey butter.
How to book: Stop by for first come, first served seating or order take-out online.
Back Bay
Ostra (AKA "oyster" in Spanish) is owned and operated by chef Jamie Mammano, the culinary force behind favorites Mistral, Teatro, and Sorellina. An inhouse fishmonger guarantees the seafood is always up to par, whether it's locally caught or flown in from the Mediterranean. Everything is tasty, but be prepared to drop a pretty penny, especially if you're planning to splurge on the Golden Osetra caviar for a cool $175.
How to book: Reserve via OpenTable or order take-out and delivery via DoorDash.
North End
Consistently voted one of Boston's best seafood joints, Mare serves creative combinations inside a bright, sophisticated atmosphere in the heart of the North End. Dive into the shellfish tower for a gastronomic tour spanning oysters, clams, shrimp cocktail, lobster, and king crab, then follow it up with signature pastas like linguine a clams macchiato and lobster ravioli.
How to book: Reserve via OpenTable.
South End
Barbara Lynch's intimate oyster bar rakes in fresh seafood every morning, including a variety of oysters from each coast, a selection of clams, and entire lobsters. Grab a seat at the long marble bar and watch expert shuckers work their magic while you enjoy popular plates like stuffed lobster and nurse a perfectly paired glass of wine.
How to book: Reserve via OpenTable.
North End, Brookline, & Seaport
What began as founder Paul Freddura's shoebox-sized Calamari Café has transformed into a North End staple that easily ranks among the most lauded seafood spots in the city. The Sicilian-style concept has also stuck to its roots, serving toothsome pastas like black squid ink pasta aglio olio right out of the pan—once a cramped space-driven necessity but now a mark of unmistakable flair.
How to book: Stop by for first come, first served seating (North End, Brookline), reserve via OpenTable (Seaport), or get take-out online (Seaport, Brookline).
Back Bay
Atlantic serves up no-frills favorites for guaranteed satisfaction. Choose from locally sourced and simply prepared appetizers like bacon-wrapped scallops, fried oysters, or chilled shellfish platters. Moving onto dinner, Atlantic sports a lengthy list of lobster preparations from the standard lobster roll to risotto, ravioli, and linguine drenched in spicy arrabbiata.
How to book: Reserve via OpenTable, order take-out online, or get delivery via DoorDash, Grubhub, and UberEats.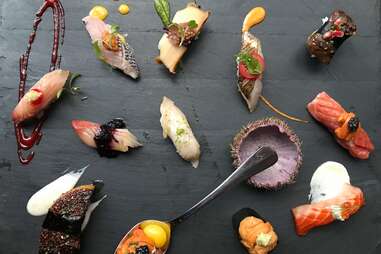 Back Bay
Hidden in Back Bay's Eliot Hotel, Chef Ken Oringer's UNI injects traditional Japanese cuisine with local New England catches. The menu features inventive, global innovations like fried oyster bao buns and garlic king crab noodles alongside a long list of a-list sashimi and nigiri cuts.
How to book: Reserve via OpenTable or order take-out and delivery via DoorDash.