There's nothing quite like a steakhouse for a celebratory meal, and since Boston's sports teams continue to pile up championships with staggering frequency (get it together, Brady), it's a good thing that there are plenty of prime spots to fill up on prime beef. Here are the best:
Recommended Video
Ghost Kitchen: How This NYC Restaurant Is Responding to Coronavirus
5. Capital Grille
Back Bay
About as classic as classic steakhouses get, The Capital Grille's convenient Boylston Street digs get the nod here for their maniacal attention to temperature precision -- make sure to inquire about the intermediate cooking temperatures for steaks and finally, have your filet cooked to a flawless medium rare-plus… without feeling even the least bit high maintenance.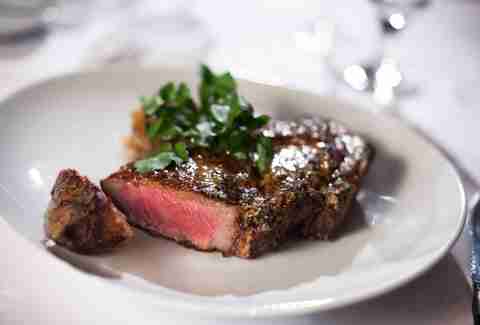 4. Grill 23
Back Bay
Grill 23 offers classic steakhouse charm with a multi-floor dining room sporting enormous columns and enough mahogany paneling to make a certain San Diego newsman jealous. A staple in the Boston steakhouse scene since the early 80's, Grill 23 sells one of the only true Kobe steaks in the city, as well as a celebrated 100-day dry-aged ribeye and of course, their signature truffled Grill 23 Tots.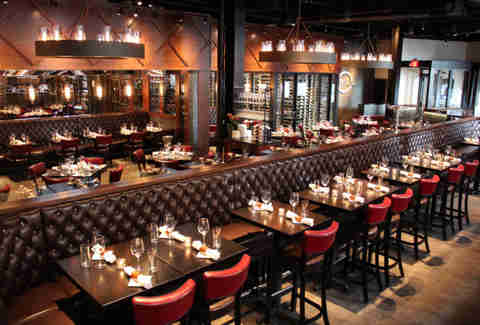 3. Boston Chops
South End
Boston Chops is Chef Chris Coombs's take on an "urban steak bistro" -- decked out with ornate chandeliers suspended from the high ceilings and steel accents. The South End spot is a relatively new addition to the Boston steakhouse scene. What makes it a standout is that, in addition to top notch steakhouse standards, Coombs offers the "Rarely Celebrated" portion of the menu, featuring unexpected delights such as Chicken Fried Sweetbreads, Crispy Oxtail Croquettes, and Grilled Herb Marinated Heart.
2. Abe & Louie's
Back Bay
They've piled up plenty of accolades, but Abe & Louie's most significant honor came from Mr. Warren Buffett, who proclaimed that they do in fact have "a great steak", and rest assured he's eaten plenty of them. All the meat is aged six weeks on the bone, and their trademark Shellfish Tower sets a serious standard for excessive shellfish consumption with your choice of oysters, clams, shrimp, lobster, and a selection stuffed items, yourself not included.
1. Bogie's Place
Downtown
Who would have expected that your next favorite steakhouse is sitting inside of one of your favorite bars? Quietly sitting inside of JM Curley, Bogie's Place is to steakhouses what Curley is to burger joints; all the standards you've come to expect but done much, much better. Standouts on the menu are the 30-day dry-aged sirloin, roasted tomatoes with dandelion greens, and shoestring potatoes. The cocktail list is where things get really special -- Bogie's Place offers cocktail flights featuring three differently themed drinks. Do your best to plan ahead, as they're reservation-only.