The Very Best Boston Restaurants for Vegetarian and Vegans
The case for vegetarianism -- and its purer sibling, veganism -- is pretty iron-clad: healthy living, cute animals, preservation of our environment, future of the planet, etc. After all, there's a reason why Impossible Meat is the food topic of the moment and why the Golden Globes dinner was all vegan this year. So where to get your meatless mangia on? Unsurprisingly for the city that birthed Thoreau -- one of the most famous (and uppity) vegetarians of all time -- Boston is awash in fresh, plant-protein dining, from Asian restaurants to taco joints to cloth-napkin eateries. Translation: no more subsisting on French fries and scrambled eggs.
Arlington
"Eating healthy is important and can be enjoyable," is this restaurant's modest but accurate assertion. A vast menu of everyone's favorite Thai, Indian, Korean, Mandarin, and Japanese dishes are done strictly veggie-style, with soy and seitan subbing for chicken and beef. It's a takeout-centered lineup to suit all palates, from seaweed salad to pad Thai to General Tso's soy protein to Bi-Bim Bap.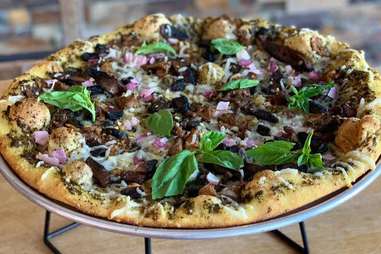 Somerville and Brookline
Sure, a lot of pizza is already vegetarian, but sometimes it's nice to order from some place and not be tempted by the meat-lover's pie. Both takeout outposts dish out pizzas and pastas made with their own homemade dough, sauces, and pestos, including the quirky but worthwhile falafel pizza. A little bonus: The Brookline location is also Kosher-certified.
Inman Square
Fans of these French fries oases might not be aware that its Bow Market outpost is 100% vegetarian -- and that every dish can also be made vegan. This is music to the ears of those committed to the vegetarian lifestyle, who also crave a good poutine once in awhile (the gravy is miso-mushroom). There's also a Beyond Sausage topped with Impossible Meat chili and a BBQ Impossible Burger, proof positive that your favorite comfort foods can be whipped up sans guilt.
Watertown
It's vegetarian, it's certified Kosher, and it's certified green. In other words, Red Lentil is a place where you can relax knowing that a lot of work has gone into crafting a space and menu with exacting standards. The multi-ethnic lunch, dinner, and brunch items rotate according to seasonal produce offerings, but you might see dishes like an Indonesian stir fry, pulled jackfruit tacos, and Moussaka pizza. One of its greatest vegan triumphs? The shepherd's pie is made with soy sausage and vegan cashew gravy.
Codman Square/Four Corners
Healthful things come to those that wait at this tiny corner cafe in Dorchester. All the made-to-order drinks and dishes, from the juice shots to the African couscous bowl to the vegan mac-n-cheese pie, reflect the passions and affections of owners Jahriffe Mackenzie and Nahdra Ra Kiros. As you wait for your meal, breathe deep the warm atmospherics of the space, from the aromatic stewed lentils to the bright wall art.
Back Bay
A newer entry to both the vegan and fast-casual eating scenes, Red White serves flavor-packed rice bowls to a health-conscious customer base. Start with a grain or greens, then choose your medley of protein and veggies -- all of which boast plenty of spice and umami. Cool your tongue with an extra topping of avocado, or go full bore with some additional vegan spicy mayo.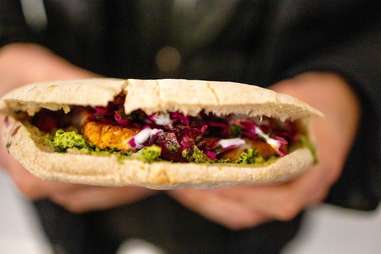 Various locations
Even your paleo pals occasionally go vegan for this mini food empire. Initially the food truck brainchild of an MIT grad, Clover has gone on to reinvent the city's fast food scene entirely. With a bottomless commitment to food that is fresh, inventive, and, yup, vegan, every Clover outpost -- currently at 13 and counting -- proves that you just don't need animal protein when classics like barbecue seitan and chickpea fritters are on the menu. And don't forget about that addictive lavender lemonade.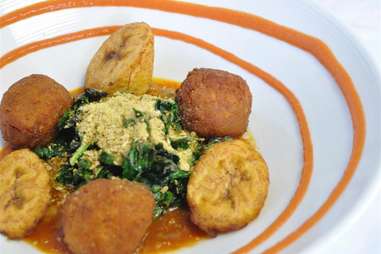 Teele Square
"Plant-based fine dining" is most certainly a thing at True Bistro. You might start with a light beet salad before moving on to cornmeal-crusted oyster mushrooms, peppered pappardelle with Chanterelles, or crispy polenta squares (the menu changes frequently based on the seasons). Then there's brunch, which is awash in waffle and seitan sausage sorcery. Add in the restaurant's bar area and you have the perfect spot for that celebratory group dinner that miraculously blends vegans and meat-eaters. Seriously, everyone will be happy.
Allston
If you've been a vegetarian for any length of time in Boston, you've worshipped at the Grasshopper altar. It's vegan Asian food, for pete's sake -- pretty much the most guilt-free guilty pleasure ever. Lots of meatless staples dot the menu, including spring rolls, vegetarian dumplings, and stir-fried greens. But it's actually the tofu and seitan dishes that give you that true Chinese food fix. Do you still dream of the stir-fried spicy garlic beef dish from your takeout-filled youth? It's yours for the taking, now in a healthier form.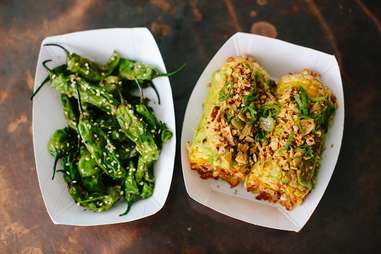 Multiple locations
So is Allston, like, the city's vegetarian mecca? All we know is that when this veggie entry first popped up a few years ago, we actually started romanticizing our-college era hellhole of an A-B apartment. Now expanded to several locations, Whole Heart is the perfect takeaway spot, offering reasonably priced, customized bowls of veggies, crunchies, and vegan protein, which you can either order at the counter or build online during the day to pick up after work. And when you "let yourself go" on the weekends, there's a Sunday brunch at the original Allston location with avocado tacos, pancakes, and patatas bravas.
Central Square
Picture the diner of your dreams, minus the quart of leftover bacon grease coating the grill. All the breakfast basics are here, all sans meat, from Benedicts to egg sandwiches to pancakes. There's a corned-beef seitan hash, too, as well as a vegetarian-gravy poutine, the holy grail of the meat-free community. But it's during lunch and dinner that things really get interesting: a meatless BLT? Reuben? Shepherd's pie? Your best bet is probably to eat your way through the entire menu.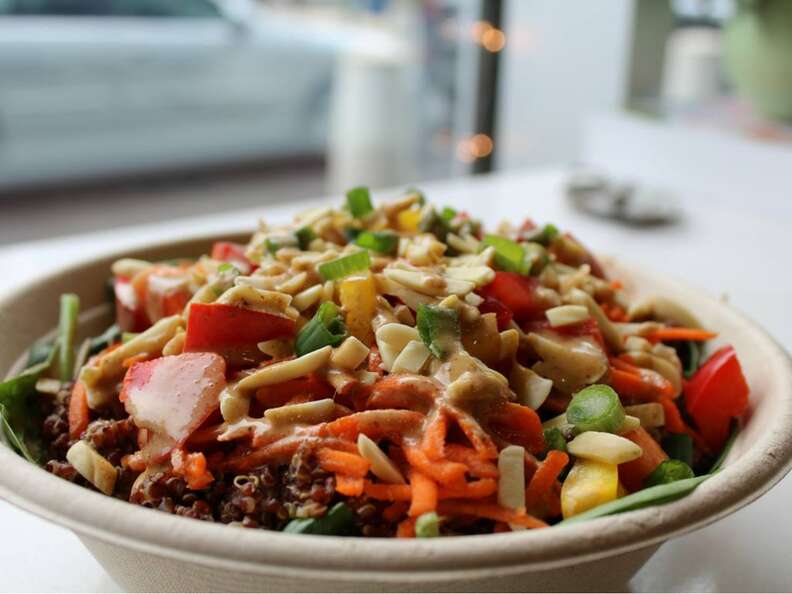 Multiple locations
The city is now awash in juice bars that also turn out yummy, vegan, gluten-free breakfast and lunch options. But we'll forever have a soft spot for the ladies behind Mother Juice, if for no other reason than they have fully committed all three locations to the black art of toast making. Plus they serve their breakfast bowls all day, and you can order salads by the half or whole bowl.
Newton Highlands
Suburbanites need plant-centric options, too. Walnut Grille is saint and savior for the Mass Pike crowd, a sit-down spot that takes all the usual family restaurant entrees -- chicken piccata, meatloaf, lasagna, pizza -- and recreates them in vegetarian (and often vegan) form. Oh, and the restaurant doesn't shy away from adult beverages, including organic beer and wine. Add in the hearty brunch menu, and a weekend visit to the parents' place just got a little less painful.
Central Square
Once upon a time there was the Cambridge O2 yoga studio and the attached VO2. The former may be permanently closed (though the Somerville studio is still going strong), but the latter is thriving with some pretty fine vegan breakfast sandwiches and burritos. Lunch is even more exciting: soups, salads, pressed sandwiches, and vegan nachos (!) all prepared with a love reflected in the welcoming attitude of the staff.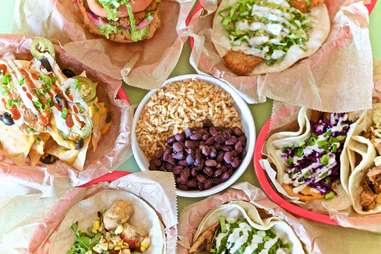 Somerville
There are many evil geniuses in the world, and among them are the rapscallions who came up with a vegan taco food truck, thus upticking our taco consumption about a billionfold. Each four-buck concoction gives you a flavorful fix that turns out not to be made of meat at all, but instead rich meat substitutes like jackfruit, fried plantain, and a chimichurri tempeh. Also: vegan nachos again! But the kicker may be the vegan torta (your choice of tofu or chorizo seitan), which sounds like an impossibility, but is oh so real.
Sign up here for our daily Boston email and be the first to get all the food/drink/fun the Hub has to offer.
Meaghan Agnew was a vegetarian for six years before a plate of chicken wings did her in. Has she since mended her ways? Follow her on Instagram and Twitter (@meaghandeth) to find out.