The Best Waterfront Restaurants in Boston
It doesn't get much fresher than this.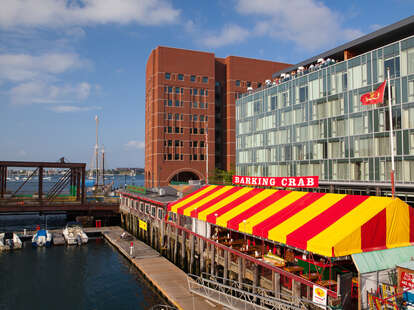 Boston is known to get a little too hot to handle during high summer, but the city is equipped with one admirable asset for staving off the heat and humidity. Running from the mouth of the Charles down to Quincy Bay, the eastern shoreline of Greater Boston provides a much-needed breeze—and the high concentration of top-quality bars and restaurants adds some incredible food and drink into the equation as well.
If you're in search of a crisp pilsner or some citrusy ceviche to keep yourself refreshed, these seaside spots are equipped with open-air patios, top-tier beverages, and no shortage of succulent seafood to keep you going all through the summer.
A long-standing staple of the Seaport, The Barking Crab has been serving succulent seafood long before the neighborhood became the glimmering high-rise-packed district that it is today. As you may assume from the name, The Barking Crab has mastered the art of crustacean-based cuisine, offering top-tier crab cakes, lobster rolls, and crab rolls—but the culinary prowess doesn't stop there. Diners can take a break from the classic cuisine of New England with some citrus-loaded Peruvian ceviche, or go all in with a Fisherman's Platter, a mouthwatering assortment of seafood that's complete with clam strips, scallops, haddock, and a wealth of other Bay State favorites.
Spending the dog days of summer in Quincy? Beat the heat with some well-earned oysters at Bay Pointe Waterfront Restaurant, a cozy spot found just east of the downtown district. While the restaurant itself has been in business for more than 20 years, its waterfront deck is a relatively recent addition, providing diners with some much-needed fresh air as they enjoy their meal. Fans of coastal Mediterranean fare can dine on Valencian seafood paella and chicken pappardelle, or switch it up with a New England Fried Platter, a decadent dish loaded with clam strips, scallops, scrod, and crispy fries.
Stellar seafood and stunning harbor vistas collide at Boston Sail Loft, a beloved North End-adjacent spot that's been in business since the mid-80s. New arrivals can expect a bounty of seafood dishes including fried fish sandwiches, lobster rolls, and some of the finest New England clam chowder available on the Boston waterfront. Not a fan of all things under the sea? No worries, Boston Sail Loft is a certifiable jack of all trades, equipped with an armada of land-based proteins ranging from cheddar-loaded Cajun chicken sandwiches to decadent cheeseburgers topped with a healthy dose of bacon and blue cheese.
Located just north of Seaport Boulevard, the storied James Hook & Co is eagerly awaiting its centennial in 2025. The secret to their long-term success? Fresh lobster delivered daily, courtesy of the company's family-owned fishing business operating up in the icy waters of Maine. Lobster is offered in roll, mac & cheese, and bisque format around here, and while it's certainly the star attraction, there's a plethora of other seafood dishes to dine on as well. Guests are welcome to spring for a serving of shrimp cocktail or a hearty crab roll, both of which pair perfectly with a cold local IPA courtesy of the restaurant's lengthy beer menu.
If you're hoping to beat the summer heat with a frosty margarita, Lolita is here to answer your call, offering seven different variations on the cocktail offered in both single-serving and pitcher form. For maximum refreshment, it's tough to go wrong with an orange liqueur-soaked Frolita, while the peppery Diablo is a must-try for spice lovers. Beyond the margs, Lolita is also equipped with sweet sangrias, a wealth of wines, and a slew of both local and Mexican brews—and that's before mentioning the food. From crispy rock shrimp tacos to chilaquiles salad, there's no shortage of flavorful Mexican-inspired plates to sample as you down your next drink.
How to book: Via SevenRooms
In addition to iconic Bay State landmarks like the USS Constitution and Bunker Hill Monument, Charlestown is home to a top-tier seafood scene, with the waterfront Pier 6 serving as a shining example. If the panoramic roof deck views weren't impressive enough already, this harborside venue is also blessed with an ample food and drink menu featuring dishes sourced from both land and sea. The lobster rolls are a tried-and-true favorite around here, while the Pier 6 cheeseburger serves as a worthy substitute for the crustacean-averse. No matter which entree you choose, be sure to grab a jalapeño-infused Knotty Nauti cocktail to help wash it all down.
East Boston is rife with incredible dining destinations, but few are as perfectly positioned for a balmy summer day than ReelHouse. While this harborside spot is equipped with a gorgeous interior bar, be sure to grab a Reelhouse Painkiller and head to the outdoor patio to take full advantage of the summer sun. Sharing plates are the norm around here, with the crab fried rice and mezze plate being two particularly flavorful options, but for a truly lavish experience, spring for the Grand Shellfish Tower. A treasure trove of New England's finest marine catches, this dazzling dish comes complete with lobster, steamed mussels, oysters, and shrimp cocktail all on one picturesque platter.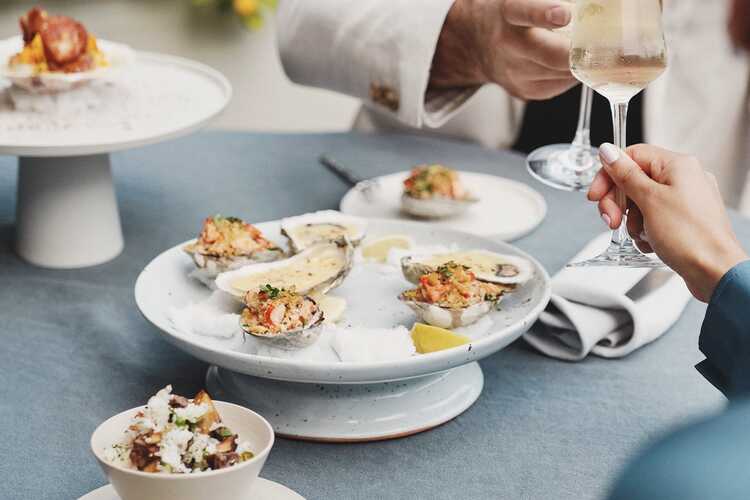 Rowes Wharf Sea Grille

| Boston Harbor Hotel
The Boston Harbor Hotel has earned abundant acclaim for its palatial accommodations, and the property is no slouch when it comes to dining, either. Case in point—Rowes Wharf Sea Grille, an on-property venue that boasts summer terrace dining paired with live music and fresh fish. Dishes around here range from classic New England fare like Maine lobster mac and cheese to more internationally-inspired plates, with Japanese wagyu fried rice, grilled Spanish octopus, and lobster bao all up for grabs. On the drinks side, there's no shortage of refreshing options to sample, with the gin-heavy Empress Flower serving as a particularly appropriate choice on a hot summer night.
A strict adherent to the time-honored mantra "if it ain't broke, don't fix it," Sullivan's Castle Island has been slinging burgers, hot dogs, and a cornucopia of hearty seafood dishes for well over 70 years. Dishes span all walks of life here, with the clam strips, baked haddock, and New England clam chowder serving as tried-and-true favorites—and as an added bonus, Sullivan's is located just a couple of steps away from the historic Fort Independence, allowing visitors to treat themselves to a brief Boston history lesson before going to town on a plate of fresh shellfish.
Yearning for a taste of Italy during the Boston summer? Skip the flight to Europe and head down to Dorchester to find Venezia, a local favorite for Mediterranean dining for the past quarter-century. All of the usual suspects are up for grabs around here—veal parmigiana, zuppa de pesce, and chicken risotto, to name a few—while the fisherman's platter features a massive array of local seafood favorites if you're looking for a little New England flair. Wine lovers take note—Venezia's drinks list includes a couple offerings from next door neighbor Boston Winery, offering guests an opportunity to taste some crisp Zinfandel produced right here in the Bay State.
Just beyond Boston city limits, Quincy's Marina Bay neighborhood is equipped with coastal promenades, a charming local brewery, and a wealth of quality dining options, with Victory Point serving as one of the area's top spots for warm-weather dining. Atop the open-air patio, guests can peruse a menu that blends classic Italian cuisine with New England seafood staples, with cod puttanesca, cozze e linguini, and lobster-loaded seafood pie all gracing the menu. Beyond the dishes, Victory Point also offers a lengthy drink menu featuring classic cocktails, local beers, and wines from all across the globe.
Refreshing cocktails, regional fare, and plentiful harbor views abound at Woods Hill Pier 4, a relative newcomer to the Seaport waterfront. Though just a few years old, Woods Hill has made waves thanks to its strong affinity for New England-grown ingredients, with a large portion of produce and animal protein coming from the property's own farm up in the northern reaches of New Hampshire. In addition to flavorful plant-forward favorites like grilled summer squash and potato gnocchi, the restaurant also excels in the art of perfectly-cooked meat dishes, with the grilled rack of lamb and dry-aged duck breast earning abundant acclaim.
Jared Ranahan is a freelance writer focusing on travel, wildlife, and food & beverage.