Just west of Boston's trusty (and slightly dilapidated) South Station, one of the city's most vibrant, authentic, and food-focused neighborhoods has been a bastion of East Asian culture for over a century. While historic Chinatowns across New England have mostly ceased to exist in the modern era, Boston's Chinatown is still going strong today, serving as one of the largest of its kind in all of the United States.
Although this neighborhood has undergone countless changes over the past century, one thing has remained constant: a truly spectacular dining scene. Businesses have come and gone over the decades, but today, the neighborhood is home to a wide variety of beloved restaurants—several of which have been founded and operated at the behest of Brian Moy, a Massachusetts native and experienced restaurateur with deep ties to the area.
"I didn't physically grow up in Chinatown but my family was always doing business in Chinatown as I grew up," says Moy. "About two years before I was born my family had their first restaurant in Chinatown, it was called Ho Yuen Ting. It was a staple in the neighborhood and it was a true family restaurant—my father was in the kitchen, my grandparents were in the kitchen, my aunts and uncles were in the service side, so all of my early special occasions and holiday memories are at that restaurant."
Moy made his restaurant debut in 2016 with LBR (Little Best Restaurant), and while the spot ceased operations in December 2019, the Moy legacy is still going strong today. From Shōjō, a polished venue equipped with colorful wall murals, modern Asian cuisine, and complex cocktails, to Nomai, a New American spot that made its debut in Hingham just this month. So with a lifetime in the area under his belt and an expert's palate for top-notch Asian fare, we tapped Moy to get his recommendations for the ultimate guide to the best restaurants, bakeries, and markets in Boston's Chinatown.
With over 200 different dishes on the menu, it can be a little intimidating to be a first-time diner at Taiwan Cafe—but Moy and this cozy Oxford Street spot go way back.
"That's one of my favorite places," says Moy. "They're known for Taiwan cuisine, of course, and they have this Taiwanese pork chop over rice with pickled mustard greens. They do that really well, and they have soup dumplings and Taiwanese brunch on the weekends which is really special. But I really like the pork chop—I've been eating that since high school and it's definitely the dish to get there."
If you're just beginning to familiarize yourself with Chinese cuisine, it's crucial to remember that the country isn't a monolith. Flavors, cooking styles, and ingredients can vary wildly from region to region—and when it comes to Fujianese (or Fukienese) cuisine, China Gourmet Restaurant is a prime example of the type of flavors you'll find around the southeastern reaches of the sprawling nation.
"China Gourmet is a small hole in the wall. It's hyper-local, with very specific Fukienese cuisine, which has a very particular taste," notes Moy. "They have a fried chicken wing that's tossed with a ton of whole red chilis and a spicy sauce—it's super crunchy and makes for great beer food. They also have a really great pig's feet soup with corn, the broth is super rich and the pig is so tender. Those two are my go-to dishes there."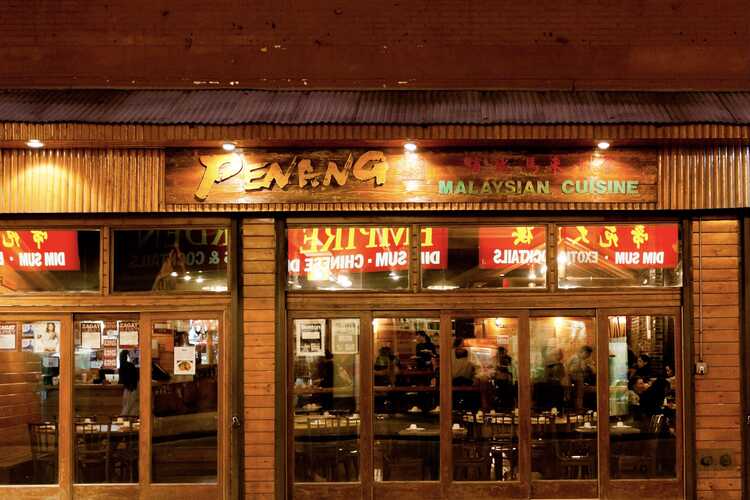 Penang

| vvoe/Shutterstock
It's easy to assume that Chinatown restaurants are largely East Asian-inspired, but that's far from the only region that's represented in this historic neighborhood. Case in point—Penang, one of the few restaurants in the greater Boston area to offer Malaysian cuisine. While newcomers may wish to sample some nasi lemak—a sweet coconut-laden rice creation that serves as the country's national dish—that's far from the only plate worth ordering.
"They have great Hainanese chicken, and you can order sticky rice, coconut rice, or chicken rice. The chicken rice is made with chicken fat, they cook the rice along with it so all the chicken flavor goes into the rice. Probably not that healthy, but it's super tasty," says Moy. "I also really got into their vegetable curry casserole, it comes out bubbly and boiling and you put it over rice. It's really comfort food to a T."
Of all the age-old questions that we may never know the answers to, most importantly, we wonder: What's the best spot for xiaolongbao in Chinatown?
The latter has been subject to endless discussion for decades on end, but for Moy, the answer is simple: Dumpling Cafe, reigning Chinatown champion in the realm of soup dumplings. While these succulent selections are the main attraction around here, don't miss out on the teriyaki sticks, with five distinct protein options ranging from chicken to squid.
Jia Ho Supermarket

| Alexandre Tziripouloff/Shutterstock
Equipped with mountains of fresh produce, tanks filled with live seafood, and more sugary snacks than you could possibly imagine, Jia Ho is Boston's reigning champion when it comes to East Asian spices, ingredients, and cookware.
"Jia Ho has a really sick instant noodle aisle," says Moy. "I always find something new but I've definitely found some misses there—you see something really interesting so you just grab a six-pack and it can be hit or miss. One of my favorites was this new spicy beef Korean instant noodle, it almost tastes like Shin Ramyun but the noodle is more like instant ramen texture. But yeah, Jia Ho is my go-to market in Chinatown."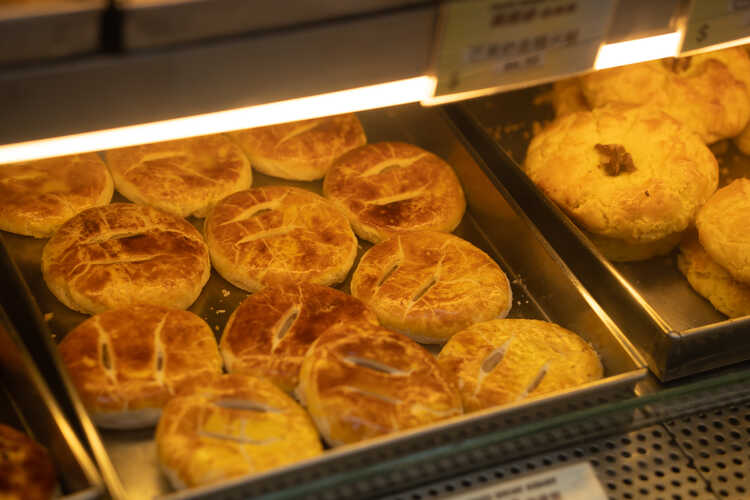 Wife Cakes

| Eugene Tsoi/Shutterstock
Chinatown is home to a wealth of cozy bakeries crafting classic East Asian treats from scratch, but when it comes to preserving tradition, Moy has a soft spot for Ho Yuen.
"Their style of bakery is sort of like our grandma's generation's style, which you don't find a lot anymore," says Moy. "They do traditional Cantonese-style bao and bakery items. I like their curry beef bun and coconut bun the best."
Hing Shing Pastry

| Allan Lim/Flickr
Another top contender for Moy, this cornerside bakery specializes in traditionally crafted Chinese snacks just a couple steps away from the Chinatown Gate. And while there's no shortage of options to consider around here, Moy tends to gravitate towards the more savory styles, with the sesame seed-laden hot dog bun being one of his top choices.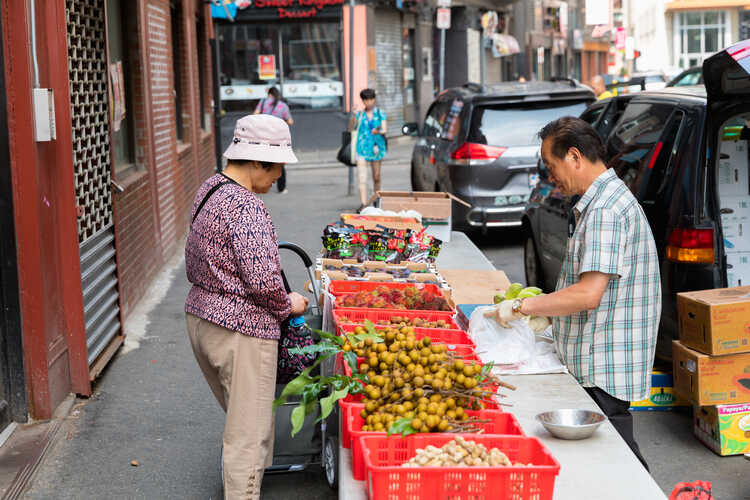 Chinatown Fruit Stand in Boston

| 2p2play/Shutterstock
Unlike the other spots included on this list, this streetside fruit market doesn't have an official name—but in Moy's opinion, this humble street stall serves as one of the last bastions of the Boston Chinatown of yore.
"There's a fruit guy that's right around the corner from Jia Ho, right across from the parking garage on Beach Street. He basically operates out of his minivan, and I get my oranges from him," says Moy. "I have a personal connection with him as well. He used to be a waiter at China Pearl when I was growing up, and when he got out of the restaurant world he started doing this fruit business. We just don't see that anymore in Chinatown."
"Where our barbecue bakery was, there used to be these young guys that had a fruit truck and they'd yell out 'Oranges! Watermelons! Really good and sweet!' and they taught me how to sell," he recalls. "He's the last of a dying breed. He's there almost every day, morning to night, selling fruit. He has some cool exotic fruits that he gets from New York, he'll drive up and bring them back. His name is Kwun. I always love getting my fruit from there—I feel like The Godfather when you're picking your fruit on the side of the street and putting it in a paper bag and walking home. I try to buy as much fruit from him as I can."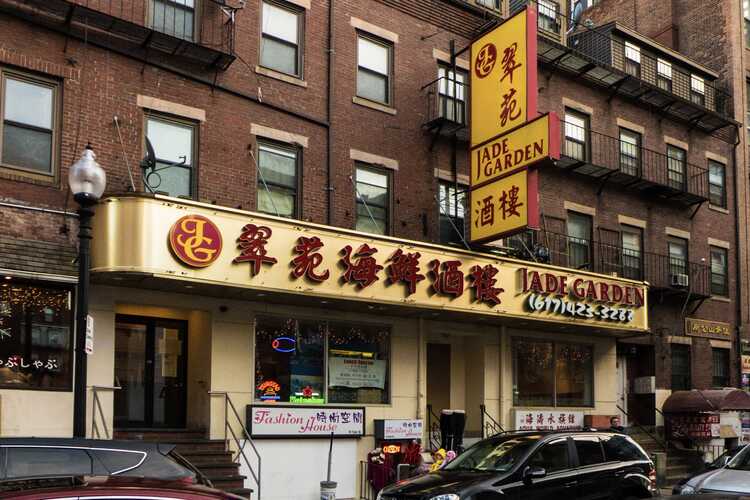 Jade Garden

| Christopher OKeefe/Flickr
After a long night of partying in the Theater District, it's not unusual to come down with a serious case of the drunchies—a problem to which Jade Garden is the perfect antidote.
"This is my go-to late night spot," says Moy. "Jade Garden produces some really good food. They have what they call a prime rib plate, which is prime rib sauteed with black bean and tomato or prime rib with string bean and oyster sauce. I've been guilty of ordering both sometimes, I can't decide which one I like better."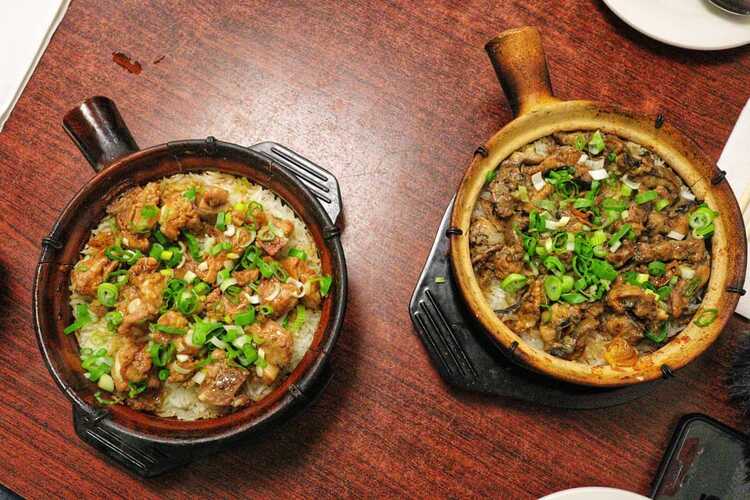 Clay Pot Cafe

| beantowneater/Instagram
True to its name, this charming Kneeland Street location draws crowds thanks to its superbly-crafted dishware.
"It's a small family operation, when they opened it was two brothers that worked the front, the mom and dad and aunt worked in the back," says Moy. "They have a casserole rice plate, they cook it in a stone pot casserole dish over the fire so the flavors of the meat really bake into it. The trick is, when they heat it up, since it's a clay pot casserole it chars the rice on the outside and at the end of the meal it turns into a crisp rice on the clay pot."
Boba tea took East and Southeast Asia by storm pre-Y2K, and in the modern era, this pearl-laden beverage is a mainstay in cities all across the globe—and Boston is no exception.
"My go-to is the lychee black tea with boba, it's a nice clean refreshing drink," says Moy. "There are so many different boba shops in Chinatown, but I find their tea to be the strongest and most consistent in terms of quality. They also have onigiri there, and the avocado is good. They have some cool little snacks, while a lot of the other boba shops don't have food."