"The only real stumbling block is fear of failure," Julia Child once said. "In cooking, you've got to have a what-the-hell attitude." Whether she was gleefully whacking apart a chicken or drizzling a bit more cream into a dish, Child's "what-the-hell" attitude made her America's first kitchen superstar. It also made her a beloved fixture in Boston, where she lived for over three decades. Today, the city's restaurant scene has a unique attribute: In what is still a heavily male-dominated industry, many of Boston's top restaurateurs are women. Is this Julia's doing?
We talked to two very different restaurateurs to find out more: Joanne Chang, an Ivy League mathematician-turned-pastry chef (chef/owner Flour, Myers + Chang), and the inimitable Barbara Lynch, a self-taught Southie who in 2014 became just the second woman to win a James Beard Award (CEO, Barbara Lynch Gruppo).
In many ways, Boston's restaurant industry isn't different from any other city's. The work is physically demanding, the hours are long, and the pressure is high and constant. It's a challenging environment for anyone to succeed in. Those who thrive in this atmosphere are the ones who stand a chance at long-term success, no matter their gender. But unlike New York or San Francisco, which must serve enormous populations and cater to an up-all-night culture, Boston serves smaller communities that tend to go home by 10 or 11. So the hours here are a bit more humane, and importantly, the average Boston diner stands a good chance of knowing the chef's history around town. In such a small city, once a chef earns a reputation, her fans are liable to follow her wherever she goes.
A couple generations of smart, talented women have helped turn this city into a better place for all chefs.
This has worked out well for powerhouse Barbara Lynch. When entities like The New York Times talk about Boston restaurateurs, her name is always on the list. A South Boston native from a tough background, Lynch has created a sizeable empire in the city she loves. With seven unique establishments -- from city stalwart No. 9 Park to Drink, a bar synonymous with the art of mixology -- Lynch is a byword for quality in the Boston restaurant scene. When Bloomberg ran a story in 2014 entitled "Women Everywhere in Food Empires But No Head Chefs," they suggested Lynch was an anomaly: a top woman restaurateur who in turn hires women for top positions in her restaurants.
But many of Boston's top chefs have trained with or under women in the kitchen. Lynch says that the city's reputation as a strong community of female chefs is well deserved, "and one that I'm proud of." Although Lynch did not have a mentor as she was coming up in the restaurant world, she has worked hard to mentor other women in the industry. How might her career have changed if she had had a mentor? "I might not have opened several restaurants," she says, though juggling too many responsibilities is a challenge that her most famous protégée has had to learn as well. When Kristen Kish became the second woman in 10 seasons to win Top Chef, she returned home to become chef de cuisine at Lynch's Menton and was flooded with opportunities, but she chose to stick with Menton. And then when she decided she was ready to move on to new things, Lynch supported her: Soon, Kish will be opening her own restaurant in Charleston, South Carolina.
While that gesture of support is one Lynch herself never received, Boston's culinary scene is full of precedents for women chefs. One cornerstone of the city's food scene, Lydia Shire, has had a deep impact on nearly every top Boston name you can dig up -- Lynch and Chang, but also Jasper White, Jody Adams, Gordon Hamersley, and Keith Pooler. Shire, in her turn, was a protégée of Julia Child herself.
Child and her husband settled in Cambridge in 1961, the year Mastering the Art of French Cooking was released and changed home cooking forever. Child's show, The French Chef, was broadcast on Boston network WGBH, and she became a columnist for The Boston Globe. Although she was an import here, Boston fully embraced her, and her blend of warmth and tremendous technical skill had a lasting effect on her adopted city.
However, the food revolution that arguably began with Julia Child has taken a long time to come to fruition. In the early '90s, when Joanne Chang decided to leave her career as a consultant and plunge into Boston's restaurant world, she didn't have many options. "There was no food scene," Chang says. "There were maybe four or five places in the whole city that I felt could teach me what I wanted to know."
In cooking, you've got to have a what-the-hell attitude.
Lydia Shire's Biba was one of them. Shire gave the Ivy League-educated consultant what she needed: a foot in the door as bar food cook, from which she soon graduated to garde manger. At the time, Biba's chef de cuisine was also a woman. The pastry chef at Chang's second job was, unusually, a man; and her third job was under Jody Adams at Cambridge's seminal Rialto. The influential Adams, as a young chef, was encouraged to go work for Lydia Shire -- by Julia Child. (Yes, we should have probably drawn a diagram.) For a young chef just starting out, having those role models may have made a deeper difference than she realized at the time. Chang says, "It never occurred to me that I couldn't pursue any role I wanted, as a woman."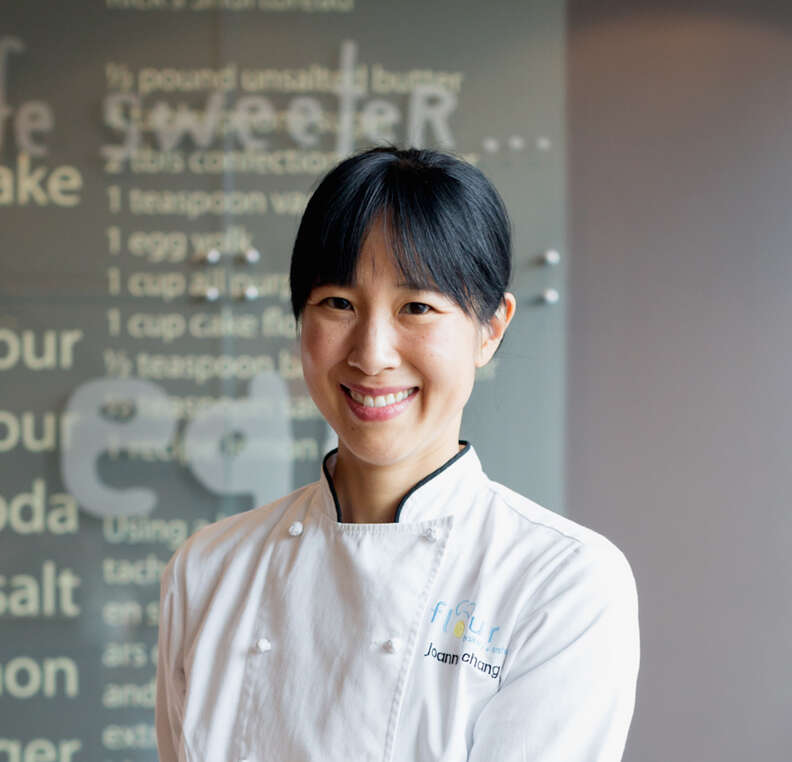 A lot has changed in the two decades since Chang started out. "The number of really great restaurants run by super passionate people who make great food is exponentially greater now," she says. More competition and higher standards have created a restaurant scene where there are few bad choices -- not just for patrons, but for staff. "The whole French old school mentality of yelling at people, you can't do that anymore. There's too much competition. A cook will just go somewhere else if they're unhappy. We as employers are working hard to create environments that are sustainable." She makes sure to add, laughing, "That's a good thing!"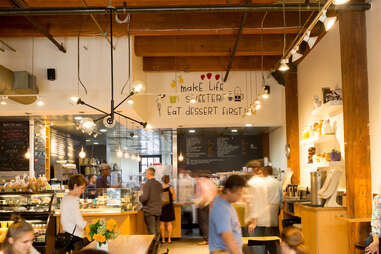 She should know. Her bakeries and Myers + Chang offer employees strong benefits, and Chang strives to keep the working environment human-friendly. Many of the top roles are filled by people who have been with Chang for years, working their way up through the ranks. When she was adding a new Flour location in 2015, providing growth opportunities for her staff was a key reason for the expansion. This echoes what Lynch said to Boston.com this past summer, when talking about the vision she had for growth when she started BL Gruppo: "I wanted a staff that I could retain so I could give them opportunities."
It's no longer about making women feel comfortable in this industry, it's about everyone on the spectrum.
When Chang says that the trend among local restaurants is this type of human-friendly working environment, it's another sign that Boston is doing something critical for retaining women in the workplace. The burden of starting and caring for a family often forces more women than men off their career trajectory, and the pressures of the professional kitchen are often cited as reasons that women don't more frequently rise to executive chef.
But don't cite those criticisms to the women who've done just that. Barbara Lynch is the last person to make excuses for women chefs managing family life alongside work. While she did take two months off for maternity leave when she became a mother, she waited until her water broke at the restaurant to start the clock. Jody Adams and Lydia Shire have both raised children as well as rising to culinary fame -- the women of Boston's culinary scene show it can be done.
When asked how Boston restaurants have changed over the past couple of decades, neither Chang nor Lynch note the gender divide in particular. For Lynch, the biggest change is that "hospitality in restaurants has grown immensely; it's put Boston on the map for places to visit and dine." Chang agrees; she sees staff coming now from all over the country, drawn to Boston as an important food scene.
Once a chef earns a reputation in Boston, her fans are liable to follow her wherever she goes.
Other than the rise of tattoos and piercings -- ubiquitous now, but somewhat rare 20 years ago -- Chang says the biggest personnel change has been figuring out how to deal with the broader issue of gender identity. "It's no longer about making women feel comfortable in this industry, it's about everyone on the spectrum." This would be an incredible statement of progress from a leader in any industry, but is absolutely astonishing in the context of the historically gender-riven professional kitchen.
Not all restaurateurs, even in Boston, have seen this level of progress. Lynch says that she does see the rate of women entering the restaurant world increasing, "but I am not sure how to speed it up -- some things you just can't force."
As Boston's kitchens demonstrate, a healthy, humane working environment is not incompatible with world-class food. A couple generations of smart, talented women have helped turn this city into a better place for all chefs -- not just the female ones. Could this be the new normal? As the city trains up more chefs, some of them, like Kristen Kish, will inevitably settle elsewhere. Here's hoping they bring a little of Boston with them.
Sign up here for our daily Boston email and be the first to get all the food/drink/fun the Hub has to offer.