Boston Food Secrets You Really Need to Know About
So the Boston food scene has exploded, and now everyone is spending nights and weekends sussing out the best torta, Modern Asian cuisine, and lobster rolls in the city. But that doesn't mean Boston's dining scene has been turned completely inside out. We've uncovered some city food secrets that'll even come as a surprise to natives... including a reversal on that old saw about lobsters we've heard time and again.
Some of the best food in Boston is only available six months at a time
Ever since South End speakeasy Wink & Nod opened its subterranean doors in 2014, the cocktail bar has also hosted six-month capsule restaurants serving global and globally influenced cuisine from a range of new and transitioning local chefs. You want to know what the next big food trend is and who the next big chef is? Pop on down.
A new truffle species was discovered in our backyard
Did you know that a new species of truffles was discovered in the Arnold Arboretum a while back? The findings weren't even published until earlier this year, which sent area gourmandes into a tizzy. Even worse: it was revealed the published author hadn't actually tasted the fungi (they're specimens, after all). Still: new truffle species! In Boston!
Myung J. Chun/Los Angeles Times/Getty Images
Boston is home to one of the greatest cookbook collections in the country
The culinary collection at Radcliffe College's Schlesinger Library is a rabbit hole... or should we say rarebit hole? (Sorry not sorry). Of the 100,000 books housed there, about 20K are either cookbooks or otherwise food-oriented publications; the library also houses Julia Child's private papers and a ton of old culinary periodicals. And yup, a lot of it is searchable online.
New England prisoners used to eat lobster two to three times a week... except they probably didn't
One of the most oft-repeated lines you'll hear about lobster is that the crustacean was once so plentiful and disregarded that it became a regular menu item for old-timey inmates. Except Maine-based historian Sandy Oliver, who has kinda made it her mission to debunk stupid lobster myths, hasn't found any record of this -- in fact, she's found that prior to the 20th century, it was actually salmon that was mentioned as primary cell chow.
That said, lobster was totally pooh-poohed
Did you know that one of the nasty nicknames colonists had for British redcoats was "lobsterbacks?" Or that discarded lobster shells outside a home was once a mark of poverty? And that in the 19th century, lobster was a pedestrian foodstuff in the vein of tuna (and yup, it even was canned for a while)? Even fresh lobster was made into a side salad or a garnish sauce; there was nary a drawn butter trough in sight.
Greater Boston has a shrimp farm... actually, two
OK, enough lobster: onto shrimp. If you're thinking, "Wait, aren't shrimp farms the thing we're supposed to boycott?" The answer is that if they're in Asia or Ecuador, yes, there are issues like environmental pollution and worker exploitation at play. Luckily, however, we have homegrown options. Sky 8 Shrimp, in Stoughton, was the state's first shrimp farm and one of only eight in the entire country. When you're eating shrimp at Erbaluce or Ten Tables, it likely came from here. Recently, a second farm has came along: Tasty Harvest Shrimp in West Boylston, where you can buy them yourself when the harvest is right.
Technically, new Boston farmers can sell their produce directly to restaurants and customers
Article 89 is the newest article to the BRA's zoning regulations, and ostensibly a huge deal. Apply for a new farm license, and you can actually make a commercial go of it, selling your output to both commercial and individual outlets. CSA in the city, from city soil? Amazing! The only problem is that the current real estate boom is making Boston commercial farming a damn tough sell (not everyone gets to be Fenway Farms, after all).
Courtesy of Paige Mulhern/Best Bees
Bostonians can buy their own beehives
All the cool hotels now have rooftop apiaries, so why not you?  Save the world by saving the bees via Best Bees Company. Founded and based in the South End, these guys will outfit you with everything you need to create your own urban hive.
You can forage for your supper here
Urban foraging is alive and well 'round these parts, even if you don't read about it that much (because, uh, it's illegal). No, you're not going to stumble upon precious fiddleheads, but if you go to Fresh Pond, for example, you'll find more than 50 edible wild plants. And if you start investigating the whole local foraging scene, you'll discover that lamb's quarters and nettles can be had pretty much everywhere you look. Check out this serious Harvard dude for more info.
Speaking of free suppers...
The Hare Krishnas' International Society for Krishna Consciousness (ISKCON) on Commonwealth Ave actually serves a complimentary vegetarian dinner on Sundays, with a little gratis yoga thrown in -- and it's a lot more pressure-free than you'd expect (also delicious!). At the least, you'll spend the meal marveling over how they managed to score such primo Back Bay real estate.
There's one restaurant in town that mills its own flour
Chefs Kevin O'Donnell and Michael Lombardi of SRV actually mill their own pasta flour out of of organic durum wheat berries... which kind of makes us swoon.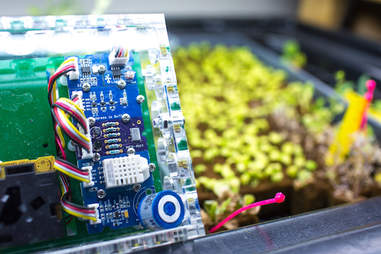 Courtesy MIT Media Lab/OpenAg Initiative
The future of farming is here -- as in, literally here in Boston
Heard of MIT's OpenAg project? It's basically the incubator determining how we'll all be growing our own food one day, a la Snowpiercer. The website copy is a little garbled, but the gist is that we should all be building personal food computers in order to cultivate controlled-environment gardens (we think?). All we know is that when the foodocalypse comes, we'll be happy to live so close to Kendall Square.
Sign up here for our daily Boston email and be the first to get all the food/drink/fun the Hub has to offer.