The sun has set on summer, but we're here to talk you off your friend's soon-to-be-closed roof deck, because a bunch of tasty new restaurants have opened in Boston, and nothing makes the sadness go away like eating. Here are 11 new Boston spots you need to get yourself to immediately.
Recommended Video
It's Worth Getting Sloppy For This Grilled Cheese Taco
Back Bay
Already possessing much ballyhooed locations in NYC and London, superstar Chef Daniel Boulud brings his French bistro fare to the Hub (what took so long?). Chef de Cuisine Aaron Chambers (Boulud Sud) adds seasonal New England-inspired dishes to the already inspired menu, with selections like Coq au Vin (jazzed up with bacon lardons, terrines, and pâtés), and signature house-made sausages. There's also The Frenchie (get it?), an extravagant burger with pork belly confit and Morbier cheese on brioche. Good luck with that reservation.
Assembly Row
Assembly Row, Somerville's newest hotspot, welcomes Earls Kitchen + Bar, imported all the way from Canada. This upscale-casual eatery features scratch-made fare like Angus peppercorn and bourbon mushroom steaks, as well as the Fenway Burger (they get us!), topped with onion rings and red pepper relish. Also: crispy tuna sushi cones! Cocktails also merit attention, like the Earls Old Fashioned (with root beer bitters) and the Bee's Knees, served in a glass honey bear.
Assembly Row
Anchoring the riverside end of Assembly Row is Legal's latest one-off, Legal on the Mystic. This casual, bar-centric concept from Boston's fish kings is waiting to feed you pancetta-studded white clam pizza, blackened swordfish tacos with avocado & chipotle mayo, and mesquite BBQ ribs -- because you can't ALWAYS eat seafood. Fifteen new cocktails also dot the menu, from the El Camino (with mezcal and mole bitters) to the diabolical Chartreuse Smash. So yeah, take advantage of that new Assembly Row T station!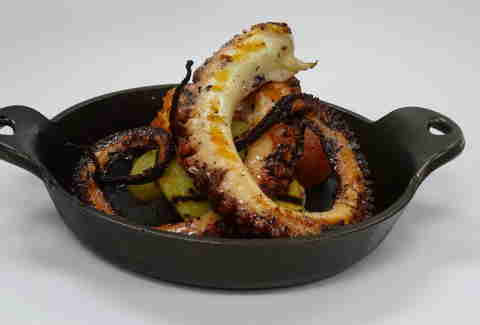 Charlestown
Man, LSF has been busy! Now they're bringing you another one-off in the old Olive's spot. Italian flavors dominate the slate, and you should partake in charred octopus with coriander vinaigrette; ricotta fritters (mmm, fried cheese...) with spicy honey; and swordfish salmoriglio over salt cod gnocchi. Then there's the decadent Ligurian fish stew, brimming with the whole ocean: monkfish, shrimp, squid, and clams. Pair that up with an Amaro Mule, a thirst-quencher with Nonino Amaro, fresh lime, and ginger beer.
Wellesley
Chef Dave Becker, of Sweet Basil in Needham fame, launches his second venture deep in the heart of Wellesley. This time he's going Eastern Mediterranean, and there are many unique bites throughout the menu. For mezze and spreads, nosh some lamb tartare, baharat-spiced crispy oysters, and smoked eggplant baba ghanoush. Then stuff yourself with smoky lamb Bolognese bolstered by handmade saffron pappardelle, Baharat Skirt Steak topped with whipped feta yogurt, or pork tenderloin doused with pomegranate barbecue sauce. Save room for dessert, because pecan pie baklava is now a thing.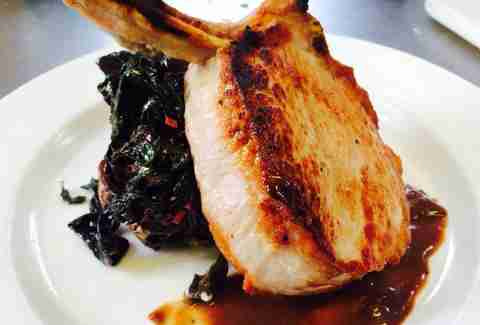 Back Bay
Nested in The Creperie's former shell, Roost Bistro's Euro-influenced comfort fare starts off with goodness like the Flammekueche, an Alsatian-style pizza covered in caramelized onions, lardons, and fromage blanc. Then move on to lemon tagliatelle with fresh lobster, slow-roasted Long Island duck, or the bacon-wrapped cod with ratatouille & lemon-caper beurre blanc. Be sure to stop by for Tiki Tuesdays, featuring sticky honey-soy wings and the Roost Tiki Cocktail.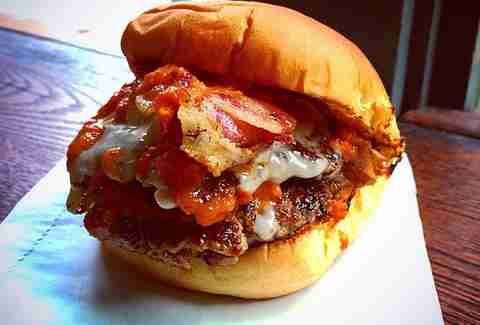 FiDi
If you're searching for a new hearty breakfast and lunch/burger spot downtown, then Wheelhouse is in your... umm... wheelhouse! They keep things simple yet tasty, offering breakfast and lunch sammies and all manner of burgers (turkey, lamb, black bean, and also the best kind). On your way to work, grab a Southern Belle, all dressed up with peach-glazed ham and pimento cheese. Head back for lunch for some Boom Goes the Dynamite, a spicy burger ignited by garlicky jalapeño hot sauce. Also, four words: buffalo chicken sloppy joes.
Downtown Crossing
Looking for something different/healthy at mid-day? Take a trip to the Mediterranean for BONAPITA's spice-infused goodness and fresh-baked namesake pitas. Your four protein options are overnight-marinated chicken a la plancha, herbed Bonapita meatballs, seared black bean-beet patties, or sautéed 'shrooms with lentils & thyme. Now choose your vehicle: Fill It (in a pita with spicy tomato sauce & tahini), Plate It (with rice & roasted veggies), or Toss It (with crisp romaine & tahini dressing). All meals are under $8.50, so it's way cheaper than flying to Greece.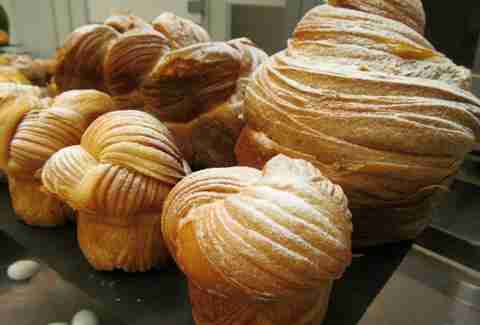 South End
James Beard winner, author, globally-loved pastry chef, and Michelin-starred restaurant veteran Frederic Robert rocks the South End with this little neighborhood patisserie. Pastries are made on-site daily, and you should luxuriate with chaussons aux pommes (apple turnover) and the filled brioche masterpiece, candied orange tropezienne. The aromatic java is La Colombe Coffee Torrefaction, an Earth-conscious roaster. Pop in for lunch and enjoy French specialties like quiche lorraine and croque-monsieurs.
North Station
Barbecue fans rejoice! The Hub needs more smoked meats, and Causeway smokes and sizzles an extensive array of bird, pork, and beef for your belly. They have pulled pork and brisket galore (and many, many sides), as well as sandwich creations like a brisket reuben and burgers like the Angry Samoan, piled with Swiss, grilled pineapple, habanero mayo, and teriyaki sauce.
Belmont
The original El Centro (South End) was recently named one of the best Mexican restaurants in America, and now Executive Chef/Owner Allan Rodriguez expands his South-of-the-border empire into Belmont. First up from Grandma's Hermosillo, Mexico kitchen is Guacamole Estilo El Centro Tres topped with chorizo. Follow that with Salmon al Molcajete en Salse Tatemada, made by immersing the salmon on a lava stone in roasted tomato sauce, then crowning it with melted cheese. Bonus: they acquired the second full liquor license in Belmont, so go big on margs and mojitos.
Sign up here for our daily Boston email and be the first to get all the food/drink/fun the Hub has to offer.