These Boston Restaurants Still Have Reservations Open for Thanksgiving
Forgo the stress of cooking this year.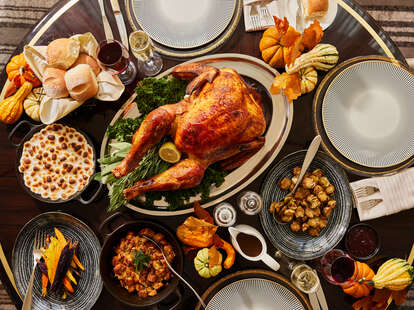 Photo courtesy of Four Seasons One Dalton, Boston
Photo courtesy of Four Seasons One Dalton, Boston
Thanksgiving is here, as is the added stress that comes along with whipping up an intricate and laborious feast. So, instead of deliberating over making cranberry sauce fresh or using it straight from the can, make a reservation for a seated dinner or order a spread to bring home from one of Boston's best restaurants. From traditional fixings to modern-day riffs on classics, these spots are serving delicious plates everyone in your family will enjoy. Keep in mind, most restaurants are booked out at this point, so stay up to date on their websites for cancellations.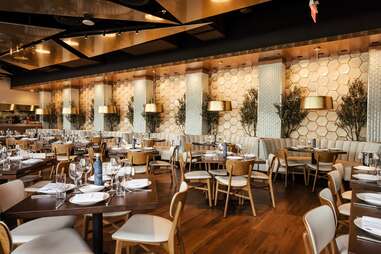 Seaport District
If you're looking to dabble in the holiday classics without feeling overstuffed, the Mediterranean mood at Limani is where it's at. Their $60 three-course menu highlights Turkey Avgolemono soup as one of the first course options—velvety lemon goodness and a lovely approach to comfort food without the need for stretchy pants. You can swap from turkey to prime rib for a $20 upcharge.
How to book: OpenTable
Back Bay
Keeping it streamlined with a touch of holiday wow, OAK Long Bar+Kitchen comes through with a plated turkey dinner with a genius vodka cranberry sauce. Of course, the canned versus homemade debate will rage on for eternity, but we can all get behind a boozy version. We're also swooning for their bar-only option—a $26 Pulled Turkey French Dip with a side of fried pickle spears. They've got an 83-foot-long bar, so grab your friends for a post-nap hang.
How to book: OpenTable
Seaport District
Word to the wise: if you can finagle access to brioche stuffing, hunker down and ask for a double helping. Para Maria at The Envoy Hotel brings that brioche goodness to the menu and pairs it with Valencia Orange and Rosemary Brined Turkey, Bacon Brussels Sprouts, and Pumpkin Cheesecake for $55 per person. As an added highlight, they're obsessively serious about cocktails—like smoke-filled orbs-level serious.
How to book: OpenTable
Everett
Truffles are the ultimate palate tease, and Executive Chef Megan Vaughan at Rare Steakhouse isn't holding back on the Thanksgiving menu. She has eschewed the traditional whole-roasted bird for a labor-intensive Turkey Roulade with Black Truffles. Stuffed and rolled into spirals, the turkey comes with Brussels sprouts and herbed stuffing for $52. The wine list here runs about 700 labels deep, so take your time chatting with the sommelier and splurge on a holiday bottle. Plus, the space has a pristine cream and almond aesthetic, which adds a bit of glam.
How to book: SevenRooms
Theatre District
Thanksgiving in New England is all about butternut squash, cranberries, and a showstopping, roasted gobbler—the culinary team at Rebel's Guild delivers all of that and more with their $59 Thanksgiving menu. Noteworthy here is the cornbread stuffing, bringing that extra bit of mouthwatering pizazz to the holiday, as well as various pies including pecan, apple, and pumpkin. The mood at Rebel's Guild is quiet elegance with a sprinkle of rebellious intention—an homage to Boston's feisty attitude during the American Revolution. Where else can you find a cannon and a chandelier in the dining room?
How to book: SevenRooms
Cambridge
Vegetarian friends, we know you look forward to National Side Dish Day, but sometimes it's hard to tell if there's a splash of turkey broth in there. Bambara Kitchen & Bar at Kimpton Marlowe Hotel is stepping up and labeling the menu, so even though you'll skip the turkey, you can get right down to the business of feasting. While everyone is oohing and ahhing over the juicy breast meat and confit turkey legs, you can dig into mashed potatoes, stuffing, and more. The $65-menu offers apple crumble pie or pumpkin with cinnamon pepitas.
How to book: OpenTable
Back Bay
They had us at buffet. If you want a plate solely devoted to stuffing, not only is that okay, it's lauded. Chances are, you'll also load up on charcuteries, roasted butternut squash with sweet apples, chowder, fresh seafood, and mains like turkey (duh), Honey Glazed Ham, Seared Salmon Filet, and Grilled New York Sirloin. Those with allergies can get a sneak peek of the labeled $125 menu, so it seems the only thing missing is a little post-buffet nap room with those new human-size dog beds we're seeing on social. No, seriously, though.
How to book: Resy
Back Bay
The view from sky-high Contessa is as close to space travel as most of us will experience, and the menu matches its otherworldly status. The $195-feast will be a nonstop flavor fest with black truffle, cranberry, pancetta, and sage flavors. Obviously, it wouldn't be a visit to Contessa's without their signature Squash Carpaccio with arugula, pumpkin seeds, and agrodolce—and, yes, that's also on the menu.
How to book: Resy
Downtown
New Thanksgiving agenda: rolling out of bed and having an elegant AF brunch. The Boston Harbor Hotel's menu reads like a chef's master plan to impress other chefs, featuring Pumpkin Gnocchi, Lobster Flatbread, and Sweet Tea Brined Vermont Turkey Breast. At last count, the $225 Thanksgiving buffet includes a dizzying 44 items, from Pressed Exotic Mushrooms, Smoked Salmon Towers, a bonkers raw bar with Jonah Crab Claws, and a sea of other options.
How to book: OpenTable
Beacon Hill
As much as we love a hearty pile of mashed potatoes, we're delighted to see a sassy new starch on Peregrine's holiday menu. Gnocchi de Sardi is an alternative to traditional turkey here, giving a bit of Sardinian and Sicilian flare to the usual Thanksgiving plate composition. The $85 meal is bookended with rich bites like Turkey Liver Mousse and Bourbon Pecan Pie. Those looking for something other than gnocchi or turkey may have Braised Pork Shoulder or Arctic Char.
How to book: OpenTable
Back Bay
The $285 grab-and-go menu at Rochambeau feeds six people and includes the whole shebang: a 12-pound turkey, stuffing, Pommes Puree (apple sauce), and all the fixings. Then again, sometimes it's nice to wear something other than turkey-themed pajamas, so head into the restaurant for a $75 pre-fixe menu.
How to book: Resy
Cambridge
If your Thanksgiving mantra is turkey is meh, then Harvest's Kale, Pumpkin & Taleggio Gratin entrée is your new holiday tradition. Yes, their $90 Thanksgiving menu includes turkey, but also Wild Cod, Heritage Breed Pork Chops, and New York Sirloin Steak. You'll find decadent pâtés, crab cakes, and Spiced Squash Soup in the mix, but it's the Brown Butter Apple Pie that's got us ready to make that res.
How to book: OpenTable
Back Bay
The Four Seasons Hotel at One Dalton Street brings big Thanksgiving energy with three onsite feasts and an extravagant holiday-at-home package. You can reserve a private room to gather with friends and family, and they'll coordinate a lavish $195 per person buffet. Alternatively, enjoy even more culinary delights in the $249 Beacon Ballroom experience, where the buffets will be spilling over with holiday morsels, carving stations, and fresh-made desserts and pastries. Reserve a table at their Trifecta Restaurant for an à la carte meal, or go all in at home with a $625 Four Seasons Feast for four to six people.
How to book: OpenTable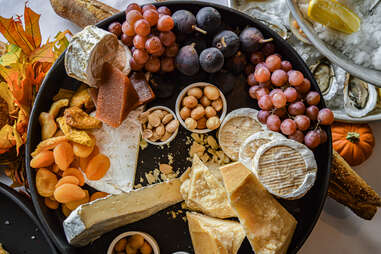 South End
Dried plum stuffing sounds like something served at a Beacon Hill dream house in days of yore—and it's just one of the brilliant culinary moments on the Bar Mezzana takeout Thanksgiving menu, which starts at $140 for two people. These folks have also included an absolute Turkey Day game changer: each take-out order will include the fixings for leftover sandwiches—bread and mayo will be lovingly tucked into each package. Brilliant.
Seaport District
Roast a mammoth turkey while juggling side dishes and making sure Auntie Edith doesn't singlehandedly glug the punchbowl dry? It's just too much, so Woods Hill Pier 4 is cooking up an "Everything But The Turkey" feast, including sides and desserts for eight people. It'll include about ten sides and pies and run you $240. At a time when grocery shopping feels like a dark comedy entitled How Little Can I Get for My Money, this is a pretty solid deal. Or skip the dishes and dine at the restaurant; either way, it's all labeled for allergens.
Cambridge
Speaking of those pajamas and stretchy pants, Bar Enza wants to support your ultra-chill holiday journey. All you need to do is pre-order and pull up outside. Give them a quick call, and they'll bring it to your car; you'll be back watching the 2023 National Dog Show in no time. Larger than many takeout turkeys, this feast features a 14–16-pound bird with gravy, Chestnut and Porcini Stuffing, and Cranberry Sauce for $225. You can add sides, starting at $8, and $35 desserts like Cranberry Tart, Pear or Apple Crostata, and Olive Oil Cake.
Cambridge
Raise your hand if you'd be totally cool with sides and pies. If we must endure one more year of unsolicited turkey advice from a charcuterie-nibbling family doing nothing but critiquing Macy's Day Parade balloons, it just might come to that. Regardless of why you choose to focus on the turkey and order the pies and sides, Puritan & Co. is ready. Keep your kitchen tidy and preserve your peace of mind by stocking up on their a la carte offerings of Parker House rolls, stuffing, herb mashed potatoes, cranberry sauce, and Dutch apple or pumpkin pie.
Melanie Carden is a private chef turned travel writer. She's equal parts adrenaline-seeker and
Golden Girls
vibes. You can find her trying new things, thrifting for treasures, grinding it out on a trail, or lounging on a picnic blanket—Aperol spritz in hand. She's fickle about
social
, but the sporadic nuggets are worth the wait—cricket tacos, anyone?