Boston is a city filled with great hamburger joints -- from classic landmarks to newcomers just trying to put themselves on the map/ in your belly. Everybody knows the big names: the limited run of Craigie burgers, the hometown hero Tasty Burger, the incomparable meatiness at JM Curley -- and they're big for a reason: they're delicious. But there's more out there! Places you won't find on a "Best Burgers" list from Boston Magazine or The Globe.
The Bad Ass
All Star Sandwich Bar, Inman Square
Sure, you can get a really solid hamburger or cheeseburger at this Inman Square staple. Or you could go with one of the ever-fascinating, rotating specials, like the Elvis: cheddar, peanut butter, maple bacon, and grilled banana. But if you really want to be a badass, go for... The Bad Ass. Thick-cut bacon, barbecue pulled pork, and a grilled red onion sit on top of a perfectly cooked patty and, of course, an Iggy's Roll.
Hamburguesa con Queso
Toro (address and info)
South End
It's not often that cheeseburgers and tapas restaurants collide, but this is far from a standard burger. The Hamburguesa con Queso is a perfectly cooked cheeseburger, optionally served "Messy" with Toro special sauce, pickled red onion, and their famous street corn spread -- garlic aioli, Cotija cheese, and Espelette peppers.
Cheeseburger
West Bridge (address and info)
Kendall Square
The only downside of WB's perfectly sized burger is that it's only available for lunch. A house-ground beef patty sits underneath bacon and munster cheese. While a burger might be the last thing you would expect to find at West Bridge, it should be one of your first picks.
The Bronburger
Bronwyn (address and info)
Union Square (Somerville)
The Bronburger: the latest addition to the menu at this meat and beer paradise in the middle of Union Square. A grass-fed burger patty, sauerkraut cabbage slaw, pickled onions, and Comté cheese all sit on top of a soft challah roll next to a nice, heaping side of buttermilk bacon onion rings. More like Bron-WIN! Right guys? Right?
Secret Burger
Alden & Harlow (address and info)
Harvard Square
One of the city's most buzzed about openings lately, Alden & Harlow has a burger that's already gained a cultish fan following. The Secret Burger is sure to grace the top of everyone's list of instant city staples: a cheddar cheese crisp, special sauce, onions, lettuce, and pickles on 8oz of House Creekstone Grind and a homemade roll all make for some worthwhile hype.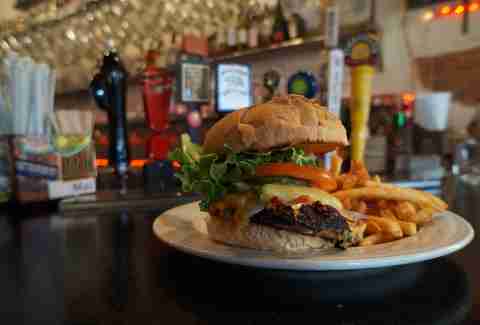 California Burger
Bukowski Tavern (address and info)
Back Bay
Home to a lot of taps and a lot of attitude, sometimes there's no better place to be left alone with your thoughts, a beer, and a damn good burger. Unexpectedly, this arguably salty hole in the wall boasts one of the city's best takes on a West Coast classic: the California Burger is a turkey patty, sliced avocado, bacon, and white cheddar -- just make sure to wash it down with one of their many alternating beer selections.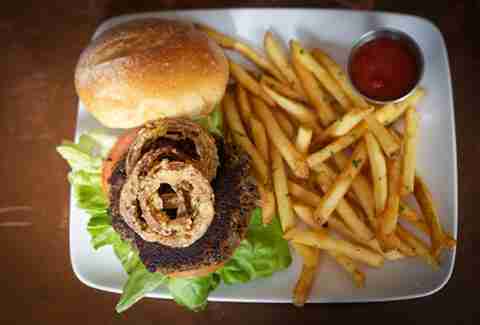 Root Burger
Root (address and info)
Allston
Because everyone has that vegetarian friend that sometimes they have to have lunch with… at least there's Root. Sitting smack-dab in the middle of Allston's veg-centric Union Square, Root offers a vegetarian take on classics -- the eggplant caprese, tortas, and most deliciously, the Root burger. A blend of black bean and quinoa, this house-made patty is the next best thing to actual meat.
Cheeseburger
Silvertone (address and info)
Downtown
There are places that rely on bells and whistles to sell their burgers and then there are places that don't need to bother -- at Silvertone, the burger sells itself. Forget the crazy toppings and return to basics from a simpler time: a 10oz patty, cheese, lettuce, tomato, and onion. It's like the best backyard barbecue burger you've ever had, with the added bonus of not having to talk to your weird uncle.

Sign up here for our daily Boston email and be the first to get all the food/drink/fun the Hub has to offer.