Boston, the Best Day of Your Life is almost here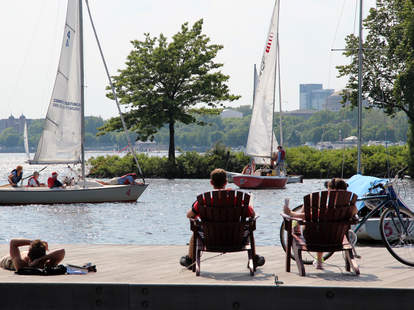 You've got seven days to do a bunch of push-ups and get your hair did, because next Friday, June 21st -- aka the Best Day of your Life -- will be spent out partying with Thrillist -- eating, drinking, and crying tears of joy as you follow our itinerary below and people ply you with free things, like coffee at The Thinking Cup and nachos as you enjoy Rattlesnake's roof.
So: 1) download the DIY itinerary, 2) practice your fake whooping cough to get the day off, 3) check all the social action here, and 4) prepare to have the best damn day ever.
5:08 am: Rise and shine camper! Remove your Invisalign headgear, strap on you FitBit activity wristband, and get ready for the Best Day of Your Life!!
Zero Dark 30: After five minutes of deep knee bends and barbell hip thrusts, grab your racket, text your buddies, and make haste to the Common's tennis courts. Courts full? Not to worry. Just head down Charles Street to the Charlesbank Playground instead
20 Minutes Later: Andre Agassi was hitting three giant garbage cans full of tennis balls by 5a every morning... as a four-year-old! Or something like that. Now focus
Still Waaaay Too Early: Having eked out a victory in the probably-more-heated-than-it-should-have-been first annual Boston #BDOYL Round Robin, stroll literally across the street to Thinking Cup for a piping hot mug of Stumptown java and brief recap about how good your backhand looks these days. Line stretched out the door with folks ordering elaborate tall vanilla ginger soy chai lattes or whatever? Roll around the corner and grab a cup instead from Boston Common Coffee on Washington St
Early Morning: Home for a shower and a little SportsCenter. Flip to Morning Joe during any and all Chris Berman segments
Breakfast: Show you mean business right out of the gate and regroup at The Friendly Toast in Kendall for a couple of slices of Drunkard's French Toast doused in creamy Grand Marnier & raspberry sauce. One of your buddies give up Grand Marnier for the Summer? That's cool, nearby Area Four has a sweet cafe chocked full of breakfast eats completely free of orange liqueur
Post-Breakfast Respite: More of an excuse to lounge around doing Mad Libs outside while making passers-by jealous of your seemingly infinite leisure time, cruise over the Longfellow Bridge and down Charles Street as you head back to a nice shady spot in the Public Gardens. Maybe kick the bag for a bit? Read the Globe? Whatever you do, just make sure to pause briefly to openly mock anyone doing acroyoga. Seriously. It's got to stop
Late Morning: After rolling your eyes at whatever point Shaughnessy's trying to convey, be sure to recycle your newspaper before heading down Newbury St en route to Bodega to see which new kicks you should totally be wearing. Can't figure out how to get in? Slink over to the reflecting pool at the Christian Science Center and hang your head in shame. Then update your Mad Lib app and get back to it
Almost Time For Lunch: Sure you could wait the No. 1 bus, but why do that when it's so nice out? Give your sweet new pair of Bodega x Mark McNairy collabs a test drive and walk down Mass Ave over the bridge to Harvard Square. You can do it
Time To Eat Again? Of course it is, you just walked all the way from the Back Bay. You're starving. Snag a table for your crew in the beer garden at Charlie's Kitchen and settle in with a couple of pints and their double lobster-roll-for-$12-special -- we'll be treating you to lunch if you get there early. Wait, it's packed? WTF? Jet down the street to the Sinclair and grab a table on their new rooftop patio then
Post-Lunch Slumber: Hop the Red Line to MGH and stroll over to Community Boating, where, if you ask all polite-like, someone might take you out for a sail on the Charles. If you're afraid of the water, enjoy a post-lunch snooze on one of the Esplande's grassy knolls and/or pretend to stare pensively at the river while ogling coeds in bikinis on the public docks
Later Afternoon: While cutting across downtown to Ft. Point, briefly stop off in Post Office Square to enjoy the weather and, as you watch the endless parade of suits filter out of their offices, thank the good Lord you weren't working today
Happy Hour: Sure, there's technically no "happy hour" in the Hub (because every hour's happy, right? Right?!) but that doesn't mean people don't festively over-drink after work, 'cause they do. And you should too (although responsibly), while soaking in the skyline from the deck at the Barking Crab. If you can't get in, because it is the greatest day ever and everyone's probably out, fear not, the Harpoon Brewery's Beer Hall is just down Northern Avenue
7:08 pm: Since the Sox are in Detroit, roll back up Summer Street to catch the first pitch with a pint of cask ale at Stoddard's instead. Or, if standing room is tight, maybe relive the Bruins greatest moments playing bubble hockey across the street at JM Curley
8:25 pm: Alas, the sun is setting on the greatest day in the Hub... ever! But not before you settle up and cruise over to The Rattlesnake, where you'll throw back a waiver-required ghost chili margarita under the stars on the roofdeck. Definitely down for drinking on the roof but the 'snake's a little crazy? Catch the late innings overlooking Fenway atop the Baseball Tavern instead. Or, if you prefer to be on the water, our Readers' Choice is The Landing.