Does the idea of gorging yourself on an endless mountain of grilled beef sound like a well-spent Saturday? How about washing said beef down with a keg of suds that NEVER runs dry? Even better, right? Well guess what hombre, that Saturday is next week, when Brooklyn Beefsteak -- an epic traveling festival for carnivores and brew hounds -- rolls into the Hub.
Hitting the Cambridge Masonic Lodge in Porter Square on Saturday, June 20th, this "all-you-can-eat, all-you-can-stand" banquet is running two seatings (1-4pm, 5-8pm). And sure, we probably had you at "beer," but you still need to read the details...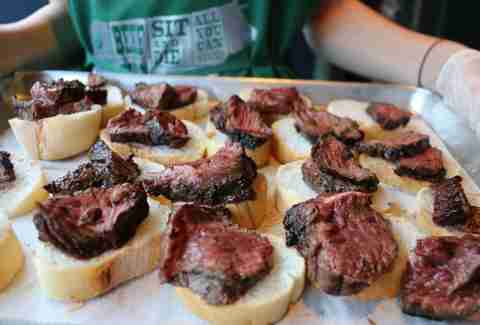 Here's the beef
Your $55 will be well spent, as you go all Ron Swanson on mountains of choice cuts from Creekstone Farms seared by Brooklyn Brewery Chef Andrew Gerson. And then there are sauces by Sir Kensington's, like its secret spice ketchup and spicy brown mustard. Soft slices of grilled bread hold everything together, because there are no plates or cutlery at this bacchanalia. (It's tradition..."beefsteakers" eat with their hands.)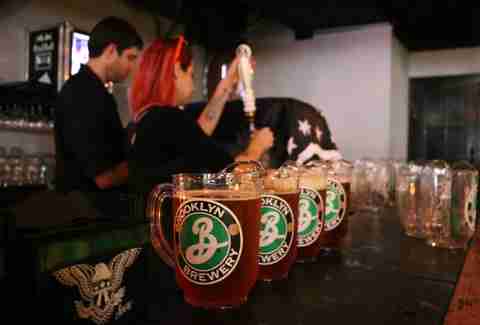 The beer is bountiful
No doubt you'll be very thirsty, and bottomless kegs (yes, bottomless kegs) ensure proper hydration. Brooklyn Brewery will keep your pint glass full with their eponymous flagships: Lager and Brown Ale.
It's dinner and a show. And more.
While you stuff yourself, rockabilly stars Susquehanna Industrial Tool & Die Co. (aka SIT & Die) will provide the soundtrack to your evening of gluttony. In addition, Master of Ceremonies "Beefsteak Betty" will host eating and bread-stacking contests for those brave enough to try. (You're gonna.) Now we're into bonus time: you'll also receive a souvenir apron for own backyard barbecues.
Tickets will go fast, so grab your spot at the communal table ASAP.
Sign up here for our daily Boston email and be the first to get all the food/drink/fun the Hub has to offer.