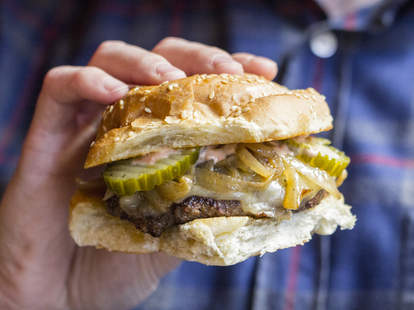 The Best Burgers in Boston, According to Our National Burger Critic
This one was personal. Boston is my hometown. Eating burgers in Boston feels less like an exploratory mission than a nostalgic trip through my teens and 20s. And to be honest, I wasn't sure what to make of Boston's burger scene. Would all of the places I loved when I was younger turn out to be frauds upon deeper inspection? Would the new burger dons be worthy of praise? Would everyone be cool if I brought my mom along?
For this particular quest, I ate at 10 burger spots in Boston, Cambridge, and Somerville over the course of two days. I winnowed my list down to the best of the best with help from local food writers and chefs (this was hard -- there were at least eight other favorites I had to ruthlessly cut to save myself from certain meat mortality, FORGIVE ME CHARLIE'S KITCHEN). I quite seriously brought my mom with me to the first four places. The following day, photographer Kate Daly (who also happens to be a friend from high school) came with me to the other six. It was quite a thing, even if we didn't end up eating at Wahlburgers.
In case you're new to my rankings, here are some guidelines: If the restaurant had multiple burgers, I tried to order its signature one, or if that was too outlandish and stunt-y, the closest to a classic cheeseburger. If it came with options, I always picked American cheese and grilled onions. If you think I missed a place, please tell former New England Patriots legend John Hannah's daughter via a long message on social media, and she'll pass the message to me since we used to work together in the Natick Mall. But until then, here is my ranking of the 10* best burgers in Greater Boston.
Drink

| Kate Daly/Thrillist
9. Burger
Seaport District
I feel a certain kinship with Drink. Nine years ago (!?!), back when this website was a tiny newsletter basically mailed out by hand, I breathlessly covered Drink's opening as the first Boston editor of Thrillist. After I moved away, I'd always stop in when I came home. But I'd never had the burger before.

The no-longer-secret burger comes on a small silver plate, and is about the size of a slider and a half. It's a double patty, but not super thin, and it has several things going for it; for one, the Colorado wagyu meat blend is juicy and salty and mixes well with the American cheese. The Thousand Island clone sauce and pickles add some acid into the mix, but it's no match for the intensity of the meat. And then there was the case of the bun: The top and interior were cold and dense, for some reason, as if the bun had been sitting in a refrigerator. We were one of the first groups to arrive when the bar opened, so it's certainly possible that the buns had been chilled and the burgers ordered later in the night wouldn't have suffered from this fate, but alas, it is what it is. My drinks though, I should point out, were flawless.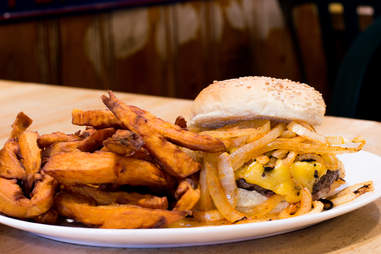 Mr. Bartley's Burger Cottage

| Sonya Highfield/Thrillist
8. Kraft American Cheeseburger (with grilled onions)
Cambridge
The names of the burgers have changed since I last frequented Mr. Bartley's (pretty sure there was no Caitlyn Jenner "You Go Girl" burger), but everything else pretty much felt the same. Right next to the Hong Kong, it's an absolute Cambridge icon, and the only restaurant I felt comfortable eating at alone when I'd come into Cambridge by myself in high school.

I thought hard about getting the Mike Pence (bacon, American, grilled onions, jalapeños), but bailed to get my standard order because I didn't want the bacon and jalapeño to cloud my judgment. I am somewhat a professional, dammit. Anyway, the burger was just as I remember it: juicy, basically the size of a tennis ball, but not dense, and really well cooked. The men on the flat top at Bartley's are professionals. There were a few minor issues: the sesame seeded bun absorbed the bulk of the juice on my first couple bites and began to soak through, and the grilled onions were a little undercooked, but all in all, Mr. Bartley's is a solid classic and worthy of its iconic status.
Alden & Harlow

| Sonya Highfield/Thrillist
7. Secret Burger
Cambridge
A few years ago, when this burger came out, I named it to my 33 Best Burgers in America list. I'd always been a fan of Michael Scelfo's creations at Russell House and I remembered loving the crunch of the cheese and the quality of the meat at A&H. This time, however, was different. This time I brought my mom. We bellied up to the bar, and I ordered her a slightly sweet white wine and the burger.

I've shared plenty of burgers with my mother over the years, but never fancy burgers, so I was eager to hear her opinion. Her first bites were telling. "Mmmmmmm, OK... mmmmmmmm," she said. I asked what she thought, but she paused for too long a time, and I realized that it was akin to putting her on the spot and that was potentially distressing. "There's something crispy in here. Like a cheese crackle or something?"

"YOU'RE REACHING," I shouted at my mom as I threw her wine glass into the mirror.

Just kidding. She was right! It was that famous cheese crisp, and it's one of the fundamental elements of the burger -- that crispy cheese adds almost a crunchy bacon-esque texture, but turns into cheese and it's delightful. The Creekstone patty was cooked perfectly, juicy with just a touch of smokiness, though a little "underdone" for my mom. Upon further inspection, I didn't love the bun, which started to crack and flake a bit after put under some duress, but the entire experience was satisfying. There are just a lot of good burgers in Boston.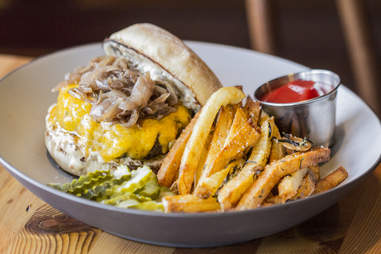 Lincoln Tavern

| Kate Daly/Thrillist
6. Lincoln Burger
South Boston
I went to Lincoln Tavern with Kate, my photographer, at a strange time -- just after 2:30pm on a weekday. The place was mostly empty save for a table of moms with parked strollers, sipping wine and vaguely hoping their children were asleep. I started to tell Kate stories of when I lived in Southie 12 years ago, about how much West Broadway had changed and how I resided in a crappy apartment building with a bunch of ex-cops who used to drink Bud tallboys in the parking lot during the summer listening to Sox's games, even though we lived a block from the beach. I only stopped when I realized Kate was actively pretending to "check" things on her camera and actually just scrolling through the Instagram feeds of our old classmates.

The Lincoln burger is not to be trifled with. It is a large burger, cooked in a wood fire oven, and comes out piping hot, juicy, and messy; it's topped with caramelized onions, Cabot Cheddar, and a bacon aioli, with pickles on the side. Somehow, against all odds, the bun stands up to this entire mess for a respectable amount of time before succumbing. The flavor of the burger is fierce, with the prime blend of wood-fired meat giving you a smokey flavor combined with the creamy, sharp notes from the cheese, the bite of the onions, and the porky flavor of the aioli. You need the acid from the pickles to combat all that fat and cream, and even with them aboard it can still be a little overpowering, especially if they went heavy on the bacon aioli. But you can absolutely tell the chef was thoughtful about the composition.

Bonus tip: Get the sliders with sunny-side quail eggs.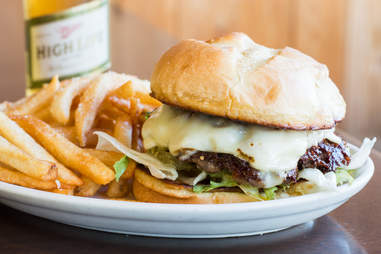 The Gallows

| Sonya Highfield/Thrillist
5. Our Way Burger
South End
In an effort to see everyone and do my job, I went to the Gallows with my entire family and tried not to be embarrassed when my dad kept asking to turn up the house lights and turn down the music. The Our Way Burger at The Gallows was a classic favorite of mine, something I used to consider an undiscovered gem many years ago, but now that they've seen their fair share of burger publicity, I wondered how it would hold up. And to be honest, they've still got it.

The bun was cooked perfectly -- buttery and crunchy on one side, soft and fresh on the other. The patty was salty with a loose grind though overcooked, but all of the other elements -- the tangy caramelized onions, the cold crunch of the iceberg lettuce, the piquancy of the pickles -- remained perfectly balanced.
Tasty Burger

| Kevin Alexander/Thrillist
4. Big Tasty with grilled onion
Cambridge
"I like this place," my mom said as we walked into the Harvard Square Tasty Burger. I asked her to elaborate, but she then realized I might write it down and failed to come up with anything other than something vague about the menu. We didn't talk again until the burger came.

But this burger, friends, is a great burger. The grilled onions tasted stewed and rich, as if they'd been marinating for awhile. The patty was cooked a perfect medium, pink and juicy on the inside, which is extraordinarily rare for a fast-food burger. The three bites I took each achieved that perfect meld of cheese, meat, and sauce with those grilled onions. My mom said "wow" four or fives times and nodded her head vigorously. Honestly, it was a fast-food tour de force. But then we took a small break and the thing broke down. The bottom bun became a mushy mass and top bun began flaking off. My suggestion is to enjoy this burger immediately, for Tasty Burgers, like the missions of Inspector Gadget, apparently self-destruct after a certain time.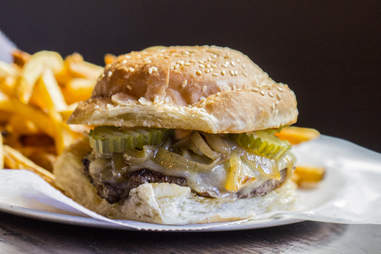 JM Curley

| Kate Daly/Thrillist
3. 5oz grass-fed beef patty
Downtown
The burger at JM Curley is infuriatingly simple: Russian dressing, pickles, grilled onions, Cheddar, and meat on a toasted bun. Fries. Ketchup on the side (I got a Downeast cider in a can as well, mostly to remind myself that I don't know what Downeast means). But despite that simplicity (or because of it?), it remains one of the great Boston burgers. Each element was done correctly. The onions were grilled well, both peppery and buttery. The meat was the perfect temperature, salty and ground loosely. The three pickles each took up enough space to offer acid to each bite. The Russian added serious tang. The sesame bun was toasted and didn't get soggy. The only thing keeping it from moving higher is, perhaps, the lack of any absolute wow factor, but other than that, the burger is pretty much unassailable in its position close to the top of the Boston Burger hierarchy.

Bonus tip: Getting it "Filthy Andy style" (with slaw and fries inside) is the smart idea when you're hungover and maybe have to go to a night class at Emerson for three hours workshopping memoirs.
R.F. O'Sullivan & Son

| Sonya Highfield/Thrillist
2. Cheeseburger with American
Somerville
Before I rolled in with my mother straight from Logan airport, I hadn't been to R.F. O'Sullivan in at least 10 years. My mother had never been. When we popped in around 4pm, it was the perfect atmosphere. A handful of people at the bar. SportsCenter on. The bartender acting as the server as well, wandering around bantering with everyone.

Having lived away from Boston for eight years now, this is the type of thing I miss the most. We ordered the cheeseburger and my mom told me about things happening in her pre-school class and because I'm a good son I listened and asked questions and didn't even look at my phone even though it buzzed and I got a new Twitter follower. And then the burger arrived and we stopped talking and got down to business.

This was the first of the burger joints my mom joined me at, and she was a little nervous about the process. "Do you tell them we're here to eat the burger? Do you tell them you're a writer? Should I tell them you used to write stories for the Globe?"

"No mom," I said. "We just order the burger, and then we eat it, and then we pay for it, and we leave. I'll take notes in the car."

"Oh," she said, slightly disappointed. "But they probably read your story about the Bruins hockey scout."

ANYWAY, my honest worry when coming here was that the burger would be overhyped. That my taste buds from years ago would've embarrassed me now, and this would be nothing but a nostalgic trip for an average burger. It was not. The burger looks nearly like a baseball, and yet it is somehow magically airy with an unbelievably loose grind. I honestly have yet to see anyone else in the country cook a burger of that shape so perfectly. The other move I'd yet to see was to attach and melt the cheese on the toasted sesame bun with the toppings tucked in underneath. This move actually made it seem like I was eating a grilled cheese that happened to have a burger tucked into it, and that experience was frankly kind of game-changing. My mother loved it. "Outside of the White Hut," she said, gleefully, "this is the best burger I think I've had in my life." And while I wouldn't get as hyperbolic about it, I can easily say that it is definitely still one of the best in Massachusetts.
Craigie on Main

| Kate Daly/Thrillist
1. "Secret" Burger
Cambridge
There has never been a less secret burger than this one. Even before I left Boston, as Craigie was really just gaining its foothold in the national food media consciousness, people talked about the burger. Like most national sensations, it likely annoys the staff here when people line up every night just to get this side note at a restaurant that has such a creative menu. But then again, it also brought them fame, and possibly profit. WHY IS THE WORLD SO CRUEL AND COMPLICATED?

Well, for at least one night only, I was one of those fawning food groupies. And as much as I wanted to dig into this burger and toss the hype to the side like any tomatoes I encounter on my burgers, I could not. It was just that damn good. I'm not going to spend this time really digging into every element of the burger -- people have done that for the last eight or nine years -- but good lord, if you're thinking about things like dehydrating miso to add umami, and creating a "burger vinaigrette" of juice from the grill used to dress the lettuce and onion, and also throwing delicious celery root slaw and subtle and richly acidic pickles all in the mix, you exist on a different plane than everyone else.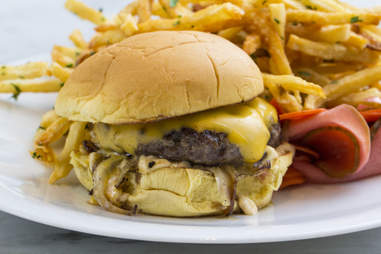 Café ArtScience

| Kate Daly/Thrillist
1*. Skinny Burger
Cambridge
To be honest, the Skinny Burger from Cafe ArtScience in Cambridge was going to be my top burger. I loved everything about it -- the soft potato roll, the melty American with the onions almost worn in, the spicy kick of the Old Bay aioli. It was a shocking experience to be eating such a good, simple, messy burger in such a clean, sleek white space, and I was also excited because it was not obvious like, ahem, the (absolutely delicious) powerhouse I've picked above.

But here is the big thing and the reason for that asterisk: In the (admittedly long) time between my visit in December 2016 to the restaurant and this story coming out, Cafe ArtScience has a new executive chef who has tweaked the burger in his own style. I can't speak to the differences in the burger -- the new one has Cabot cheddar and kewpie mayo and might be absolutely delicious -- but because it is not the one I ate, I obviously can't recommend it as the best burger in the Boston area. What I can do is plead with the new executive chef to consider possibly allowing the old version of the burger to be ordered as a special, or off-menu or anything. Again, I'm sure the new burger is great and everyone wants to leave their own mark, but more people should experience the gooey perfection of the burger you see above.
Sign up here for our daily Boston email and be the first to get all the food/drink/fun the Hub has to offer.
Kevin Alexander is Thrillist's National Writer-at-Large, chief burger critic, and most humble Celtics fan. Follow him to whatever bar replaced Copperfields @KAlexander03.