11 new Hub restaurants you should definitely know about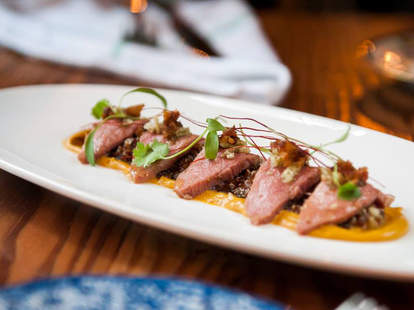 While you've spent the Summer at the Newport Polo Grounds drinking Pimm's Cups, wearing American flag trousers, and talking sh*t about NYC, bars and restaurants have been opening up all around the Hub. Here's a quick rundown of 11 you might've missed: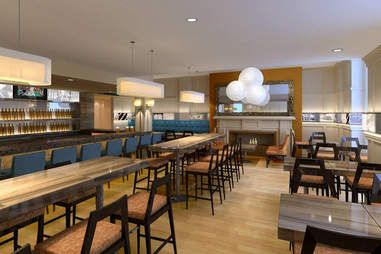 Facebook
Fenmore American Bistro
645 Beacon St; Kenmore/Fenway; 617.391.1800
Offering a new spot to get your pre-Sox nosh (but thankfully not your karaoke) on, AB FAB's taken over the old Maluken space in Kemore Square's Hotel Buckminster, where they're slinging the likes of lobster sliders, Parm crisp Angus burgers, and shrimp BLTs.
Room 50
Gene's Chinese Flatbread Café
86 Bedford St; Chinatown; 617.482.1888
Hand-pulled noodle specialist Gene Wu has opened a second outpost of his popular Chelmsford Chinese take-out joint in the former Burrito Express on Bedford St downtown. Expect all your lunch favorites, including (surprise!) hand-pulled noodles, beef/pork flatbread sandwiches, and classic Xi'an lamb stew.
Facebook
Simpli Bar & Bites
3840 Washington St; Jamaica Plain; 617.522.2400
Located just down the street from the Forest Hills T Station, this breakfast-thru-dinner oasis brings everything from lollipop lamb chops and pretzel pucks, to slow-cooked pork belly flatbread w/ sweet BBQ sauce and quiches of the day, all washed down with a solid assemblage of suds (BBC Coffeehouse Porter, Anderson Valley Summer Solstice) and cocktails like the Anejo tequila and Hellfire bitters-mixed El Diablo.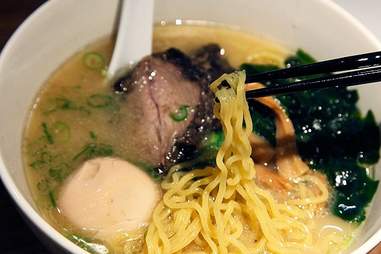 Stock/Thrillist
Boston Ramen Noodle Company
http://www.bostonramenco.com
Assuming you enjoy eating ramen while watching Gilmore Girls but are too lazy to actually boil water, BRNC will now deliver "Tonkotsu ramen with housemade noodles" -- topped with everything from pea shoots and beech mushrooms, to butter-poached lobsters and soft-boiled duck eggs -- directly to your door.
Dave Baldwin
Papagayo Downtown
15 West St; Downtown Crossing; 617.423.3600
Yes, the rumor is true: DTX's former Max and Dylan's on West St is now a third incarnation of this ever-expanding tequileria, boasting three floors, two bars, 175 firewaters, and "cocktail-height tables to give the space a more lounge-like feel".
Brian Sagers
The Proprietors Bar & Table
9 India St; Nantucket; 508.228.7477
Just in time for your late-August escape to Nantucket, this wood-heavy, two-floor restaurant & bar from the folks behind American Seasons boasts a pressed-tin-fronted 14-seat bar, vittles like smoked bluefish fritters w/ Tabasco remoulade and Nantucket squid w/ cured pig belly, and a lineup of handcrafted cocktails numbered one through 10, including the #2: a Mezcal/Combier/strawberry 'tail deemed "vibrant, savory, and feral".
Presley's Pantry
Wow BBQ
2 Boylston St; Back Bay; 508.826.3192
Billed as the "only authentic BBQ lamb in Boston", this Chinese flag-inspired red truck with yellow awning is now rolling about the Hub enthusiastically grilling up $1.50 BBQ lamb skewers that they hope will make you say (yes, you guessed it)… "Wow"!
MassLive
Whisk at 351
351 Hanover St; North End
The pop-up specialists at Whisk have decided to settle down, sort of, by opening a semi-permanent brick-and-mortar at 351 Hanover St in the North End, where they'll be serving a weekly 3-, 5-, and 7-course tasting, Tuesday through Saturday nights.
Facebook
Retro Burger and Ice Cream
795 Mass Ave; Arlington; 781.777.2139
In case you had trouble finding it last weekend on the Cape, West Yarmouth's three-year-old throwback burger joint, Retro, is now slinging their chili-/cheese-doused Alamo dogs and handpressed bologna/salami/Provolone-topped Godzilla Burgers from none other than Mass Ave in Arlington. Yes, Arlington.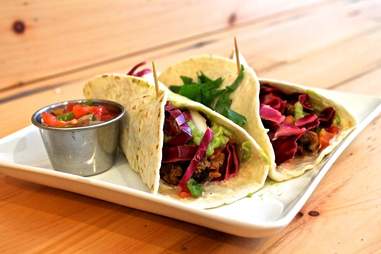 Facebook
Root
487 Cambridge St; Allston; 617.208.6091
Specializing in plant-inspired food and juice (no, wait, don't stop reading!), Root's taken hold in Allston's short-lived Peace o' Pie space, where it peddles healthy local sustenance (that sounds surprisingly good), like black bean burgers, jalapeno hushpuppies, and portabello BBQ sammies.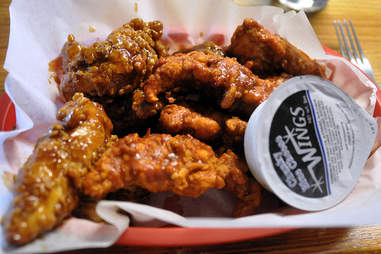 Wings Over Boston
Wings Over Boston
325 Huntington Ave; Fenway; 617.266.9464
Finally, as you can always use wings to wash down the taste of a black bean burger, know that the old Gnomon Copy on Huntington Ave is now a Wings Over Boston that slings all 17 sauces (sweet chili, garlic Parm, citrus chipotle), full racks of ribs, and 16oz chocolate shakes to go.