Popular NYC burger joint opens in Chestnut Hill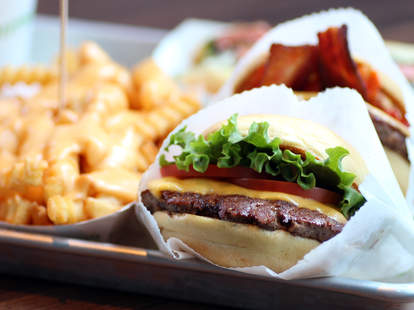 Billed as a "modern day roadside burger stand", NYC's notoriously cultish Shake Shack has officially opened in Chestnut Hill, giving those damn kids at BC first dibs on their signature Angus patties, frozen custards, and loaded "flat-top" dogs.
Wear your most comfortable Rockports. Bring several of your Nooks. You're likely going to spend some time waiting in line out front
Assuming you didn't memorize the menu on the Green Line ride over, take a final look at the big board. And yes, they do have dog biscuits. Now place your order here, and be sure and pick up a pint of their signature ShackMeister Ale from Brooklyn Brewery
The More You Know, Shake Shack Edition: those tables are made from old bowling alleys, and the plank walls were reclaimed from a retired paper mill in Holyoke.
Here's the classic Shack Burger topped w/ cheddar, their super secret Shack Sauce, and the ability to block your shot at winning an NBA championship because it can only play 12min a game vs. the Heat.
As shake is in the name, take down this hand-spun chocolate number. Or, if you're dining with Grandma, make it a malted
Do you like Chicago-style hot dogs? Well, you'll love Shack-cago dogs. Because they're pretty much the same thing.
In addition to the aforementioned ShackMeister Ale, they're also pouring Southern Tier IPA, Southampton Double White, and a handful of red/white vinos by the glass or bottle.
Finish strong with this exclusive-to-Chestnut Hill Lobstah Shell Concrete, aka frozen custard blended at high speed with strawberry puree, ricotta cream, and a lobster tail pastry shell.