Now that Boston has defrosted (or mostly defrosted) from this season's Wintry mess, you can finally emerge from your forced hibernation and see what's new out there. Chances are, you're probably hungry. Lucky for you, some brave souls managed to open restaurants despite the snowpocalypse. Here are the 11 you should check out immediately.
Recommended Video
Winter Starbucks Beverages Around The World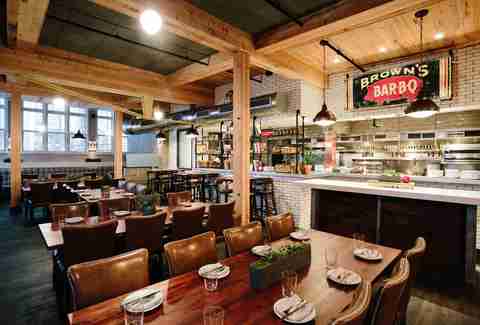 Alden & Harlow (click here for info and address)
Harvard Square
Chef Michael Scelfo (of Russell House and Temple Bar fame) welcomes you to his new kitchen, located in the former Casablanca space. The homestyle, family recipe-inspired menu offers tastiness like mesquite tortellini with grilled broccoli, bianco sardo, and colatura, and the must-try grilled lamb sirloin with cocoa rub, grilled carrot & coriander mash, and ramp puree. Bar Manager Seth Freidus (Eastern Standard) rocks the cocktail program with signature libations incorporating small-batch infusions and syrups, and two rotating drafts (yes, DRAFTS!) of seasonal house-made vermouth and a spirit-based cocktail.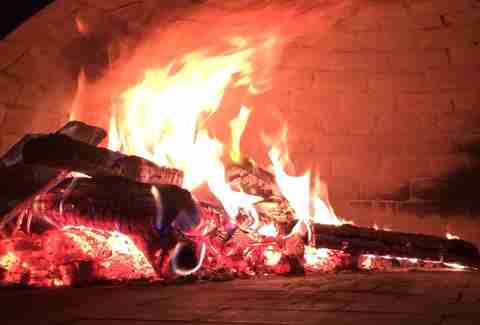 Pastoral (click here for info and address)
Fort Point
The authentic Neapolitan three-ton pizza oven (made from stone and sand from Mt. Vesuvius) is roaring at Chef Todd Winer's first solo venture in collaboration with industry veteran George Lewis. Italy has officially given Chef Winer major street cred with VPN certification (Associazione Verace Pizza Napoletana) as an official Pizzaiolo, and he honors that commitment with rustic tastes such as a duck sausage and clam pizza topped with house-made mozzarella. Hearty countryside-style small plates, snacks, and entrees round out the selections. Pastoral will also have their pastas, sauces, and cheeses for sale so you can chef it up at home.
M.C. Spiedo (click here for info and address)
Seaport District, in the Renaissance Boston Waterfront Hotel
It's all in the name… once it's deciphered: M.C. is for James Beard Award-winning chefs Mark Gaier and Clark Frasier (Arrows and M.C. Perkins Cove of Ogunquit, ME) and Spiedo is Italian for "spit" or "skewer". Taking cues from Renaissance recipes and cooking techniques, the cuisine embodies old-world flavors with modern twists. A 40in steel spit roasts locally sourced meats (e.g. duck and suckling pig), market carts circle the floor with irresistible antipasti (house-made burrata and Arrows' famous prosciutto), and hand-crafted pastas are made fresh daily (M.C. Tagliatelle with guinea hen, oranges, cipollini onion, almonds, lacinato kale). Special historic bonus: Leonardo's Notebook Salad is derived from Da Vinci's own writings with garlic, fennel, lettuces, torn herbs, and herb vinaigrette. (Your services are no longer required, Dr. Langdon.)
Wink & Nod (click here for info and address)
South End
Knock twice (or is it three times?) and step into the golden age of mixology and bar-room dining at Boston Nightlife Ventures' new speakeasy in the South End. Chefs Jeremy Kean and Philip Kruta have found a home for their pop-up Whisk within these secret walls, and will complement the fine beverages with dishes like the sophisticated Whisk fave Black Pasta: squid ink tagliatelle pasta with baby octopus, miso, cauliflower, and black garlic. The beverage team, led by GM Curtis McMillan, will shake, stir, and pour new incarnations of classics such as the Vera Prescott with Cutty Sark Prohibition Scotch, pear puree, cranberry juice, simple syrup, and house-made ginger ale. (Three cheers for the 21st Amendment!)

Savvor Restaurant & Lounge (click here for info and address)
Leather District
Owner Eddy Firmin (Blue Wave) and Executive Chef Carey Dobies (Upstairs on the Square) have joined forces to bring you the Caribbean and Southern-styled Savvor (in the vacated District space). The funky space sets the stage for an equally funky menu sporting starters like crawfish hushpuppies with pigskin cracklins. Also keep an eye out for "Chicken N Waffles" (cornmeal-fried quail, blueberry jam, brown sugar waffle) and Country Hash (confit fowl, trinity, red bliss potatoes, sunny-side-up egg), or go big with a chicken fried double pork chop for two (tomato jam, mustard sabayon, pickled shallots, radish salad). Don't be surprised if some live jazz (not the Gordon Heyward kind) provides the soundtrack.
Bricco Salumeria & Pasta Shop (click here for info and address)
North End
If you're looking to grab a serious sandwich and procure some fine Italian products to stock your pantry, then head to Frank DePasquale's latest venture on Board Alley off of Hanover Street (next to Bricco Panetteria). Head to the counter and debate between a classic Italian, oven-roasted turkey, or eggplant parm sammie. After you enjoy the café seating (and your sandwich), peruse the cornucopia of house-made pastas and sauces, cured Italian meats and cheeses, and imported vinegars and organic olive oils (some with refill bottle programs). Special bonus: outdoor seating is on the way, so random passersby can watch you maul your sandwich.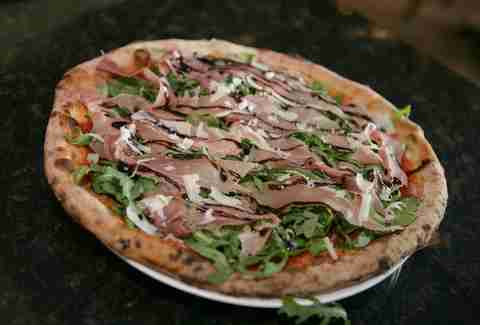 Crush Pizza (click here for info and address)
FiDi
Chef/owner Tony Naser brings his Nashua sensation to Boston with "down-the-line" (a la Chipotle) Neapolitan pizza, catering to FiDi lunchtime worker bees. Go for a pre-designed pizza (Capri, Pesto Blast, Bourbon BBQ Chicken) or choose your own adventure with a vast array of toppers (applewood-smoked bacon, truffle oil, grilled steak, house-made mozzarella di bufala). Don't worry, the three 900-degree ovens only take 90 seconds to blast your 'za, so you can get back to working/ prepping for your fantasy baseball draft. Italy has given Chef Naser the nod with a DOC designation (Denominazione di Origine Controllata) for his strict adherence to pie guidelines. You should also try their Fire Grilled Limoncello Wings (yes, that's right) and more than 20 flavors of small-batch gelato.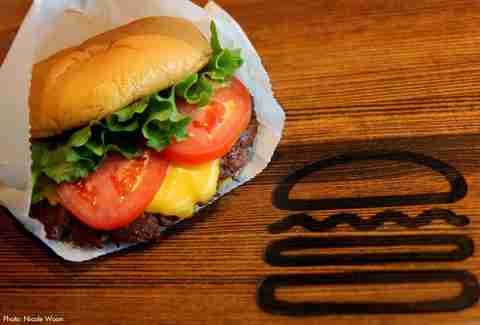 Shake Shack (click here for info and address)
Harvard Square
Shake Shack fans rejoice as the NYC import from Danny Meyer's Union Square Hospitality Group opens in the midst of Harvard Square (the former OM site). In addition to the crave-worthy burgers and flat-top dogs, this Shack offers the chain's new fresh fries (found only at certain locations) that are made from daily hand-cut Idaho Russet potatoes. For the Concretes connoisseurs, indigenous treats include Crimson Red Velvet (vanilla custard and a slice of South End Buttery Bakery crimson red velvet cake), MInT Chocolate (chocolate custard, minted marshmallow sauce, and chocolate truffle cookie dough), and the Lobstah Shell (vanilla custard, lobster tail pastry shell from the North End, strawberry puree, and ricotta cream). Yeah, you're going to be busy.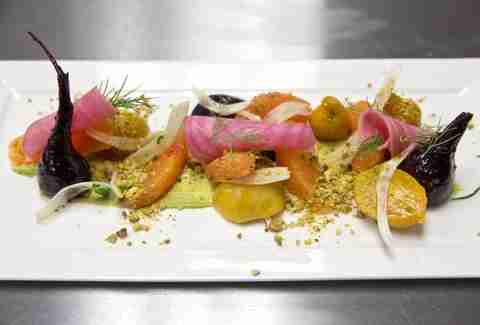 The Merchant (click here for info and address)
Downtown Crossing / FiDi
Owner Shane Smyth (Sycamore) and Chef Matt Foley (Craigie on Main, Sycamore) unite once again to bring you this relaxed American brasserie nestled into the old London Harness store (people just aren't buying enough harnesses anymore). The 40ft-long bar anchors the inviting space and features 60 beers (36 drafts), an approachable wine list (three on tap), and cocktails with local mojo (e.g. Boston Collins with Bully Boy Vodka, Earl Grey syrup, fresh lemon, soda). Contemporary comfort eats include Veal Sweet Bread "Nuggets" with iceberg lettuce, Pancetta chips, Stilton, and tomato confit, and the Steak and Eggs with all natural sirloin, sweet potato hash, fried egg, and crispy bone marrow. Carnivorous bonus: they're curing and smoking meats in-house.
Legal Crossing (click here for info and address)
Downtown Crossing
Legal Sea Foods' repertoire has proven to be ocean-deep with the launch of one-off Legal Crossing (LX), incorporating long-time favorites and new, unique-to-the-venue creations from Executive Chef Rich Vellante and LX Chef Jackson Wu. The menu has big catches (Butter Poached Lobster and Linguini with Trio of Clams) as well as small plates to share (Smoky Salmon Tartare, Cast Iron Seared Calamari). Original cocktails are locale-inspired (with nods to DX and Chinatown) and include Cold Tea, Glitter & Shame, Bromfield, and Good Time Charlie. If you're a night owl, they have late-slate options such as raw bar goodies and sammies.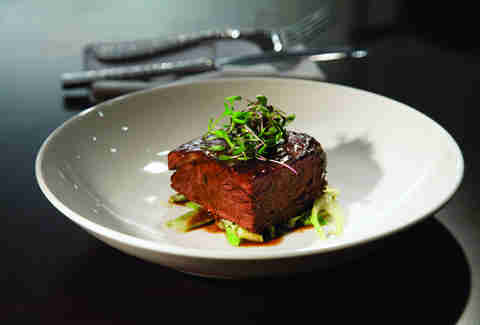 Chopps American Bar and Grill (click here for info and address)
Burlington (Boston Marriott Burlington)
This 245-seat modern chophouse serving seared savoriness is the brainchild of acclaimed consulting chef Daniel Bruce (Meritage), Chef David Verdo (Chopps), and Chef John Costello (Marriott Burlington). The open kitchen is front and center… so you can watch as they dish out all-natural organic steaks, fresh local seafood, and regional specialties (you can also stare longingly while awaiting your order). Just TRY to decide between Delmonico ribeyes, Hampshire Pork T-bones, crispy pork belly, or Block Island Swordfish bouillabaisse-style. If you're just there to snack, they have small plates like Lamb Lollichopps and Maine Lobster Gratinée.