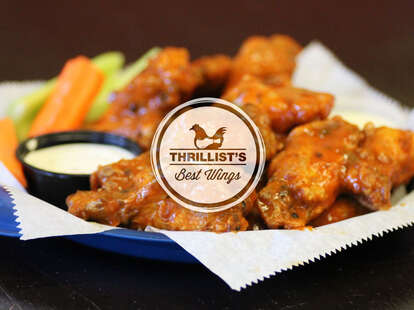 In honor of football season starting, we've scoured the Hub in search of the city's best wings, trying everything from Buffalo, to Korean BBQ, to those tiny little pairs airline pilot gave kids in the '90s when they used to be able to show off the plane's cockpit. And what did we find, other than incredibly cordial United pilots happy to name us Honorary Captain for the day? Well, you'll have to read on to find out.
Eat at Jumbo's
Ball Square
To quote our rundown of Boston's best restaurants: "The wings at Jumbo's come in not one, not two, not 10, but 34 different flavors (!!!), including Ragin Cajun, creamy pesto, and spicy Thai peanut." Seriously, 34 sauces is pretty ridiculous.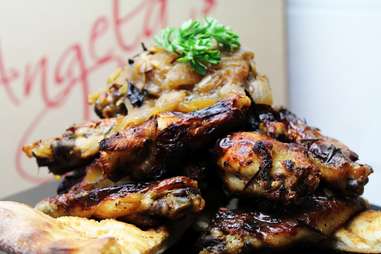 Angela's Coal Fired Pizza
Saugus
Probably the most exciting thing to come out of Saugus since that 2003 Little League World Series team (man, they were fun to watch), the wings at Angela's are marinated in "lemon juice, olive oil, rosemary, and garlic", slow-roasted in a coal fire oven, piled high atop homemade focaccia, and then covered in caramelized onions. Now where did we put the car keys?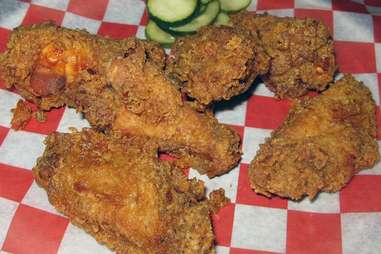 Soulfire
Allston and Huntington Ave
You've got two moves at this popular Allston (and Huntington Ave) BBQ joint: 1) wings marinated for 24hrs, coated in a secret Southern-seasoned flour, and deep-fried; or 2) wings that're dry-rubbed & hickory smoked, flash-fried, and then tossed in one of three sauces, including Buffalo, BBQ, and spicy honey.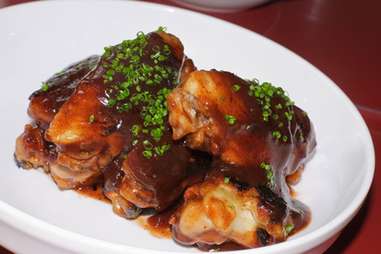 Strip-T's
Watertown
One of the many menu changes Chef Tim Maslow made while overhauling his dad's Watertown diner into a nationally recognized dining destination (and one of Bon Appetit's "Top 50 Best New Restaurants"), these reinvented wings are simmered in fat and charred on the grill before being doused in a sauce made from reduced Moxie, the popular gentian root extract-flavored New England soda invented in Lowell.
Buff's Pub
Newton
Consistently named among, if not the, area's best, this cash-only Newton sports bar's been deemed the "undisputed master" and reportedly worth the frustration you'll face while trying to park. BP rolls with both bone-in and boneless tenders in one of 10 sauces, like Honey Hot, spicy teriyaki, and chipotle.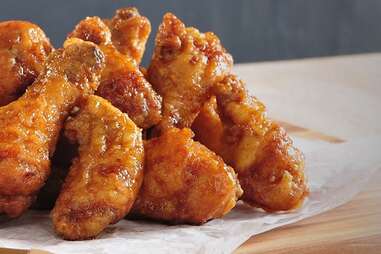 Bonchon
Harvard Square
Essentially the General George Pickett of the Korean fried chicken movement, this NYC powerhouse has been leading the charge with outposts in Allston, Harvard, and… Lowell (huh? Really?) that cook up a bar-setting assortment of wings, drumsticks, and strips in one of four sizes and covered in either hot or soy garlic sauce.
Myers + Chang
South End
Per usual, Joanne Chang takes it to another level with her Garlicky Spicy Coal Black Wings, which are marinated in soy-sauce, baked, and flash-fried (to bring out their dark color) before being served with housemade Sriracha and pickled salad.
Wings Over Boston… or Somerville… or Brookline…
Various Locations
Okay, yes, they are -- at this point -- another chain. But let's be honest: having started at UMass Amherst back in '99, they're our chain. And they make sick wings, bone-in or boneless, with 19 different sauces ranging from Jamaican jerk and West Texas mesquite, to sweet chili and Buffalo so hot, it's dubbed "Afterburner".