Chances are about 10,000% that you don't usually head to Faneuil Hall for a proper dinner. But when visitors show up, there's an equally good chance they'll want to visit Quincy Market. So we ranked 11 of Faneuil Hall's sit-down dinner options for you, so you can make the best of your time in our city's favorite tourist trap. While it doesn't exactly qualify (it's not a proper sit-down dinner spot), we have to give a shout out to Walrus and the Carpenter, our favorite no-frills way to enjoy some oysters and a lobster roll on our lunch break.
Recommended Video
Ghost Kitchen: How This NYC Restaurant Is Responding to Coronavirus
The name says it all. While this place will sell you food and drink, none of it is stuff you'd really want to, you know, eat or drink (especially the Southern/New England nonsense entrees with spellings like "lobsta" and "platta"). Chances are, you've been dragged here by a couple of nephews who are all about the rude staff and "funny" white hats. Grin and bear it... just demand restitution decades later.
Another one that's… clearly not for the locals. It's kind of impressive, solely in that it's a fairly spot-on recreation -- not of the original Cheers bar on Beacon Hill, but of the set of the TV show, with far more windows, and far, far more shelves of paraphernalia. The food is mostly fried-basket fare, although if you manage to scarf down the anvil-sized Giant Norm Burger, you'll get to bring home a ceremonial plate. So, not all bad. Bring the nephews (when they turn 21).
It's a dive bar down in the bowels of Durgin-Park -- what's not to love? Well, for starters, it's a little too well-lit for a dive. And the service is, how do we say it... not so good. And the food, well, the food is what it is (seafood-y, but not spectacular), although the oysters are usually pretty fresh. There's also regular stand-up comedy, which either dramatically adds or subtracts value, depending on who's performing.
A modern spin on tavern grub means appetizers like corned beef and cabbage egg rolls, and Guinness onion soup, which may or may not be worth the crowds of tourists -- that's your call.
Come for the tequila; stay for the tequila; eat some sizzling fajitas in between. Every Tex-Mex staple makes an appearance here, from seven-layer dip to taco salad to, um, burgers. But burritos and tacos and fajitas abound, and there's a whole page of margarita and cerveza offerings, so go with that.
Now we're really talking: Anthem serves New American fare in a grown-up setting, slightly removed from the throngs, and for these reasons alone, we're fans. But there are also a lot of staple goodies here, from the pan-roasted chicken to the lobster Cobb, and a couple of totally serviceable flatbreads. We're officially in check-plus territory here.
This is what the fossilized relatives have been waiting for: one of the oldest restaurants in the country dishing up authentic(ish!) New England fare at long communal tables, usually covered with checked tablecloths. If you're feeling too fancy for it, try to remember what fun feels like. When's the last time you had Yankee pot roast, chicken pot pie, a corned beef platter, or "frankfurters" as an entree? All the seafood staples are represented, too, from the chowders to the clambakes. It's pretty expensive and pretty touristy -- and often mocked by local foodies -- but there's a lot to embrace.
Come for the tequila, stay for the surprisingly chic decor and totally decent Mexican food (... cheeseburger taco aside). It's a newbie, but a goodie, with a terrific tequila menu featuring over 100 options that nicely complements the cocktail selection (because honestly, you're there for the drinks, even if your traveling companions are not).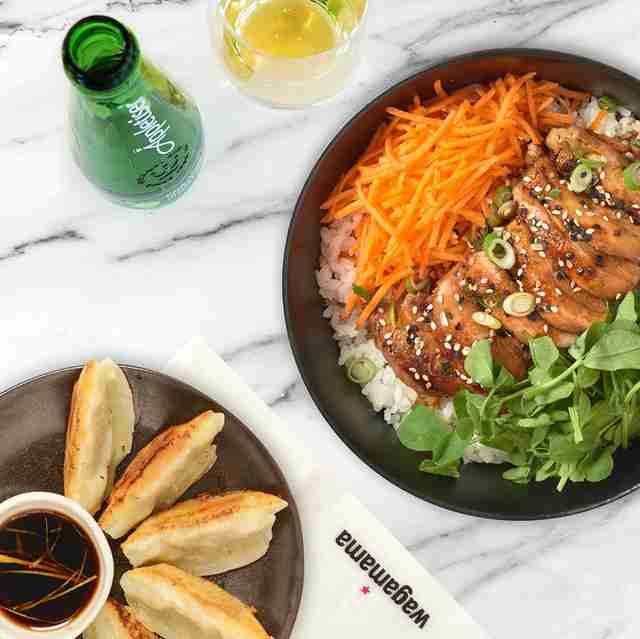 Hello, secret favorite dinner spot. Yeah, it's a chain, but it's a chain that began in London, which probably explains its so-not-the-chains-you're-used-to superiority. This spot offers genuinely great noodle dishes that cater well to omnivores, as well as vegetarians and vegans. Even the ramen is good, and the lollipop shrimp kushiyaki and tori kara age are two of our guilty appetizer pleasures -- except we don't even really feel that guilty about them. If you're going to have a meal in Faneuil Hall, then you could do far, far worse.
Outdoor seating and a subterranean oyster bar: this place might just be our favorite Faneuil spot. It's like a sit-down clam shack where you can gorge on every iteration of stew and chowder, fried fish sandwich, roll, and po-boy. (There's also some dumb "Fitness First" menu. Ignore that.) For us, it's all about the raw bar, steamer buckets, and the entrees, specifically the fried fish plates and the lobster casserole.
Whoops, a chain wins. But if you're looking for the actual best meal in Faneuil, this is your ticket. McCormick & Schmick's prepares genuinely delicious bacon-wrapped shrimp, well-prepped fish (with crab lumps, ideally), New England standbys like lobster and fried clams, mixed grill plates, and steaks: dry-aged, with your choice of sauce. Add to that the fact that its old-school cocktails are completely legit (made from fresh juices, etc.), and it's clear: this place is just a safe, smart bet.
Sign up here for our daily Boston email and be the first to get all the food/drink/fun the Hub has to offer.