Here's where 6 of Boston's best chefs go to chow down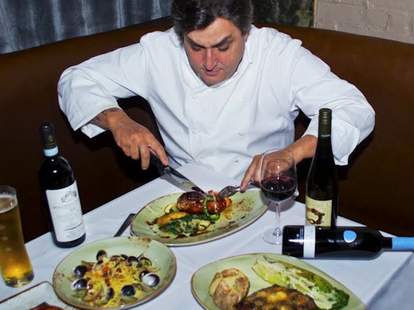 Forget Yelp! 86 all those "foodie" guides with their fancy jargon and baffling algorithmic rankings. If you want to know where the great eats are (and hate math) just follow the chefs. We asked a few of the city's top chefs to be our restaurant wingmen and give us the lowdown on where they like to eat, aka where you should ALSO be eating. 
Ming Tsai
"Clio!" was stated with clout from local iconic personality, TV show host, cookbook author, and culinary nobility, Ming Tsai. "Clio is one of the best restaurants in the country, and Ken Oringer is one of the most creative chefs internationally." No particular dish in mind... it's all about the tasting menu that changes daily and craft cocktails that simply rock. Ming also puts us onto Uni for an "out of body sashimi experience." When he's craving comfort food, the first call is the Silvertone Bar & Grill for "hands down" the best mac 'n cheese in Boston. Ming also introduces us to Gourmet Dumpling House in Chinatown for fresh dumplings that are made daily. One of their specialties is their sliced fish Szechwan style. "I love this dish! It's made with ma-la sauce, which in translation means numbing hot."
Coppa
Jamie Bissonnette of Coppa
Culinary pioneer, champion of nose-to-tail cuisine, and hoarder of awards/accolades (he was Food & Wine's first-ever recipient of the People's Choice Best Chef award), Jamie knows some things when it comes to good eating. "Sofa King Good!" is the technical narrative for the double-cheeseburger at dive bar Charlie's Kitchen in Harvard Square, which boasts a "sick jukebox" and Genesee Cream (a true American classic!). A close second is the gourmet greasiness of late night nachos from El Triunfo, which delivers until 4:30am (standard snack time for most chefs and bartenders). If you're seeking something a little more upscale, Jamie's pick is No. 9 Park for on-point service, unique wines, and tuna tartare.
Andre Lambiasse
Hell's Kitchen alum Jason Santos is constantly jet-setting back and forth between "The B" and Sin City. In Boston, Santos says the swanky W Bar is the spot for a dirty martini decked out with bleu cheese olives, which pairs tastefully with "slices of heaven" (potato chips that are so simple, but life-changing). The confession, "Hello my name is Jason Santos and I'm a Ramen junky," should give you confidence in acquiring your fix at Sapporo Ramen in Cambridge. The ambience is non-existent, service is mediocre, the Diet Coke is great (no booze menu here), but the ramen is so freaking exceptional it will leave tears in your eyes.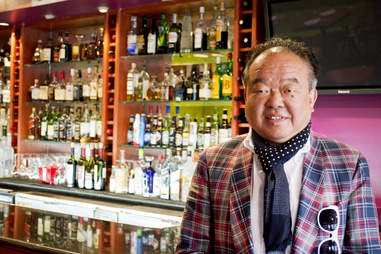 Sonya Highfield
If there was ever a casting call for "Hospitality Emissary", the colorful and eccentric Chef Billy Tse would be the restaurant equivalent of De Niro/Pacino. Ironically, his restaurant is a landmark and neighborhood favorite in Boston's Italian North End. Adding to the culinary juxtapositions, Billy guides us to his new "go to", Row 34 in the Fort Point Channel, for some fried shishito peppers and Sea Bass "Head and Tail" (which is a head so big, it comes out eyeballing you from the platter – simultaneously tasty and creepy). The house-made bucatini with shrimp, tomato & basil is uncomplicated and bewilderingly remarkable. Venturing outside Little Italy for an oyster bar with Asian peppers, fish face, and Italian pasta makes sense, right?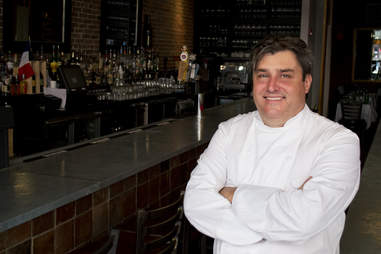 Sonya Highfield
The Painted Burro Mexican Kitchen & Tequila Bar in Somerville "kicks ass" (well played, sir). Fathman, Executive Chef at Les Zygomates French Bistro and Bel Ari Italian Modern (and formerly of Grill23 & Bar and Legal Seafood Haborside), is hardcore about authentic flavors and style. "The food at the Burro is the real deal and sooo far beyond the stereotyped rice and beans." Go for the chicharron & mango (mmm, crispy pork belly), and for a fine Sunday Funday, get down with 100 craft tequilas and the "Superbeasto", a elephantine-but-tasty amalgam of fried eggs, chorizo, pork charro beans, fried plantains, MORE chicharron, and other tastiness.
Wink & Nod
This inspired "pop-up"-professional believes that, in order to scout genuinely awesome finds, you have to be willing to wander outside regular routines and comfort zones. The Executive Chef at South End's new Wink & Nod voyaged to Lynn, MA on a whim, and was rewarded for the effort discovering Apsara Angkor -- an authentic Cambodian restaurant with a menu of epic proportions. "All the soups are sure bets, and the spicy whole-fried fish is unlike anything else in the State. Late night karaoke is classic for people-watching, and it goes without saying that a Scorpion Bowl is a team favoriteCloser to home, Chef Lewin remembrances his childhood comfort food cravings with the sausage, egg, and American cheese bulkie roll at Buddy's Diner in Somerville. "Never underestimate breakfast as part of the culinary experience." Wise words.
Sign up here for our daily Boston email and be the first to get all the food/drink/fun the Hub has to offer.