Go here for candied short ribs and late-night patio cocktails
The latest venture from the chef/owner behind Sorriso and the Leather District's Les Zygomates, Society on High's a 110-seat, breakfast-thru-dinner FiDi bistro rocking local fare, late-night libations, and a huge, soon-to-open, palm tree-laden patio billed as a little bit of "Miami right here in downtown Boston". TOO SOON, SOCIETY, WAYYY TOO SOON!
Dave Baldwin
With its subway tiles and vintage mirrors, it's worth taking a sec to soak in the bright new space before grabbing a high copper-top lounge table…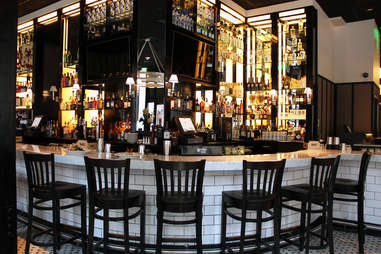 Dave Baldwin
… or a chair at the long, white marble bar and admiring the selection of booze, which includes a bottle of 1942 Don Julio. Impressive.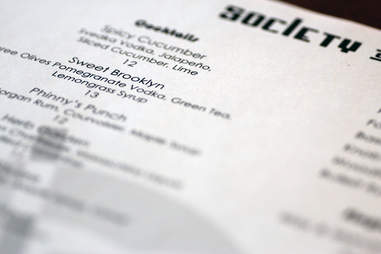 Dave Baldwin
After nodding affirmatively at the actual list of small-batch Scotches and bourbons, settle in for something off the cocktail list, like the rye, Courvoisier, and maple Old Square, or the Spicy Cucumber with vodka and jalapenos.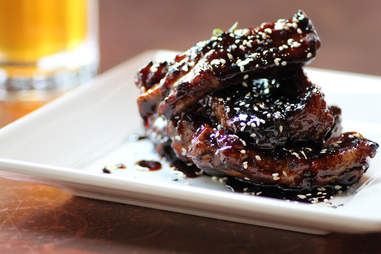 Dave Baldwin
While waiting for your crew/parents/parents' crew, take down bar bites like lobster sliders, wonton-wrapped firecracker shrimp with a creamy cashew dipping sauce, or this handsome plate of candied spare ribs.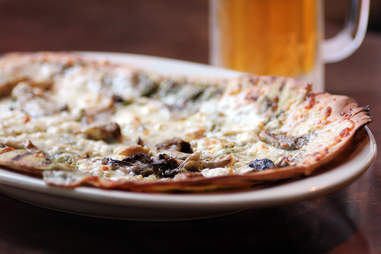 Dave Baldwin
Or perhaps you're lunching alone, in which case, briefly look at your phone and pretend to check your texts before sighing and telling the bartender your "friend" got held up, then order a Chesapeake Bay oyster po' boy with a hot Sriracha aioli or this roasted garlic and clam flatbread.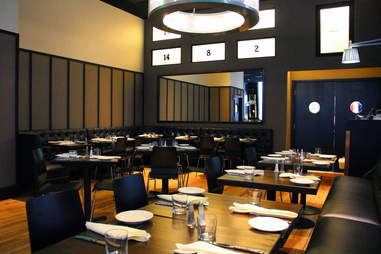 Dave Baldwin
Assuming you are expecting company not in the form of a copy of Nancy Drew: The Mystery at Lilac Inn, grab a table for your group under the frosted glass in the back of the dining room.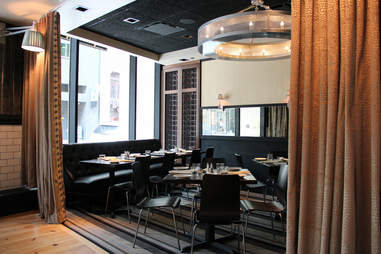 Dave Baldwin
Or, if you're making a big speech on Nancy Drew books to a group of colleagues, and don't want the hostess to laugh at your Carolyn Keene jokes, file in and pull the curtain on this private dining room.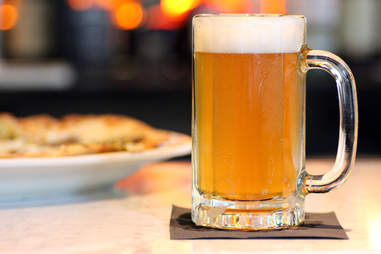 Dave Baldwin
Either way, it's probably time for another drink, like a frosty mug of craft beer, the lineup of which includes Kentucky Bourbon Ale, Pole Star Pilsner, and Hoponius Union.
Dave Baldwin
Burlier entrees include a New Bedford-style Fisherman's Stew w/ whitefish, mussels, braised pork & spicy linguica, and this downright delicious-looking, bone-in, grilled pork chop w/ peach relish, collard greens, and black eyed peas.
Dave Baldwin
Finally, before adjourning to the patio for frozen beachtails and classic films projected on a giant brick wall (they're totally going to do this), finish strong with a flavored-foam espresso and a piece of peanut butter cheesecake that's dubbed "The Elvis", and topped with caramelized bananas & candied bacon.