5 reasons you need to check out CREATE
There are a few ways to combine art, food, and booze. You could use your stolen Gardner Museum paintings as a placemat. But a more practical (and legal!) path is to hit CREATE, the brainchild of Chef Louis DiBiccari (Tavern Road), showcasing the combined efforts of local artists, chefs, bartenders, and musicians.
Here's the critical info: six chefs and six bartenders team up with six visual artists to create dishes and drinks that interpret the art in one giant flurry of spontaneous creativity -- all for you to enjoy. Inspired and influenced by his Uncle Adio (a master sculptor!), Chef DiBiccari launched CREATE to spotlight the brightest rising stars in the Hub and put them together for an art/culinary mash-up collaboration. Why you need to check it out: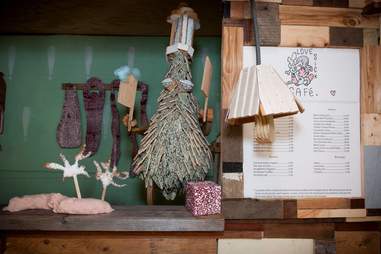 1. The local artists will blow your mind.
Boston has serious artistic chops, and CREATE will prove it to you. Karen Jerzyk, !nd!v!duals, Mark Sebastiano, Moe Pope, and others will produce distinctive pieces that could be 2D, 3D, or interactive. Right in front of your eyes. And there will be art for sale (take that, IKEA).
2. The food will be insane.
Many of your favorite chefs will be in the same room crafting unique dishes that you get to eat. The all-star squad includes Jade Taylor (Bondir), Alex Crabb (Asta), Scott Jones (Menton), Jason Cheek (Merrill and Co.), Monica Glass (Clio), and Meg Ward (Coppa). Happy? You should be.
3. So will the drinks.
Six master mixologists will be paired with your foodie heroes to pour one-of-a-kind cocktails that connect with the art and cuisine. Emma Hollander (Trina's Starlite Lounge), Palmer Matthews (Drink), Daren Swisher (JM Curley), Steve Schnelwar (80 Thoreau), Sabrina Kershaw (The Franklin Café), and Tyler Wang (Audubon) will muddle, squeeze, shake, and stir up their own liquid art.
4. The music will rock.
DJ TJ Connelly (music director at Fenway Park) will provide the soundtrack to the party. In addition to entertaining the Sox crowds, TJ Connelly hosts "The Night Shift" on RadioBDC and keeps himself extra busy as co-founder of onthebar, that crazy app that tells you who's slinging drinks at local watering holes, in case you want to know where to after-party.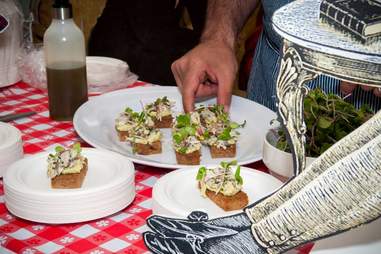 5. It only costs 35 bucks to go.
That's less than you spend on an ill-advised round of drinks for your ungrateful friends. Get your tickets to the aht pahty here.