Because you can only get so excited about another Pret a Manger, we've put together a list of new openings that are guaranteed to get you fired up. These are the 10 hottest, most highly anticipated, probably-should-be-described-as-culinary-events-of-the-century-or-something new bars & restaurants slated to hit the Hub this Fall. Check 'em out: Name: Frost Ice Bar Opening In: Late August/Early September Why You Should Care: Uhhh… because it's made out of ice? Hello?? No, seriously -- "the entire surroundings" of this first-in-New-England bar located above the American Eagle (!!) at Faneuil Hall, "from the walls and bar, to the furniture and drink glasses, are constructed of ice". The temperature's consistently kept at a balmy 21 degrees, all of the time, and you'll need a ticket to get in. Although, thankfully, loaner hooded capes and gloves are included in the price of admission.
Recommended Video
Winter Starbucks Beverages Around The World
Name: The Kirkland Tap & Trotter
Opening In: Early September
Why You Should Care: Well first, because someone's finally (and thankfully!) overhauling the vacant eyesore that was the Kirkland Cafe. And second, because that someone is the award-winning chef from Craigie on Main, Tony Maws, who intends to anchor his 115-seat sophomore spot (a neighborhood gastropub in the English mold) around a large wood-fired grill, serve spice-crusted chicken wings/grilled red chili salmon head/sardines, and pour a healthy lineup of beer and craft cocktails from a 12-seat bar flanked by high-tops.
Name: Sarma
Opening In: September
Why You Should Care: Because you love Ana Sortun's Turkish-influenced Cambridge spot, Oleana, and her Middle Eastern bakery, Sofra, and this is her new spot, having teamed up with Oleana chef de cuisine Cassie Piuma. Slightly off the beaten path in the old Paddock space in Winter Hill, Sarma's a 113-seat mezze restaurant peddling family-style Mediterranean-/Middle Eastern-inspired small plates washed down by cocktails from their full bar.
Name: State Park
Opening In: September
Why You Should Care: Tabletop shuffleboard. And pinball. They may have them both, according to early reports. This 140-seat second offering from the team at right-around-the-corner Hungry Mother is taking over the former Think Tank space in Kendall and promising a more laid-back, late-night vibe, where they'll sling similar Southern-influenced fare like pulled pork and fried chicken, but with a bigger bar, jukebox, and a 48-seat outdoor patio.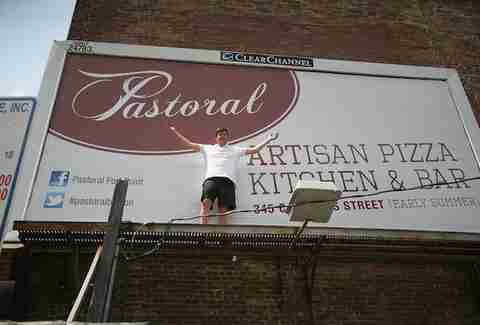 Name: Pastoral
Opening In: September
Why You Should Care: Boasting a rustic-meets-industrial interior highlighted by a 6000lb stone wood-fired oven and communal farm tables made of reclaimed barnwood, this impending Ft. Point "artisan pizza kitchen & bar" from Chef (and certified professional pizzaiolo) Todd Winer will specialize in, wait for it… Neapolitan pies (surprise!) and housemade pastas accompanied by craft suds, Italian wines, and creative cocktails.

Name: Beat Hotel
Opening In: September
Why You Should Care: Billed as "an exciting, modern, Bohemian, hippie eatery", this funky, 328-seat, brunch-through-late-night brasserie (originally named Liberal Servings) from the folks behind South End's Beehive is channeling its inner Burroughs and bringing jazz, poetry readings, and locally sourced sustenance to the former Tannery space below the Gap.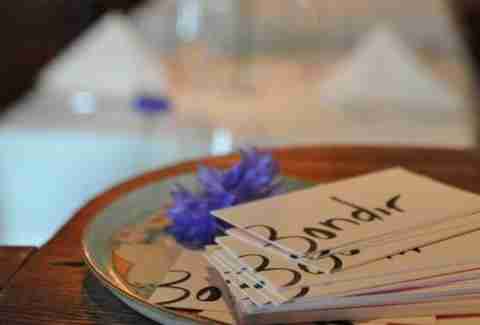 Name: Bondir Concord
Opening In: October
Why You Should Care: As head of by far one of the most acclaimed restaurants to open in recent Hub history, Jason Bond's bringing a second outpost of his popular (though small, at nine tables) Area IV spot, Bondir, to the 'burbs, opening a similarly menu'd 100-seater complete w/ fireplace and patio in the former Walden Grille. Now you might finally be able to get a reservation. Maybe.
Name: Commonwealth
Opening In: Early November
Why You Should Care: With a Hub outpost of his popular Jewish BBQ joint Steinbones on hold, former Fenway Park Executive Chef Steve Postal is concentrating on his massive Kendall Square hybrid, a half-artisan-grocer and half-farm-to-table, family-style restaurant peddling local meat and fish, and even a raw bar.

Name: Alden & Harlow
Opening In: November
Why You Should Care: Stepping into the space left vacant when long-time Harvard institution Casablanca shuttered last year, this open-late-night, 191-seat solo venture from former Russell House Tavern/Temple Bar chef Michael Scelfo is named for the original 1890 architects who designed the historic Brattle Building and intends to focus the menu on shareables, like sweet corn & dill pancakes w/ popcorn & buttermilk cream and grilled carrots w/ yogurt, spicy honey & pistachio granola. Even better: Scelfo's keeping Casablanca's old smoker and plans to put it to good use -- think wood-smoked short ribs.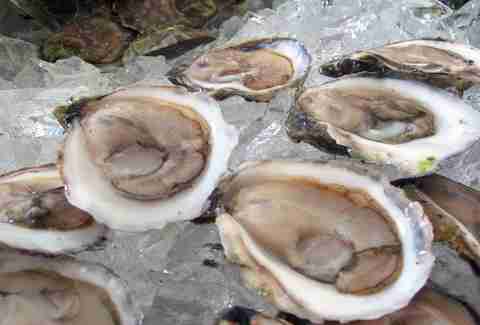 Name: Row 34
Opening In: November
Why You Should Care: Named for a section of their Duxbury Bay oyster farm (apparently the beds & rows are numbered), this sibling spot from the bivalve specialists at Kenmore's hugely successful Island Creek Oyster Bar plans to be more casual, rolling with a seasonal menu that includes lobster rolls and fried clams.