Editor's Note:
At Thrillist, we know success takes a lot of different forms. Whether that's achieving a personal goal, or turning a passion into paying the rent, everyone has obstacles to overcome. That's why we've partnered with Sam Adams to create "The Driven." Featuring men and women from all over the US who are a part of Sam Adams' Brewing the American Dream program, we're telling the stories of business owners who knew what they wanted and did everything they could to achieve it. These are their journeys.
To learn more about Brewing the American Dream, click here
Five years ago, Cassandria Campbell noticed there were a lot of fast casual restaurants focused on quick, healthy, real food popping up in Boston. What she also noticed was that those places weren't popping up in the low income and underserved neighborhoods where she grew up and lived. The options for on-the-go food in those neighborhoods were just fast food joints and corner stores. It was time for a change.
Campbell figured that food trucks, new to Boston at the time, would be a great way to get healthy, real food to everyone, no matter their zip code or income level. She approached Jackson Renshaw, a former colleague from The Food Project, a nonprofit that works to create personal and social change through sustainable agriculture, with her idea and asked him to be her partner. He immediately agreed. And so Fresh Food Generation was born.
"HOW HARD COULD IT BE?"
Campbell and Renshaw both started at The Food Project as teens, quickly realizing that it's easiest to feed people when you can actually grow the food. Renshaw studied sustainable agriculture at the University of Vermont and worked on organic farms, but quickly realized that while the food he was helping to grow was being produced in a way that was beneficial and healthy for the land, the farmers, and the stewardship, it was going to high-dollar establishments, skipping over the people who lived nearby.
That was frustrating for Renshaw, who believes that food is only truly rewarding when everyone is eating it. So when Campbell reached out to him about the idea of creating a food truck that would get healthy, affordable, locally sourced food into the mouths of the community, he said, "Sure! How hard could it be?"
Turns out: a little harder than they thought.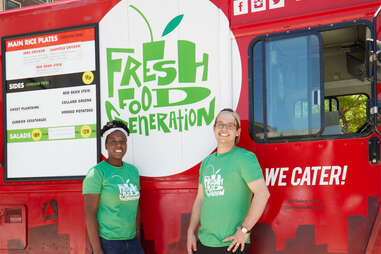 THE SEARCH FOR FINANCING
Campbell and Renshaw knew their idea of a food truck that would address the geographic and economic barriers of food access was a good one. The challenge was convincing investors to take a chance on two 20-somethings who wanted to deliver farm-to-plate food in low-income neighborhoods.
To overcome the lack of initial financial support, they entered pitch competitions, created a Kickstarter campaign, and applied for small loans. They managed to not just stay afloat, but expand. And along the way, they've also managed to find investors who believe in their work, so that they can continue to grow.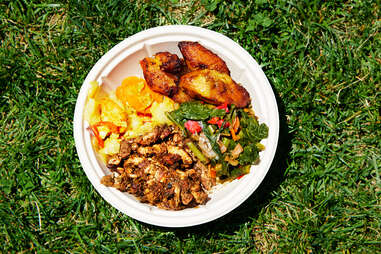 FROM INVENTION TO INTENTION
Campbell and Renshaw raised $54,000 through their Kickstarter campaign, and, along with a loan through the Brewing The American Dream Program, were able to purchase equipment and build out their food truck that launched in Boston's Roxbury neighborhood in 2015. The truck, which concentrated on seasonal dishes inspired by Latin American and Caribbean cuisine, like jerk chicken and red bean stew quickly gained followers, and also presented them with opportunities to cater events for nonprofit organizations that care about community, health, and nutrition.
Those relationships opened the door for them to start a café at the Dot House Health Center in Dorchester, which they took over from a vendor who was serving hot dogs, soda, and cake for breakfast. "Half of the building was excited about it, but the other half wanted to know why we stopped selling [soda]," Campbell says. Now, Campbell says, the kale salad is one of the cafe's best sellers with the chipotle chicken quesadilla coming in at a close second.
That wasn't the only change they made. "We also switched gears to focus on catering since that's year-round and allows us to serve more people than the truck or café," Campbell says, detailing the Caribbean-inspired menu they take downtown for catered events. Fresh Food Generation balances its corporate customers with places like the Boys and Girls Club and the Peace Institute. "Catering has been a win-win," Campbell says. "It's given us the income to make sure we can continue to support local farmers and to work towards making sure our employees are being paid a living wage and have the benefits they need for their families to live comfortably in Boston."
And while the plan for Fresh Food Generation wasn't always to focus on catering or add a café, Campbell is happy with the evolution. "Early on, we had a mentor who said not to fall in love with the invention, but to fall in love with the intention," she explains. "The invention was the truck, but our intention was to feed people, so we shifted our business model in a way that allows us to reach the most people."
This isn't just a huge win for Fresh Food Generation, however. It's also meant a lot to the local farmers who sell them the produce they grow.
FIGHTING THE SAME FIGHT
The Fresh Food Generation works with lots of different farmers in the greater Boston area, two of which are headed by nonprofits: Their alma mater The Food Project, and The Urban Farming Institute, which provides farmer training, transforms vacant lots into urban farms, and creates green-collar jobs. "The Urban Farming Institute started around the same time as we did," Renshaw says. "So it's been fun to grow together."
Tristam Keefe, the Farm Enterprise Manager at The Urban Farming Institute, echoes those sentiments. "We wanted to work with them and support them as an organization because we admire what they're doing," Keefe says. "Their mission aligns with our own. To have a local business fighting the same fight that we are means a lot, so we're going to support them as much as we can."
Like Campbell, Keefe grew up in a Boston neighborhood with limited food access, so he appreciates that Fresh Food Generation is providing good food and jobs for people in those places. "The fact that the people who are remaking this place have roots here, are doing it with the people who are from here, and are making sure that the changes are positive and fair for everyone in the neighborhood is a really good thing."
Sutton Kiplinger, Regional Director of the Greater Boston Area at The Food Project, agrees.
"We believe that the people who live in the place are the ones who know what it means best to thrive," she says. "Cassandria and Jackson are incredible alumni and an inspiring example to the young people we employ."
The Food Project started selling their produce wholesale a few years ago as a way to get more fresh food into resident-owned businesses in the lower income communities. Fresh Food Generation was one of The Food Projects first wholesale customers. "I remember driving the delivery to them that first day and feeling like something was coming full circle," she says. "Jackson and Cassandria are so committed to doing right by their customers, their employees, and the larger community that they're a part of. They are the kind of business owners every community needs and deserves."
Campbell and Renshaw created Fresh Food Generation to help fix a broken food system. Now, with the help of some dedicated urban farmers, a team of passionate employees, and some really tasty jerk chicken, they're well on their way to doing just that.