5 Spring menus you'll want to devour
Boston Springtime signals many things here in The Hub, like less snow, Bruins playoffs, and more daylight hours (for more day drinking!). It's also the beginning of the busy season for New England farms flush with seasonal goodness waiting to be eaten. By you. And Boston-area restaurants badly want to help make that happen. Here are five great spots to taste the season:
Prezza (info and address)
North End
Prezza's Executive Chef Anthony Caturano combines Italian comfort food with fresh (not like, back-talking) New England ingredients. For apps, try the baked WiAnno oysters with radicchio, scallion, and mascarpone or the red wine-braised short rib with spaetzle and horseradish cream. After that, ease into the handmade potato gnocchi with lobster, amaro cream, tarragon, bacon (!), and crushed hazelnuts -- or the braised lamb shank with chickpeas, roasted root vegetables, watercress, and feta cheese.

Continue Reading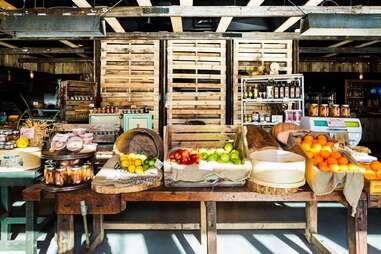 Commonwealth (info and address)
Cambridge
Chef/owner Nookie (best name EVER) is surrounded by locally sourced sustenance at his restaurant/market mash-up. Spring menu additions include Equinox Farm greens (watermelon radish, asparagus, farro), grilled flatbread (pork sausage, ricotta, ramps, pesto), New Bedford scallops, Rose Finn fingerlings, and sweet pea risotto cakes. Bonus news: Commonwealth's 96-seat patio (with views of Broad Canal) will be opening soon (May-ish), and the full menu will be available out there. Stay tuned.
Poe's Kitchen at The Rattlesnake (info and address)
Back Bay
Poe's Kitchen at The Rattlesnake takes New England ingredients and heads South of the border with unique selections from Chef Brian Poe. Go for the Hop-Dusted Shrimp (chili chilled shrimp, grapefruit, mint, romaine), Pork Belly (serrano chile cilantro sauce, salt pork tomato confit, spicy vinegar), Lobster & Avocado Tostada (black pepper lavendar crema, avocado crema, balsamic reduction, flour tortilla), or Antelope Tacos (duck fat-infused, ground antelope, smoked fresnos, Chihuahua cheese, jalapeño, bacon ranch, fried corn tortillas). Note: "lobstah tostada" is fun to say.


Pier 6 (info and address)
Charlestown
Ogle the sweet waterfront views while you enjoy the latest from Greg Reeves (Green Street Grill, B&G Oysters). Start light with the shrimp ceviche (fresh avocado, grilled pineapple salsa, fried tortilla), indulge in the Pier 6 Short Ribs (green papaya slaw, hoisin barbecue sauce), and then catch (!) grilled swordfish (quinoa salad, sugar snap peas, mint yogurt). Top all that off with some rhubarb shortcake (mascarpone mousse, toasted coconut) and/or the cheesecake brownie (coffee anglaise and whipped cream).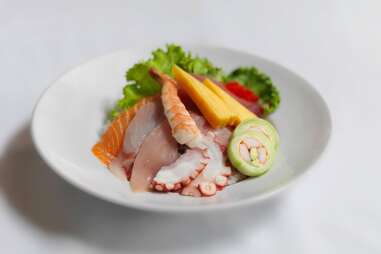 Haru (info and address)
Back Bay
Haru, which literally means "Spring" in Japanese, honors their namesake with seasonal tastes such as edamame dumplings (shiitake mushroom and spicy pepper broth) and their carpaccio (thinly sliced yellowtail, escolar, or white tuna, light citrus dressing). When you're ready for sushi, try the Strawberry Fin (crunchy, spicy yellowtail, jalapeño peppers, and mango topped with scallops, wasabi tobiko, fresh strawberries) and the Perfect Fantasy Roll (avocado-wrapped shrimp tempura, asparagus, spicy mayo).