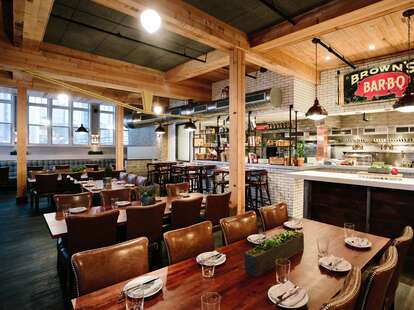 As the late-night hours approach, so do the munchies, and sometimes a dirty-water street dog just won't cut it (sorry, street dogs, we still love you). When you're craving novel noshes, Alden & Harlow's recently launched late-night menu is there for you with a mix of refined bar snacks and entrées from 11pm to close. Here are six must-try treats for the nocturnal.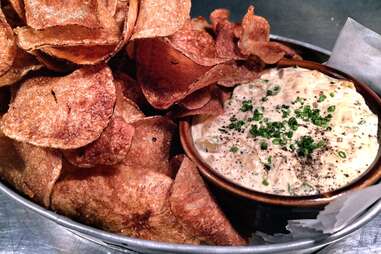 Chips & Three Onion Dip
The instructions for this one are easy: take one perfectly seasoned, golden-brown, house-made chip and dunk it in the zesty, melt-in-your-mouth, onion-y goodness. Experience euphoria. Repeat until it's all devoured. Never again will you settle for one-onion dips! Plus, you can get two more items from the Snacks section and score a three-for-$15 deal.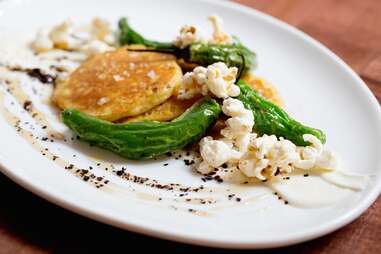 Pickled Verrill Farm Corn Pancakes
This main-menu mainstay absolutely needed to be on the late-night slate, and you absolutely need several orders for the table, or just yourself. The softness and sweetness of buttermilk and maple balance the salty crunch of the popcorn along with the mild smokiness of Shishito peppers.
Crispy Berkshire Pork Belly
All other pig-centric dishes on Planet Earth aspire to be A&H's Crispy Berkshire Pork Belly. This celebration of swine is a party from the crunchy skin on the top to the velvety fat on the bottom. Roasted apples ride shotgun and the whole thing sits on a bed of Anson Mills grits, handmade from organic heirloom grains.
Pork & Smoked Olive Meatballs
Once you pop Pork & Smoked Olive Meatballs, you can't stop. A new addition to Chef Scelfo's arsenal, these babies are covered in rich tomato-braised tripe and bianco sardo, a sheep's-milk pecorino aged in a reed basket. You know, for Old World charm and flavor.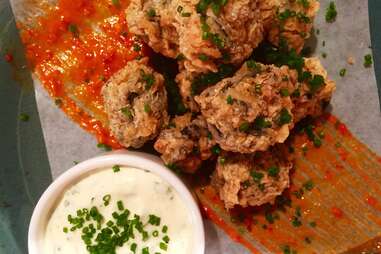 Popcorn Snails
Just when you thought you'd seen it all, here comes juicy, delicate escargot wrapped in a crunchy shell. The snails are perched on a Calabrian chili-oil base and come with parsley & ranch dip.
Stinky Grilled Cheese
There's no better way to top off your epic night out than with a satisfying grilled cheese sammy. Smoked wild mushrooms, tender shoulder ham, and very aromatic (the PC term for "stinky") Taleggio cheese meld together to give this oozy wonder its mojo. Match that up with the Cocktail of the Week and you can declare yourself the winner of late night.
Sign up here for our daily Boston email and be the first to get all the food/drink/fun the Hub has to offer.