By Jacqueline Dole
By Jacqueline Dole
Inspired by the "hippie and beat movements" of the '60s (and named for a run-down hotel in Paris' Latin Quarter), Beat Hotel's a funky, throwback sister spot to the South End's popular Beehive that's tucked under the Gap in the former Tannery and boasts eclectic vittles, wine on tap, and live jazz nightly.
So, welcome to the Beat Hotel. This is their giant hanging goat.
And to think, you uses to come down here to look for the latest in Canada Goose. Now you can admire the whittled wooden bird sitting atop this handsome hand-carved desk as you check in with the hostess and spy the lineup of performers on the chalkboard marquee.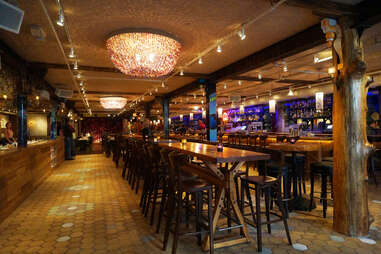 Soak up the space in all of its eccentric bohemian beauty as you make your way past the communal high-tops and grab one of 18 seats at the neon peace sign-adorned bar.
In addition to an astounding 24 (!!) small-batch wines on tap, Beat's also pouring six draught beers, including Pretty Things Fluffy White Rabbit and Grateful Ale, and a well-heeled assemblage of cocktails, like this American Breed, a Fall favorite mixed with bourbon, Somerville-made St. Elder elderflower liqueur and apple cider.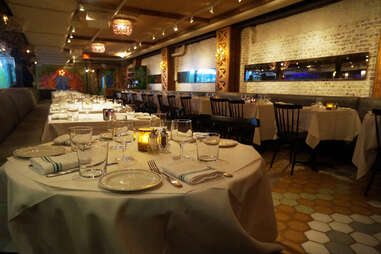 With 360 seats spread about the subterranean space, feel free to pick your vibe. White tablecloth'd banquettes, perhaps?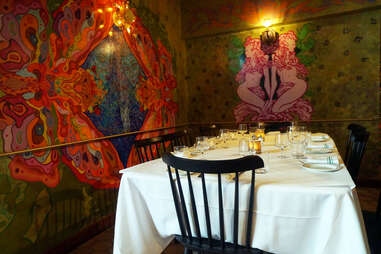 Or maybe white tablecloths plus psychedelic murals and funky wall art?
Either way, get re-settled with this gin and soursop nectar fresca before perusing the menu, which includes everything from an apple- and bacon-stuffed rack of pork and swordfish tacos to...
… a raw bar, duck breast with corn pudding, and this signature "Earth Bowl", a selection of "super natural" vegetables topped with your choice of skirt steak or wild salmon, among other meats.
Finally, as Beat's all about live tunes and the spoken word, briefly pause from your long-winded monologue about how Naked Lunch was originally banned in Boston and turn your attention to this somewhat-intimidating piece of art and the stage that it flanks.