Photo courtesy of Island Creek Oyster Bar
Over the past couple of years, America has fallen hard for one great New England classic: the lobster roll. And who can blame them? The best lobster rolls greet you with blushing claw meat spilling over the side of a toasted, buttery bun, and break apart under the weight of their own largesse. But another seafood specialty just as dear to New Englanders seems to mystify the rest of the country: the humble fried clam.
Both are iconic of the region. Both star ingredients harvested by some of the hardest-working people in the world, and that are crucial to our local fishing economy. The thing is, freshness isn't just important to both of them: It's their defining feature. If you haven't had a lobster roll here, you haven't had a lobster roll. And our fried clams are a whole different species -- literally.
New England is where these two items were born. It's at the core of our identity.
We can actually trace fried clams' origin to a specific street corner on a specific summer day. On July 3rd, 1916, in a small town about an hour north of Boston, concession stand owner Chubby Woodman took a friend's suggestion and fried a local soft-shelled clam in the oil he normally used for making potato chips. Chubby sold the first batch of this invention the very next day. It proved so popular that it not only supported his business for a century, but spawned a host of competitors, and planted the fried clam firmly in the lexicon of New England food.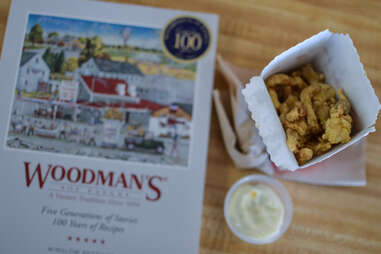 When Chubby was perfecting his fried clam recipe, lobster was just beginning to crawl its way from prison food to pricey dinner. Lobsters were so abundant and cheap in America's early days that even the poorest populations tired of them. Indentured servants revolted until a hard limit on weekly lobster dinners was written into their contracts (three, if you're wondering). But the growth of the railroads brought this coastal "junk" food to inland populations who knew a good thing when they tasted it. Chefs discovered it was way better when cooked live... and suddenly the lobster's star was on the rise.
The lobster roll's origin story is murky, though. One account places it in Connecticut in the 1930s, another in Maine in 1915, and simply tossing cold lobster with a creamy dressing has been around longer than that. But why has this treat achieved ubiquity, while fried clams remain relatively hard to find?
When you see the less expensive "clam strips" on a menu, you're actually getting a different species altogether.
One answer comes from Jeremy Sewall, a devoted champion of New England seafood (chef/owner of Island Creek Oyster Bar in Boston and Burlington, and Row 34 in Boston and Portsmouth, New Hampshire). He says lobster is more versatile than soft-shelled clams, giving a kitchen more menu flexibility, and it's also more readily available. But Sewall says that for him, including both on his menu was never a question. "New England is where these two items were born. It's at the core of our identity."
Woodman's has built a small empire on that identity. Today, it comprises restaurant, raw bar, ice cream stand, and event space, though it's still a family shop. When I ask co-CEO Stephen Woodman how old he was when he started helping out at the restaurant, he laughs. "I really don't know. 10?" Now, he's a trim, silver-haired businessman whose son maneuvers behind us on an errand to the bar. "He takes after my grandfather," Woodman says, smiling after him.
Woodman's backs onto the tidal Essex River. At low tide, the air smells strongly of salt marsh. The briny mud sucking at my boots is home to the small soft-shelled mollusks colloquially known as Ipswich clams (so called for the town and river that made them famous, just a few minutes north of Essex). Essex and Ipswich form the base of Cape Ann, a small spit of land about an hour north of Boston and the epicenter of Massachusetts' fishing industry.
Ipswich clams remain an important component of the local economy, but Woodman notes that at one time, shipbuilding was the lifeblood of Cape Ann. It was only the poor who scavenged these mudflats for the food hiding beneath the surface; clamming is only fun when it's recreational. "It's incredibly hard work," Woodman says. "I admire what these guys do. The fishermen, the diggers. We try to honor that work every day. They keep this region going."
The industry is strong, but the clam harvest is a far cry from what it used to be. The clam-digging record in 1923 was eight bushels per tide. In 2002, during the worst of a predatory green crab invasion, diggers were struggling to get half a bushel per tide. To meet demand, restaurants supplement the local supply with soft-shelled clams from around New England (most often Maine), the mid-Atlantic, and on rare occasions, even the West Coast.
Yet Ipswich clams continue to be the gold standard for regional chefs. This is, in part, simply a matter of place. As with any natural food, where the clam lives (and what it lives on) determines the nuances of its flavor. But mostly, when it comes to clams, freshness isn't an ideal of the farm-to-table movement, it's a definite science. The proteins of the clam begin to break down quickly, so storing them long is relatively disastrous. As Boston native Howard Johnson discovered when he tried to take the fried clam national, you simply can't freeze the Ipswich clam. Doing so destroys its water-heavy cell structure and turns the mouthfeel to mush. (This is why the chain used clam strips for its "tendersweet" clams; more on that in a minute.) Digging these clams, processing them, and serving them up all within the same few square miles provides the peak experience.
Quality sourcing is critical for the fragile clam, Sewall says, but he points out that lobster requires a keen eye as well: "Everyone gets live lobster; not everyone gets fresh lobster." With both personal and professional roots in Maine (the veritable holy land of lobster) and a career built on showcasing New England seafood, he knows whereof he speaks. A lobster's flavor and texture become noticeably less succulent when it's been in containment for as little as two days. So if you're eating lobster more than an hour or two from the New England coast, then we hate to break it to you... but you've never really eaten a lobster that tastes the way a lobster should really taste. Truly fresh lobster, with pristinely tender flesh and a rich sweetness that beggars description, is simply a local delight.
In order to highlight the lobster itself, Sewall prepares his lobster rolls with what could be described as simplicity luxe. "It's pretty much how my grandma used to make it," he says. "Every New England grandmother has a lobster roll recipe -- there's not one right way to do it." His grandmother put chopped dill pickle in hers, which gives it a bit of crunch and a "subtle floral note," highlighted today by the chef's one modern twist -- a bit of creme fraiche.
Woodman's lobster rolls, by contrast, are about as stripped down as it gets. "We don't put in celery salt, we don't put in celery, we don't use lettuce… it's fresh lobster meat with just a little bit of mayonnaise. That's it. Who wants all those fillers in there? You want lobster!"
Lobster rolls are fairly forgiving, as long as the star ingredient is treated properly. On the other end of the spectrum, fried clams are incredibly challenging to do right. Not all restaurants can support a dedicated fry station, and good frying is more of an art than folks often give it credit for.
Cape Ann native Keith Pooler (chef/owner of Bergamot in Somerville and BISq in Cambridge) learned this lesson during a stint in his youth as a seafood fry cook. Having worked his way through a number of world-class kitchens, including those of Boston's legendary Lydia Shire, Pooler has never lost his respect for the fry cook: "The most terrifying words you can to say to a cook are 'fisherman's platter,'" he says, only half-joking. The skill it takes to juggle the appropriate fry times and temperatures for the different items, including the delicate Ipswich clams, takes time to acquire. But there's no time like the present to learn: Check out Pooler's how-to video for frying clams at home.
You simply can't freeze the Ipswich clam.
When done right, a fried clam is lightly crunchy on the outside and toothsome-tender inside. Ipswich clams have a fresh, sweet taste balanced by a subtle brininess. They're not cheap; a pint can run you over $20 these days. So when you see the less expensive "clam strips" on a menu, you're actually getting a different species altogether. The strips are cut from deep-water, hard-shelled clams, fried up with a dense, chewy texture, and tend to be brinier than their soft-shelled -- or "whole belly" -- counterparts.
Fried clam recipes have three steps: first, soaking the clams in dairy, usually evaporated milk or buttermilk; next, tossing them in a seasoned coating that's either all cornmeal or a cornmeal-flour blend; and finally, a lightning-quick fry. Which frying oil yields the perfect fried clam is hotly contested. Woodman's swears by lard, while competitor J.T. Farnham's prefers a blend of lard and shortening. Fortunately, everyone agrees that the most important thing is keeping the oil fresh with frequent changes.
You might think the James Beard-nominated Sewall would take some wildly different approach to the fried clam… but no. His goal is to highlight the Ipswich clam's unique flavor and pay homage to its history. His method varies a bit from North Shore stanchions like Woodman's and J.T. Farnham's by calling for some regular flour in the breading, which gives a lighter texture and color, and a touch of paprika and cayenne. "The clams have such a delicate flavor; you don't want to overwhelm it."
If you've been eating lobster more than an hour or two from the New England coast, then we hate to break it to you... but you've never really eaten a lobster.
Woodman's still uses the recipe Chubby developed 100 years ago. It calls for evaporated milk, 100% cornmeal, and 100% lard for frying. This recipe happens to be naturally gluten-free, a fact not lost on Woodman's trend-savvy marketers. The restaurant even does a dairy-free version on request by using coconut milk for the soak. Its goal is to give the people what they want, after all. "This is where you come to get fried clams," Woodman says simply, with a gesture that takes in not just his family's century-old business but the river beyond us.
North Atlantic shellfish beds supply raw bars around the country. The ubiquity of the lobster roll needs no more proof than a summertime McDonald's menu. But it takes a visit to this ocean-washed corner of the country to understand that what you've had elsewhere is only an homage to the authentic experience. Craving the perfect messy mouthful of burstingly rich lobster roll, or the fleeting, salty-sweet taste of a true fried clam? Sorry, rest of the world. You'll have to come to us.
Sign up here for our daily Boston email and be the first to get all the food/drink/fun the Hub has to offer.