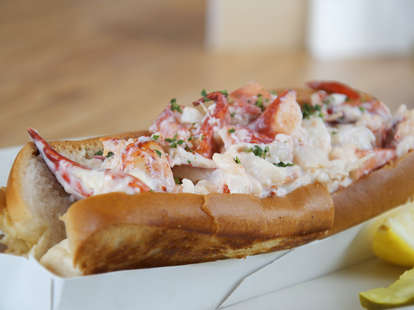 Robert's Maine Grill
Robert's Maine Grill
Like chowder, lobster rolls are the culinary pride of New England. And rightfully so, because they're delicious. Seriously, what's better on a summer day than sipping a cold one and chowing down on a bun piled high with lobster salad? Answer: seriously nothing. Stop looking for other answers.
But what makes a great lobster roll? And, more importantly, where can you find the best of the best? With so many worthy candidates in the Northeast, we enlisted a distinguished panel of experts to help us out. Local chefs, restaurateurs, and food bloggers nominated their top 10 for our lobster roll pantheon, and we assigned points to their picks (10 for first, nine for second, and so on). Our "crustacean congress" voted, and here are the tasty results.
Essex, MA
Part of a three-­way tie for #7, Woodman's lobster roll combines generous portions of meat with the perfect amount of mayo. It's all about balance, like how the hefty pile of lobster is carefully balanced on that buttery toasted hot dog bun. It's served with chips and, if you grew up in New England, a dash of nostalgia. As Chef Jeremy Sewall notes, "It really completes any summer day." True that.
Kittery, ME
Robert's Maine Grill's lobster rolls are a one-­two punch to the taste buds: either hot buttered or with mayo. Yes, please. The buttered version is pure decadence with tail, knuckle, and claw meat weighing down the giant toasted bun. The mayo option gets a boost from their signature secret seasoning and lemon juice. According to Chef Brian Poe, "(Robert's Maine Grill) is the perfect place to snuggle up to a Maine beer and a lobster roll while the family insists on invading the outlet stores. You shop, I'll eat." Good plan.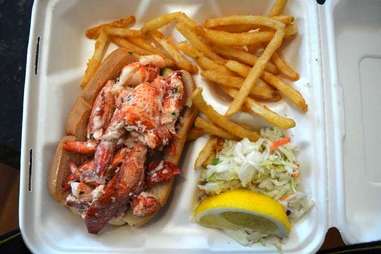 Boston, MA
This internationally known fish market makes a locally beloved lobster roll that you need to eat. Soon. Light mayo and tarragon complement the claw/knuckle meat and griddled bun, and for a slight variation, order the lobster club -- it's got bacon in the mix. (Bacon + lobster + you = happiness.) Food blogger Fiona Coxe puts the entire scene in perspective: "Like being on vacation in the middle of the city, Yankee Lobster offers that island vibe, a stuffed lobster roll, and beer­ -- 'cause everything is better with beer."
Cambridge, MA
Even though plenty of locals know about Alive & Kicking's lobster salad sandwiches (not rolls!), those beauties still feel like a well­-guarded secret. This no­-frills Cambridgeport nook keeps its "roll" equally no­-frills with just light mayo, salt, and pepper for seasoning, while two pieces of toasted scali tie the whole room together. Restaurateur Beau Sturm reflects, "It's simple and delicious, served on buttered scali bread and barely dressed in mayo. The people who run the place are so nice, and the food is just as great as the people."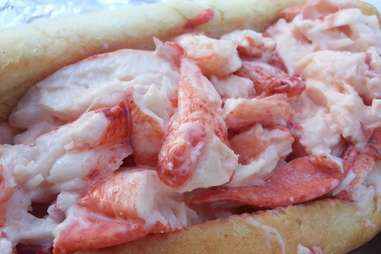 Boston, MA
A sunny stroll along the waterfront should always include a stop at James Hook for their award­-winning lobster roll. Always. It's a basic set-up (light mayo, celery, toasted roll), but one that allows the straight-from­-the-ocean lobster meat to take center stage. And it's a showstopper. For cookbook author Dan Whalen, Hook's roll is tops: "Fresh lobster, light mayo, buttered toasted roll, and that's it. Amazing big chunks of really fresh meat. Also, it's affordable." ($15 for a small, $18 for a large.)
Winthrop, MA
Worth every second of that Blue Line/712 bus ride to Winthrop, Belle Isle Seafood's rolls feature a half­-pound of day-boat lobster meat heaped onto crisp iceberg lettuce and nestled in a grilled split-­top hot dog bun. Special bonuses: the ocean views and the fries (both included with the roll) also rock the house. Chef Anthony Caturano explains his pick: "This spot is on the water and offers a great roll, cooked to order. They also have a nice seafood market."
Portland, ME
Eventide dresses its lobster three ways, but it's the brown butter vinaigrette version that has fans lining up to chow down. This buttery, non-­traditional approach includes a little sea salt, some fresh-squeezed lemon juice, and a steamed house-made bao bun for a one­-of-­a-­kind flavor combo. (For the record, the other two styles are house mayo and hollandaise.) Restaurateur Brian Piccini says, "This is a lobster roll unlike any other and is perfectly sized. The brown butter makes it so unique and different." Industry vet Tyler Titherington adds, "I could easily eat 10 of them in one sitting." So there's that.
Kittery, ME
It should come as no surprise that Bob's lobster roll scored high on our experts' lists. You know, because it's awesome. And it's been around for 60 years! Bob's roll can be ordered hot (with butter) or cold (with mayo) on grilled bread, but according to restaurateur Garrett Harker, "no matter which way you prefer, you're sure to taste the sweet/salty brine of the Atlantic in every bite." Like all great lobster rolls, Bob's minimizes the mayo to maximize the lobster goodness.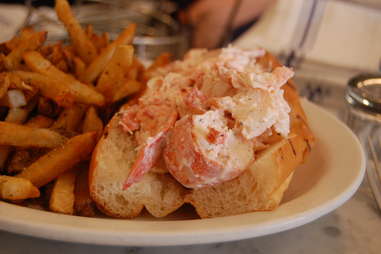 Boston, MA
Nine out of our 10 experts agree that Neptune's Maine lobster roll reigns supreme. Sixty-three accumulated points, people. Like #2 Bob's, you can go hot (butter) or cold (mayo), but everyone prefers the butter bath preparation. From the toasted brioche bun to the colossal proportions of tail, claw, and knuckle, this is pure lobster roll indulgence. Chef Dante de Magistris muses, "I know everyone loves this roll, but it really does live up to the hype."
Honorable Mentions: Red's Eats (Wiscasset, ME), The Lobster Pool (Rockport, MA), The Canteen (Provincetown, MA), and Footbridge Lobster (Ogunquit, ME).

Our panel
Anthony Caturano, Prezza: Revere native Anthony Caturano is chef/owner of the North End's Prezza, known for its elevated Italian comfort food. When he's not in the kitchen, you can find Chef Caturano hunting and fishing in the wilds of North America.
Fiona Coxe, A Boston Food Diary: Fiona Coxe writes the popular blog and is a wine ambassador for City Wine Tours. She also holds a Level 3 Wine & Spirit Education Trust (WSET) certification.
Garrett Harker, Eastern Standard, etc.: A life-­long seafood lover from coastal Maryland, Garrett owns Kenmore Square favorites Eastern Standard, Island Creek Oyster Bar, and The Hawthorne.
Dante de Magistris, Restaurant dante, etc.: Dante de Magistris is executive chef and co-owner (with his brothers) of Restaurant dante, il Casale Belmont, and il Casale Lexington, three outposts of fine Italian cuisine fueled by family recipes.
Brian Piccini, Boston Urban Hospitality: Along with business partner Chef Chris Coombs, Brian co­-owns Boston Urban Hospitality, the restaurant group behind the esteemed Boston Chops, Deuxave, and dbar.
Brian Poe, Poe's Kitchen, etc.: Brian Poe keeps himself busy as chef for Poe's Kitchen at The Rattlesnake, Estelle's, The Tip Tap Room, and the newly rejuvenated Bukowski Tavern in Inman Square.
Jeremy Sewall, Lineage, etc.: After many childhood summers spent in Maine, Chef/author Jeremy Sewall celebrates New England fare in his restaurants, including Lineage, ICOB, and Row 34. Jeremy and his colleagues will soon launch Row 34 in Portsmouth, NH.
Beau Sturm, Trina's Starlite Lounge, etc.: Revere Beach resident and self­-proclaimed lobster roll junkie Beau Sturm co­-owns Trina's Starlite Lounge, Parlor Sports, and Audubon Boston with Josh Childs and Jay Bellao.
Tyler Titherington, Grafton Group: Mainer Tyler Titherington is director of operations for Grafton Group, the team running Cambridge strongholds Grafton Street, Park, Russell House Tavern, and Temple Bar.
Dan Whalen, The Food in My Beard: Born and raised in Springfield, MA, Dan writes the fanatically followed recipe blog The Food in My Beard and is the author of Stuffed: The Ultimate Comfort Food Cookbook. He has been featured in two Thrillist articles... one about mac & cheese-topped French onion soup, the other about cinnamon roll stuffing.
Sign up here for our daily Boston email and be the first to get all the food/drink/fun the Hub has to offer.