Bluefish puttanesca & wild boar pappardelle in the 'bridge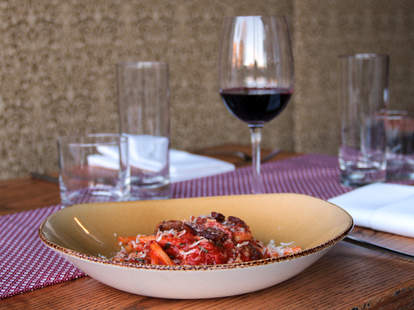 Channeling his family's ancestral tradition as Umbrian lentil farmers, former Via Matta exec chef Michael Pagliarini (and his wife!) has transformed Mass Ave's former Rafiki Bistro into an Umbrian lentil farm. Wait, no, a rustic 70-seat trattoria that boasts an Old World aesthetic and specializes in hand-cut pastas and Italian wines. Yeah, that's it.
Use your time at the bar to brush up on your Italian geography before adjourning to one of 13 tables in the warmly lit, brick & wood dining room

You'll dig this classic Negroni (gin, Campari, Punt e Mes, bitters), though you might also dig a pint of Peeper's Ale, and not just because it's kind of hilarious to say.

By night, a 10-seat reclaimed oak chef's table that peers into marble slab-topped open kitchen. By day, a bustling pasta-making station where they hand-cut six styles for the evening's dinner service.

After noshing on carne cruda crostini and prosciutto w/ heirloom apples, enjoy the fruits of all that afternoon pasta-making by taking down this traditional Roman bucatini all'amatricana w/ house-cured pancetta and pecorino.