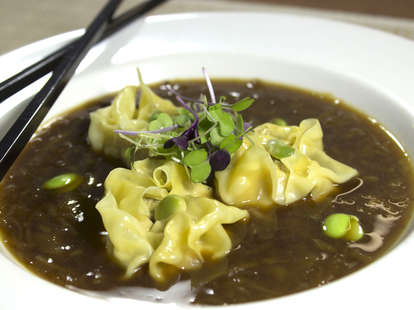 During the last 10 years, Boston has experienced the emergence of a greater variety of global cuisines than ever before. The trend stems partially from Boston chefs' diverse cultural backgrounds and interests, and partially from the demand created by increasingly sophisticated Boston diners.
We've seen chefs like Danny Bowien of Mission Chinese Food and David Chang of the Momofuku empire inundate San Francisco and New York with modern Asian fare, drawing on Japanese, Chinese, Korean, and other Asian influences. Here in Boston, chefs like Ming Tsai and Joanne Chang have also pushed forward the modern Asian culinary trend, combining world-class New England produce with new Asian flavors.
"Eighteen years ago, we opened Blue Ginger, and it was the only East-West or new-Asian restaurant around," says Ming Tsai, owner of Boston restaurants Blue Dragon and Blue Ginger. Tsai's TV show, Simply Ming, has been a fixture on PBS for more than a decade, and he's played a huge part in educating Boston's diners on exactly what modern Asian food, or "East-West fusion," as he calls it, really is. "There are a lot more Asian-style restaurants now, not only in Boston, but all over the country," Tsai says. "I see two types -- traditional Asian and, more so now, modern Asian cuisine, where chefs are creating twists on classic Asian dishes."
We decided to dig a little further into the rise of new Asian food in this city, to learn more about this developing culinary trend… and find the best examples in the city. Here's what we found by talking with some of Boston's best chefs about this exciting sea change in the Boston culinary landscape.
Chefs are finding new creative possibilities by blending traditions
"When I started working at o ya with chef Tim Cushman and his team, tasting menus consisted of many courses, and I was struck by the degree of skill, thought, and technique put into each bite of food. I was also drawn to the minimalist aesthetic of Japanese food -- it manages to look so effortlessly beautiful, yet an immense amount of skill and detail is kept hidden from sight. The 'less is more' mentality really serves to put the ingredients on a pedestal and draw attention to their natural beauty." -- Hart Lowry, executive chef of Japanese tavern Hojoko
"I cook things that I think make sense in the context of merging Asian and Western influences together, while giving the proper respect to both cuisines, and incorporating local and seasonal products. I am more open now to influences from all over Asia, while continuing to incorporate the Western techniques I have spent much of my career practicing." -- chef Phillip Tang,Banyan Bar + Refuge
"I think there's always a need to evolve, and if you're a naturally curious person, you can reach for inspiration from all different points around the globe." -- Tiffani Faison, chef and owner, Tiger Mama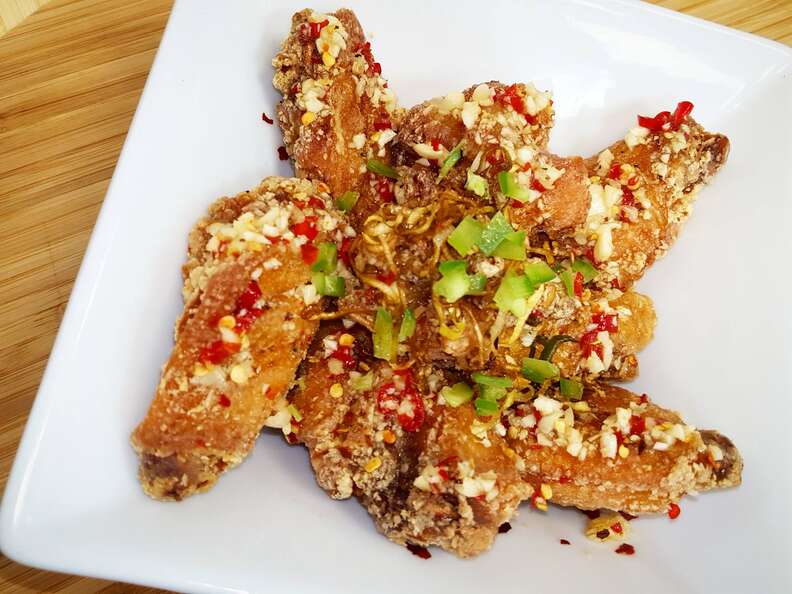 Boston diners have started branching out
"As food trends evolve, the community's acceptance and understanding of other Asian cuisine is growing. The adaptation of Asian ingredients on menus across the city is visibly more noticeable every year." -- chef Duy Tran, MONROE
"At Hojoko, people are ordering items like chicken tails, hamachi kama, and salmon fins. There is more of a willingness to try new things, and an expectation that chefs will offer them." -- Hart Lowry
"In the last 10 years, the world has gotten smaller through technology and the convenience of traveling. As a result, there's a natural bridge to finding new flavors and new chefs. Through this globalization, people's curiosities to try new ingredients and dishes are at an all-time high." -- Tiffani Faison
"Ingredients that once seemed odd or exotic are becoming more commonplace and no longer require a great deal of explanation, which allows more creative freedom for the chefs." -- Phillip Tang
There are many facets to modern Asian cuisine's draw for diners
"Asian food is conducive to large groups, whether it's tapas (like we do at Blue Dragon), traditional family-style, or dim sum. It creates a lot of interaction with each other, it's affordable, and generally -- with vegetables often being the star of the dish -- it's healthier." -- Ming Tsai
"Asian food is just so different from Western food. Its use of salty, sweet, spicy, sour, bitter, and umami, which can all be found in a single dish, is something uncommon in other cuisines. People are excited by the strong, bold flavors, and as they become better traveled, their desire for the flavors of their travels also creates a demand here at home." -- Phillip Tang
What's on the horizon...
"Many chefs will add Asian dishes to their menus, even if they're not running an Asian restaurant. That's pretty cool -- I've seen this for over 20 years, but it's happening a lot more now. I think this scene will just continue to grow. Chefs are infatuated with Asian cooking and for good reasons -- the flavors are bold, and there are always new spices, herbs, and vegetables to discover and play with in the local Asian markets." -- Joanne Chang, James Beard Award-winning chef and owner of Myers + Chang
"There's really no way to go but forward, is there? As long as people are hungry and curious, I'm sure the Asian dining scene will grow. Although the gentrification in Chinatown is disheartening, I believe Asian restaurants will make strides and make way for the next wave of innovation." -- Duy Tran
"Modern Asian will continue to expand because there are more classically trained chefs with greater exposure to Asian cuisines or, as in my case, a chef from an immigrant family raised in America with strong ties to both Asian and Western cuisines." -- Phillip Tang
"I think it's just beginning, and it's really nice to see people reaching outside classic American Chinese food. There's a bigger opportunity to understand Asia as a continent and explore different regions through food. We're starting to really delve into different countries and explore foods from more specific regions." -- Tiffani Faison
Feeling hungry? Us, too. Check out the chefs' favorite spots for modern Asian food in Boston:
"Myers + Chang: they were the first, opening in the South End almost nine years ago. To this day, the menu stays fresh, relevant, and exemplary. Also Tiger Mama, Shojo, and I'm totally excited about the new Little Donkey by Ken Oringer and Jamie Bissonnette." -- Hart Lowry
"Oishii is doing some amazing modern Japanese food. My previous sous chef, Daniel Scott, is doing great stuff at Little Big Diner, in Newton. So is Ken Oringer, with the expansion of Uni. Soon, Michael Mina will be bringing a great new Japanese restaurant to the city -- PABU -- with his sushi chef, Ken Tominaga." -- Ming Tsai
"Now, there is so much to choose from: Banyan, Little Big Diner, Blue Dragon, Uni, Tiger Mama, Hojoko, Shojo. We go to all of these places and love them." -- Joanne Chang
"Cafe Sushi in Harvard Square. Seizi Imura gives the proper respect to Japanese tradition, but there are always interesting combinations. And technically, the Middle East is part of Asia, so the restaurant I think is doing some really exciting stuff is Sarma. Cassie Piuma and her crew do amazing work over there, using local ingredients and drawing influence well beyond Middle Eastern cuisine. The layering of bold flavors and the balance of textures make for great dishes." -- Phillip Tang
Sign up here for our daily Boston email and be the first to get all the food/drink/fun the Hub has to offer.
Rachael Perry is a writer and editor living in Boston but currently dreaming of eating her way through Southeast Asia. Join her on the search for the perfect bao burger @_rachael_perry.