The Year In Fat: Boston's best fatty foods from 2013
2013 was a big year for Boston. The Red Sox won another World Series. The Bruins came awfully close to another title. The Patriots had several tight ends who did not get accused of murder. But what did YOU do, personally? Well, you probably got fatter, because of all this stuff. Behold, our favorite heavy-hitting foodstuffs that we came across in Boston this year.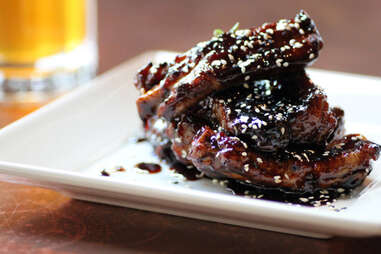 Candied Spare Ribs
Society on High, Financial District
Approximate Calorie Count: 660
You're reading this, so you probably like meat. And candy. Ergo, odds are that you would probably power through this plate of meat-candy without any trouble. Just look at them, waiting for you! The sesame seeds sprinkled on top don't count as a vegetable, do they?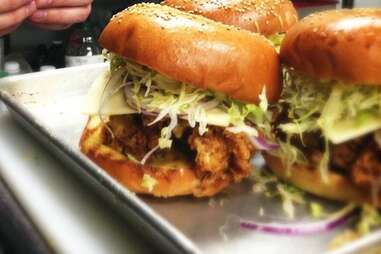 Super Cluckin' Sunday Fried Chicken Sandwich
Cutty's, Brookline Village
Approximate Calorie Count: 787
Served just one Sunday a month (and it's a good thing because you shouldn't have more than one a month), this crunchy buttermilk-fried chicken sandwich gets topped with melted cheddar and tangy honey-Dijon, and served on a buttered sesame brioche bun. They start serving at 10a and go until they run out.

The Bronut
Griddler's Burgers & Dogs, Beacon Hill
Approximate Calorie Count: 816 (1196 with fries!)
First there was the Cronut, and then there was this: a toasted hole-free donut (more for you!) loaded up with a 1/4lb Angus patty and a fried egg, then dunked in warm maple-bacon glaze, then sided with chipotle-drizzled sweet potato fries. Thankfully, it has nothing to do with your frat brother's hernia problem.

Cask Burger
Cask 'n Flagon, Fenway-Kenmore
Approximate Calorie Count: 1078 (1468 with fries!)
This thing might deserve its own World Series ring. Debuted for this season, this half-pound burger on a toasted pretzel roll is piled high with pulled pork, maple-Cajun bacon, caramelized onions, and Vermont cheddar. Oh, and a damn fried pickle, because putting a regular pickle on it would have just been kinda whatever.

Niman Ranch Foot Long
Formaggio Kitchen, Cambridge
Approximate Calorie Count: 1116
Debuted during Formaggio's Summer pop-up, this beautifully simple creation is just a half-pound, foot-long hot dog jammed into a baguette that's been lubricated with BBQ sauce and caramelized onions. Good luck wiping THAT image out of your mind. Trust us, it tastes much better going down than it felt going in.

16in Sicilian Steak Sub
Dino's Cafe, North End
Approximate Calorie Count: 1158
Any self-respecting deli will serve you a cheesesteak-style sammie (this one's got shaved steak, grilled balsamic-glazed portobello mushrooms & roasted plum tomatoes), but few delis will serve you a cheesesteak-style sammie that's on a 16in roll far too large for your standard plate. Plus, there are 14 other options, and each is only nine bucks! That's, like, very few dollars per inch! (Math.)

The U.S.S. Lobstitution
Pauli's Northend, North End
Approximate Calorie Count: 1545
This boat-size lobster roll comes on a buttered 24in roll laden with a pound-and-a-half of "prime knuckle and claw meat", judiciously adorned with just a bit of mayo and lemon -- judiciously, that is, except for the part where they assembled a two-foot freaking lobster roll.