Dave Baldwin
Dave Baldwin
In what's considered by many to be both a closely guarded secret and a mandatory weekly pilgrimage, every Saturday from 11a to 230p (rain or shine!), gourmet Cambridge grocer Formaggio Kitchen wheels a giant Weber onto their front sidewalk and creates an insane pop-up BBQ party. So, after taking the Green Line to the Red Line to the #72 bus, what should you expect? Here you go: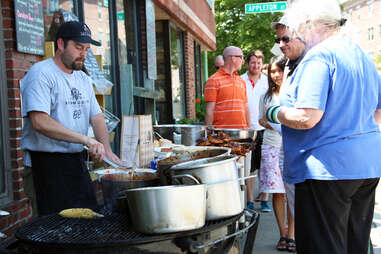 After setting your alarm for zero dark thirty, throw on a pair of your most comfortable Hush Puppies and make haste to Huron Ave to get in line. There most certainly will be a line.
As mentioned, the menu is pretty intense. Best take a few minutes to study up, as the quiz may or may not be open-book.
Maybe start with the basics -- a giant pile of grilled half-chickens? Just a thought. Remember to pace yourself, though.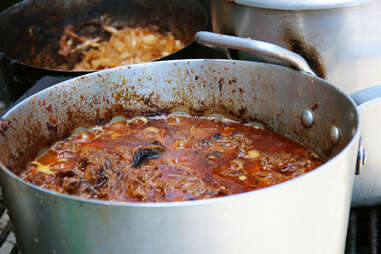 From there, smile approvingly at a series of pots filled with one of four types of pulled meat (lamb, chicken, beef, pork), which've all been slow-cooked for up to 12hrs by Teddy, the evil BBQ genius behind the entire operation.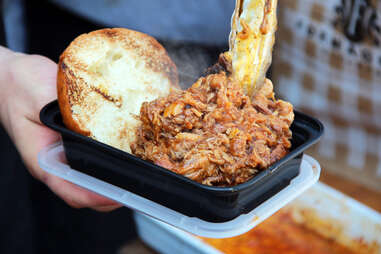 Behold, a large pulled-pork sammie on an Iggy's ciabatta roll topped with caramelized onions.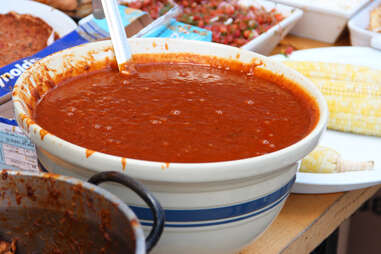 Meats are dry-rubbed with a "BBQ blend high on paprika, cumin, and cayenne for heat" on Thursday, and they get "a final saucing" before going on the grill on Saturday. The sauce is heavier "on the vinegar so it tilts a little toward North Carolina-style".
For the record, they're slinging both beef and St. Louis-style pork ribs.
Both of which can get a solid dunk in the sauce before being tossed on the grill.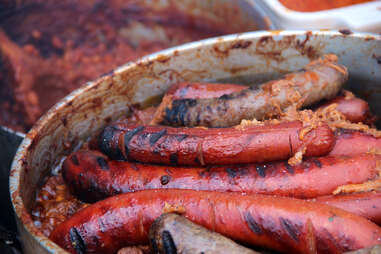 Yes, you are looking at a giant vat of sausages, Niman Ranch beef franks, and half-pound Pearl dogs. And, yup, those are baked beans in the background.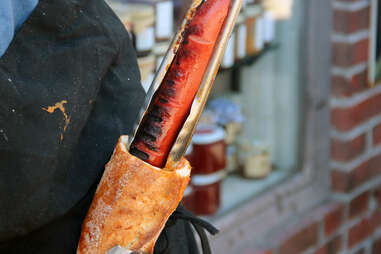 Now, here's where things get a little awkward. After filling a giant hollowed out baguette with BBQ sauce and caramelized onions, they slowly insert one of the aforementioned Pearl dogs. Slowly. It's called a Pearl-in-the-Hole. Let's just move along.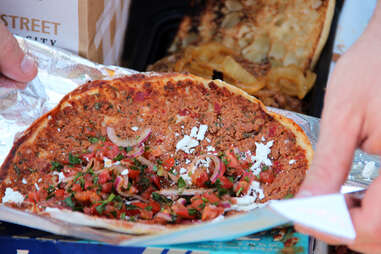 Not sure what this is? We had no idea either. It's actually an Armenian Lamejun (from Watertown!), flatbread topped with ground meat, spices, chopped red onions, and Maras pepper, among other delicacies.
Because man can, but probably shouldn't, live on meat alone, be sure to load up on sides like corn on the cob, apple-fennel slaw, cornbread, and cucumber-corn salad.
As you did just a order a foot-long sausage, don't forget the condiments.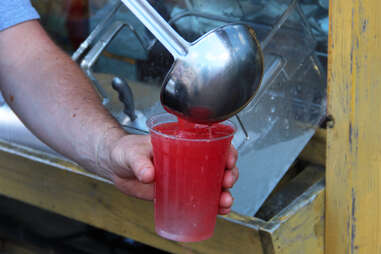 Not done yet. Don't forget to wash it all down with a refreshing glass of watermelon agua fresca…
… before snagging some dessert for the road -- in this case, mini angel food cakes topped with a scoop of fresh peaches and whipped cream.