Even though your old system of blindly stumbling around the North End until you smell some chicken Parm has served you well in the past, there is a better way to locate the perfect old-school Italian restaurant in Boston. That better way is here, in the form of this handy guide to 19 of the North End's most celebrated red-sauce slingers.
Giacomo's
The vibe: You'll know when you're close to Giacomo's because you'll be able to see the line outside stretching down the block. This no-reservations, cash-only spot is the quintessential North End experience. The chalkboard menus hanging in the tiny brick dining room offer every kind of meat/sauce/pasta combination you could dream of.
What to get: The Fra Diavolo sauce is worth whatever line you just braved.
Anything to avoid?: Don't expect to be able to sit and linger after your meal without being glared at by both the waitstaff and the line stretching in front of the windows.
Galleria Umberto
The vibe: This cash-only, lunch-only cult classic is quick, cheap, and casual.
What to get: Locals and tourists alike swear by the (nationally acclaimed!) slices of Sicilian pizza for under $2; also try the Arancini and Panzarotti.
Anything to avoid?: Showing up late -- Umberto closes their doors as soon as they are sold out.
La Famiglia Giorgios
The vibe: Specializing in enormous family-style plates, La Famiglia Giorgios won't let you leave hungry.
What to get: Chicken Marsala, Chicken Parmigiana, Chicken anything. Seriously, it's hard to go wrong here. Plus, it's one of the few spots in the area that has decent gluten-free options, and you know someone in your group will have just started that noise.
Anything to avoid?: Over ordering -- portions really are huge here.
Trattoria di Monica
The vibe: This is your standard North End spot; just small enough to make you feel like you've just discovered a great secret as you bump elbows with your fellow diners in the tight quarters.
What to get: Keep your eyes peeled for rotating specials like squid ink fettuccine.
Anything to avoid?: Irritating the waitstaff… they can make your wait for a table excruciating. If possible, avoid coming at prime times during the weekends to evade those famous lines.
Lucca
The vibe: One of the most dependable spots in the area, Lucca isn't cheap, but you're bound to have a meal you won't regret.
What to get: Dessert! While most menus are worth skimming over, Lucca has a pastry program that isn't exclusive to cannoli (but don't worry, they still have tiramisu).
Anything to avoid?: The wine list is a little pricey, so make sure to rack up your bar tab elsewhere.
Regina Pizzeria
The vibe: Open since 1926, Regina Pizzeria is a North End institution. While they may have multiple locations now, this is where it all started.
What to get: PIZZA. There are few better places to find some thin crust slices right out of the brick oven. Plus, pitchers of beer!
Anything to avoid?: Sometimes the service can be a little questionable, so don't have the highest expectations and you won't be let down. Wearing white also isn't advised… Regina has one of the greasiest slices around.
Carmen
The vibe: Slightly off the beaten path, Carmen has a cozy brick dining room that offers the potential for an actually romantic dinner setting in the North End.
What to get: For a slightly novel but nonetheless delicious meal, try the penne with apulian meatballs -- it's baked in a globe of parchment paper and opened tableside. Oh, and a bottle of somewhat reasonably priced (for the area…) wine.
Anything to avoid?: The line can get a little out of control, so if your heart is set on Carmen, make sure to call in a reservation.
Ernesto's
The vibe: Where one slice really means two! Ernesto's is a casual pizza joint with some of the most coveted pies in the city.
What to get: One of the absolute best buffalo chicken pizzas in the city.
Anything to avoid?: Save this spot for the third date or so -- nothing fancy here, just some quality slices.
Bricco
The vibe: This frequently packed, relatively upscale-ish spot offers a menu filled with most of the neighborhood standards with a slightly higher price tag.
What to get: The wild boar ragu is the standout.
Anything to avoid?: Think twice about coming here if you're on a time crunch, they have a long history of running behind with reservations.
Tresca
The vibe: An extremely accommodating and attentive front of house make you feel like an instant North End VIP, almost making up for the higher-than-average menu prices.
What to get: A drink! Tresca is one of a handful of restaurants in the area with a full liquor license.  
Anything to avoid?: The shrimp scampi is a little fishy; play it safe and stick with the meatier options.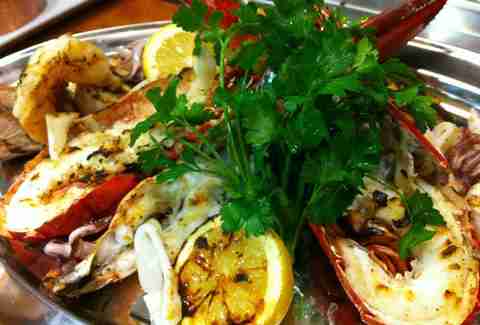 Mare
The vibe: This seafood-centric restaurant offers a relatively standard menu for the area and features one of the most extensive raw bars in the North End.
What to get: Stick with seafood, specifically the Grigliata di Pesce.
Anything to avoid?: This isn't the place to come if you're operating on a budget; a raw bar means that things can get very pricey, very quickly.
Panza
The vibe: One of the most beloved spots in the North End, Panza is famous for its friendly service, intimate atmosphere, and most importantly, phenomenal pasta.
What to get: The Linguine Alla Pescatore: scallops, mussels, shrimp, octopus, and clams drowned in a tasty and traditional Fra Diavolo sauce.
Anything to avoid?: There can be a lot of confusion and mix ups with reservations -- be safe and stick to just showing up and waiting in line.
Taranta Cucina Meridonale
The vibe: It's not every day that you come across a Peruvian-Italian joint.
What to get: Try the Paiche Amazone, an Amazonian fish prepared differently each day.
Anything to avoid?: One of the pricier spots in the area… Taranta is best to avoid if on a tight budget.
La Summa
The vibe: A bit removed from Hanover Street, La Summa is a quiet and somewhat casual spot.
What to get: Anything with their house-made pappardelle.
Anything to avoid?: Some of the seafood can be a little salty at times, but for the most part, there're no major complaints to be had.
Limoncello
The vibe: You can find a little more elbow room and one serious mural in this underrated spot. Plus, Paul Revere's old house is located right next door!
What to get: Pasta rosette: house-made pasta, truffle oil, and prosciutto.
Anything to avoid?: The portions can be a little small so be sure to compensate by filling up on one of their reasonably (for the area) priced bottles of wine.
Pomodoro
The vibe: A cozy, cash-only restaurant with a huge fan base despite the smallish menu.
What to get: Anything with seafood. Plus, like it or not, you'll be getting some complimentary tiramisu after your meal!
Anything to avoid?: The management has been known to be a little… snappy. Best to stay on their good side to ensure your reservation will be honored.
Prezza
The vibe: After being rebuilt following a fire, Prezza has reopened and now offers a more contemporary spin on North End classics.
What to get: Feeling adventurous? Try the octopus carpaccio. Feel like eating like you're actually in the North End? Stick with the black truffle gnocchi.
Anything to avoid?: The notion that this will be anything close to a conventional North End experience.
Al Dente
The vibe: Nothing too fancy here; just good service, good wine, and great vodka sauce.
What to get: The plates are on the larger side so consider sharing a couple things; don't miss the Eggplant Rollatini and the Chicken Buona Bocca.
Anything to avoid?: Just because this place is a little more casual doesn't mean the line to get in is any shorter during prime dining times, so be prepared to wait.
Mamma Maria
The vibe: Frequently the top pick for accommodating large parties in the North End, Mamma Maria has a reputation for quality service and standout food.
What to get: The suckling pig risotto.
Anything to avoid?: Make sure to check your bill before you pay and consider taking the T -- this place has a history of inaccurate checks and a few valet horror stories.