This is New England's largest, priciest lobster roll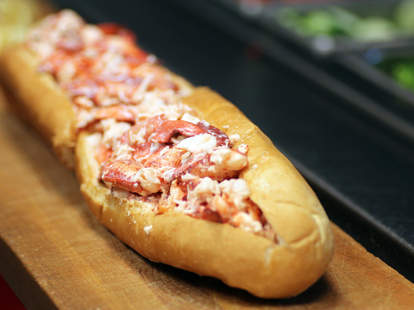 Hardly willing to rest upon their laurels after recently deploying a hefty 14oz lobster roll sub, the crew at Pauli's North End has gone back to the culinary shipyard to rearm the fleet, christening what's being dubbed New England's absolute largest sandwich stuffed w/ crustacean meat, the U.S.S. Lobstitution. It weighs in at over 24oz, will set you back a cool $50, and is currently setting sail from Salem Street.
Dave Baldwin
They start with a 24in top-loaded hoagie roll that's been halved, lightly buttered…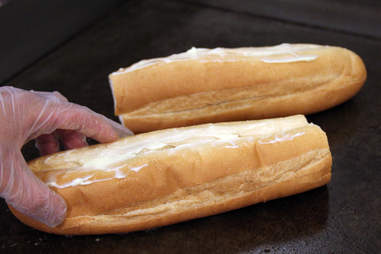 Dave Baldwin
… and tossed on the grill.
Dave Baldwin
You're now ogling a pound-and-a-half of fresh "prime knuckle & claw meat" from local seafood purveyor Globe Fish Company. Glorious, right?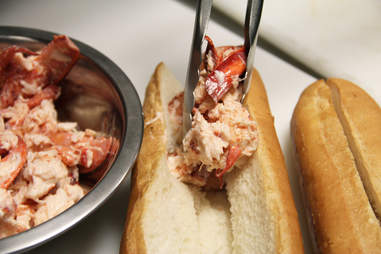 Dave Baldwin
Part One: The boarding begins.
Dave Baldwin
Dave Baldwin
Another half-pound? Sure, why not?
Dave Baldwin
Maybe a little extra for good measure. Now, let's put this puppy back together.
Dave Baldwin
Since they want to let the lobster meat speak for itself, seasoning/accoutrements are kept to a minimum: mayo and a little lemon.
Dave Baldwin
Indeed, it is all that and a bag of chips. Which you should also grab on your way out.
Dave Baldwin
It's enough to make even a decently-large regular lobster roll self-conscious.